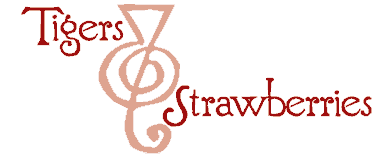 Cook Local, Eat Global
Zak and I agree on almost everything. We both love music, we both like bright colors, we both adore movies–the good, the bad and the ugly, we are both science fiction and fantasy geeks, we love dressing up in Renaissance Faire gear, we both like absinthe and we both love cats.
There are some notable disagreements between us.
Zak doesn't really love dogs, while I do.
I really cannot geek out on guitar amplifiers like Zak can. (My eyes glaze over and everything turns into the sounds adults make in Peanuts TV specials.)
And Zak doesn't really like chili.
Whoa.
How can that be? I thought everyone loved chili.
I mean, I love chili, and the truth is, I like any redaction of chili so long as it is good. (Sorry, Cincinnati chili neither counts as chili or good in my book–just so you know.) Vegetarian 5 bean chili is great. So is a bowl of traditional Texas Red with no beans as is right and proper. The plain old midwestern hamburger and kidney bean chili with cumin that I grew up eating with saltine crackers crumbled in it is great. I love them all, so long as they are flavorful and well-made.
Chili is a comfort food to me–it was always on the stove on the first cold day of the year, and it was my favorite dinner from the time I was in elementary school through college. It is still one thing that I love that my Mom makes. It is great stuff.
And it was one of the few things the school cafeterias did not screw up, so it was a favored meal at school–and not just by me. We all loved chili day–though oddly, back in the day, we always got cinnamon rolls with chili. It was peculiar, but it tasted great and the cafeteria ladies never messed either one of them up.
I just loves me a bowl of chili, and that is all there is to it.
Zak does not share my love for chili. In fact, for years, he swore he liked no chili, until I made Pork and White Bean Chili and commenced to serve it with fresh Navajo Fry Bread on the side.
Then, he was converted, though to be fair, he treats the chili as more of a condiment that the bread is dipped into than the main part of the meal.
But that's okay, because he's eating it, and everyone else around likes it and it is all good.
Now, about this recipe–there are no tomatoes in it, and the beans I use are great northern beans. You can start off with your beans from scratch, and I have done that, but it tastes just fine and dandy made with canned beans.
What it has instead of tomatoes is tomatillos, both fresh and in the form of green salsa. (When I use my home-canned green salsa it rocks, but I have made it using jarred salsa for the store and it turns out just about as tasty. I had to do that today, because I used my last jar of the home made stuff a month ago.) It also has fire-roasted New Mexico Green Chilies, which you obtain in one of three ways: you can make them yourself, you can buy them canned or you can buy them frozen. What I did was use canned this time, but in the past I have used ones that I roasted myself and froze. However, I used the last bit of those three months ago. The chili was still great.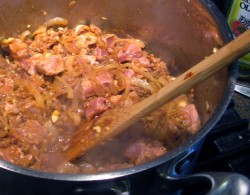 As for the pork, this time around, it had three types of pork in it: bacon and the fat rendered from it, cubed pork shoulder and a pound of home made Mexican-style chorizo sausage.
You could leave one or two of these versions of pig out of this chili, but it wouldn't be the same. And no–a vegetarian version wouldn't be right, so I am not even going to go there. This is a meat-eater's chili. Not that there is anything wrong with great vegetarian chili–I love it–it is just that this is a meaty dish and is meant to be so.
You can garnish this chili with any number of goodies. I like to put out at least sour cream, the bacon, grated sharp cheddar cheese, roughly chopped cilantro leaves, sliced scallions, but you could add all sorts of goodies to the condiment bar. Like, say, fresh jalapeno slices. Or, diced raw red onion. Or diced avocado.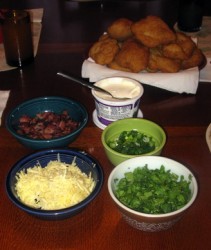 But no matter what tasty and delicious things you put on the table to go on top of your chili, do try to make the fry bread to go with it at least once. It really is splendid with this chili–no matter whether you think of the bread or the chili as the main part of the meal.
This is similar to a traditional dish from New Mexico, called Pork and Green Chili Stew, but it isn't the same, nor is it meant to be. Yeah, when I came up with it, the real traditional recipe for the stew was in the back of my head, but I wasn't trying to replicate that southwestern classic. I was just trying to come up with a bowl of chili that both Zak and I could agree upon having for supper.
And I finally succeeded.
His empty bowl from tonight testifies to that.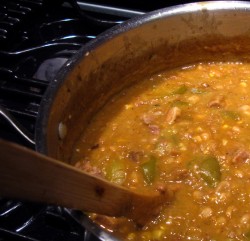 Pork and White Bean Chili
Ingredients:
1/2 pound good smoked bacon, cut into 1″ wide pieces
3 tablespoons olive oil
4 cups thinly sliced onions
1 pound bulk (not in a casing) Mexican chorizo
2 pounds pork shoulder, trimmed of excess fat and cut into 1″ cubes
1/2 cup lager beer
2 heads fresh garlic, peeled and minced
1 1/2 tablespoons ground cumin
1/4 cup diced fire-roasted New Mexico green chilies
1 tablespoon ground coriander seed
2 tablespoons Aleppo pepper or other mild chili flakes
2 1/2 cups green salsa
5 14 ounce cans great northern beans, undrained
1 1/2 cups frozen corn kernels
salt to taste
1 1/.2 pounds fresh tomatillos, husks removed, cored and cut into quarters
roughly chopped cilantro leaves for garnish
thinly sliced scallions for garnish
shredded extra sharp cheddar cheese for garnish (I used Cabot's)
sour cream for garnish (If you can't get locally made sour cream, try Organic Valley. Theirs tastes–oh, it is the best. I could just spoon it out of the carton and eat it, it tastes so good and has such a velvety smooth texture. Great stuff.)
Method:
Heat a heavy-bottomed pot on medium heat. Add the bacon and fry until it is done but still a little chewy. Remove it from the pot and set it aside, leaving the bacon grease behind in the pot. Add the olive oil to the pot and throw in the onions. Cook, stirring, until the onions are a medium reddish brown. Add the chorizo, and with chopping motions of your wooden spoon, brown it along with the onions. (If you can't get bulk chorizo, then use the stuff in casings–just squeeze it out from the casing before browning it.)
When the sausage is cooked, add in the pork shoulder and cook, stirring until it is brown all over. About halfway through the process–when the pork shoulder is half browned and half pink, add in the garlic, the chilies, the cumin and coriander, and the chili flakes and keep stirring until the meat is browned all the way. Then, deglaze the bottom of the pot with the beer and allow the alcohol to boil off. Add in the salsa, the beans with their juice, and the corn and turn the heat down to low.
Simmer for about two and a half hours, or until the pork shoulder is fork tender, meaning a fork goes into and out of it easily.
Add the fresh tomatillos and salt to taste. The chili is done when the tomatillos are tender, but are still holding together–you don't want them to cook so much they fall apart.
Garnish as you like and serve it forth–this will easily feed eight to nine hungry adults and a couple of kids.
4 Comments
RSS feed for comments on this post.
Sorry, the comment form is closed at this time.
Powered by WordPress. Graphics by Zak Kramer.
Design update by Daniel Trout.
Entries and comments feeds.