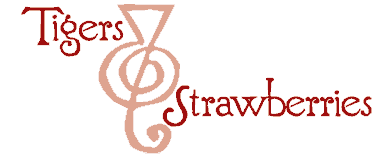 Cook Local, Eat Global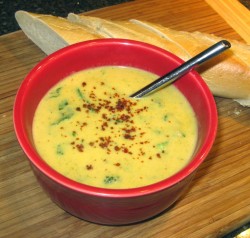 Soup is not only one of the most soul-satisfying meals out there, but it is also generally truly frugal.
I grew up eating a lot of home-made soups, and all of them started off as ways to make use of leftovers, or something that we had in surplus, or were made to feed a lot of people very cheaply. Making soup is the perfect way to use every scrap of food, to eke every smidgen of flavor and to coax every little bit of nutrition from every component, and as such, putting together a pot of soup is the perfect way to make do with what you have.
And in these trying financial times, making do is a good skill to cultivate.
The soups I grew up eating were most often based on the bones of an animal carcass–a roasted turkey or chicken, or the big shank bone of a ham. Or the ribs from a batch of beef short ribs. They were created as ways to use up every little bit of food possible, because we weren't wealthy when I was a kid, and both sets of grandparents had lived through the Great Depression, so the ways of frugality came naturally to my parents.
Cooked with the meat bones were beans, lentils and vegetables–and the truth is this–the soup was based on bones, but meat made up a very small percentage by weight of the bulk of the soup. Most of the volume of our soups was made up of vegetables–some of them a bit past their prime.
And that is perfectly fine and dandy. Potatoes that have started to sprout and have gone a bit soft make gluey mashed potatoes and are nasty fried, but if you boil them in a soup, they are fine. (Remove the shoots and sprouts first, though, obviously!) Carrots that are too big and woody to be eaten in a salad taste fine boiled in a soup. Celery that has gotten too rubbery to put into potato salad still lends delicious flavor to soup. And over-ripe tomatoes that are too squishy to cut into slices are just fine simmered into a soup.
Sometimes, you can use parts of vegetables that you would not normally eat in soup, thus using every scrap of nutrition available in the plant.
Take, for example, the case of broccoli stalks.
Those big, tough, woody green stems are discarded in most kitchens, but not mine. In addition to peeling and eating them raw–the celadon-colored slices are sweet and crisp–or using them in stir-fried dishes, especially kung pao chicken, just as China Fortune, here in Athens does. The sweetness of the stalks goes beautifully with the spicy sauce, and the color is very pretty in the dish, contrasting nicely with the brick red dried chilies.
I also use broccoli stalks to make the basis for a creamy broccoli-cheese soup–arguably a favorite soup among Americans–that doesn't need to use much in the way of cream to make it smooth, nor does it rely on any roux, flour or cornstarch to thicken it. The broccoli stalks, with a little help from some potatoes–preferably some which have gone a bit soft and sprouty–and sometimes some leftover rice, make a deliciously, velvety smooth soup base with superior flavor and no floury-aftertaste. AND–this tasty soup comes without the added calories from refined starches or extra fat from roux.
And it all couldn't be simpler, more frugal or more satisfying to both the stomach and the wallet, because I am using stuff that might otherwise get thrown out.
Being frugal feels awfully good, especially when the result is a creamy soup that is surprisingly light.
How do I go about making this superior soup?
Well, I talk the broccoli stalks and peel the tough, stringy outer skin off with a vegetable peeler, and into the compost pile. Then, I slice off the nasty, tough end of the stalks and send that out to the compost, too. Then, I just cut them up into 1/4″ thick slices, along with some of the florets and smaller stalks of my broccoli. (I only use about half of the upper head of the broccoli in the soup base. The rest is cut up into small spoon-sized bits to be added to the soup at the very end so the broccoli barely cooks and is served bright green and tender-crisp.
Then I also peel and de-stalk the rather seedy-looking potatoes and cut them into chunks.
And then I cut about three cups of thinly sliced onions, and peel and mince five cloves of garlic. I melt 3 tablespoons of butter in the soup pot, saute the onions until they are a deep golden brown, add the garlic, keep cooking and stirring and do that until the onions are a deep reddish brown. Then, I add herbs and seasonings, and either wine or beer to deglaze the pot. Then, in goes vegetable broth, and the cut up bits of broccoli stalk and florets and the potatoes. If I have leftover rice cold in the fridge, I toss in a cup or so of that as well.
I make sure that the vegetables are just covered by the broth and I bring it to a simmer, and let everything cook until the vegetables are fork tender.
While that is going on, I grate every bit of cheese I have laying around the house. This is the perfect way to use up oddments of cheese, and nearly every cheese tastes great in this soup, though this time around, I used a bit of havarti, butterkaese, and sharp cheddar. But you can use anything you have around.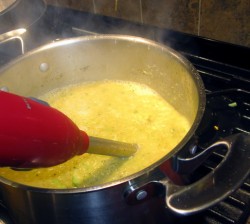 When the vegetables are softened., I take the pot off the heat, pull out my trusty immersion blender and puree everything in the pot. I make sure to keep going until everything is smooth–no lumpy bits please! Then, I take my shredded cheese and sprinkle it into the soup -while the blender is still going- which is the best way to get the cheese to melt quickly and emulsify in the soup without having to bind everything with roux. Once the cheese is fully incorporated, I add about a half cup to a cup of half-and half or cream to the soup, correct the seasoning (cheese is salty, so there is no sense in adding salt until you can taste the soup with the cheese), and then stir in the broccoli. I turn the fire back on the lowest setting and stir for about three minutes, or until the small bits of broccoli floret are quite tender and the green has brightened considerably.
And then, voila! I serve it forth.
I did do something different when I made the soup last night–I added finely shredded kale leaves at the very end after the broccoli florets had been in the soup for about a minute. I had some kale sitting around and decided that it would taste great in the soup and lo and behold, I was right. The leaves were sweet, yet slightly bitter and mixed beautifully with the nutty cheeses, and the deeper green went nicely with the brilliant emerald florets.
Served with toasted baguette, this soup was a satisfying in every way–to the senses, to the stomach, and the soul.
Creamy Broccoli Cheese and Kale Soup
Ingredients:
2 tablespoons butter
3 cups thinly sliced onions
1 teaspoon salt
5 cloves garlic, peeled and minced
1 teaspoon dried thyme or 1 tablespoon fresh
1 tablespoon Aleppo pepper flakes or freshly ground black pepper to taste
1 teaspoon dried or one tablespoon fresh tarragon leaves (minced if fresh)
1/3 cup beer, white wine or sherry (I used sherry, but prefer beer)
2 quarts vegetable broth
large stalks from 2 pounds broccoli, peeled, trimmed and sliced into 1/4″ rounds
1/2 of the smaller stalks and florets of the 2 pounds of broccoli, cut into small pieces (cut the rest into very small pieces and reserve for later)
5 medium potatoes, peeled and cut into slices
1 cup cold, cooked basmati or jasmine or other long-grain rice
1/2-1 cup heavy cream or half and half
4 cups shredded mixed cheeses (sharper cheeses are better for this purpose)
the reserved broccoli florets
3 cups thinly sliced kale leaves
salt to taste
Aleppo pepper flakes for garnish
Method:
Melt butter in a heavy-bottomed soup pot on medium heat. Add onions and sprinkle with salt. Cook, stirring, until the onions are a deep golden brown. Add garlic, thyme, Aleppo pepper and tarragon, and cook, stirring, until the onions are a deep reddish brown–about four more minutes.
Deglaze the pot with the beer, wine or sherry, and when the alcohol has boiled off, add the broth. Add the broccoli stalks, potatoes and the first bunch of florets, and simmer until the vegetables are fork-tender.
Turn off heat and using an immersion blender, puree the soup until it is perfectly smooth. Incorporate the cream while the blender is running, and melt in the cheese with the blender.
When the cheese is blended and melted, add the reserved broccoli, let it cook for a minute, then add the kale and let cook for two minutes. Taste for salt and correct seasoning as needed.
Sprinkle each serving with Aleppo pepper and serve with toasted bread or croutons.
Note: You can use lots of other vegetables in this soup. You could add some celery, or some carrots to the soup base to be pureed in, but not much because they are strong in flavor. You can add a bit of turnips, too–but only if they are fairly sweet.
Also, instead of the cream or half and half, you could use Greek style yogurt or sour cream to add a tangy note to the dish.
Either one would be spectacular. It all depends on what is in your pantry that needs to be used up when this soup is on the stove!
14 Comments
RSS feed for comments on this post.
Sorry, the comment form is closed at this time.
Powered by WordPress. Graphics by Zak Kramer.
Design update by Daniel Trout.
Entries and comments feeds.