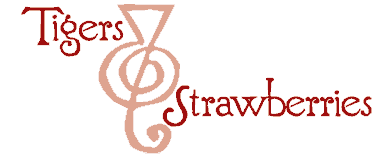 Cook Local, Eat Global
This sweet little dress is probably the most complicated garment I have made in years.
Which is sad, because it is really simple!
I made it using this pattern–Little Charmers from Indygo Junction. As is usual, I changed it considerably from the way it was written. The pattern calls for much more fabric, and much less embellishment, and the way the construction is written is somewhat confusing, but as you can see, I muddled through!
And, as you can see, I even made buttonholes, which is really easy using my Bernina 440 QE's automatic buttonhole foot. Well, in theory, anyway. The truth is, when I first connected the foot and started practicing making buttonholes, the thing didn't work. It would make one side of the buttonhole and then would refuse to do anything else but make a big knot of thread on the top and bottom of the fabric. Nice.
It turns out that the computer chip in the foot and the computer on my machine, Heidi (yes, I named my sewing machine) were not talking to each other. They were just not on speaking terms, so yesterday, I drove an hour to Lancaster, to get them back to the dealer and they intervened and calibrated the two, so now they get on famously. And they make some pretty awesome buttonholes!
Of course, the upshot of all of this is that I had her at the dealership yesterday, and that was great. After I finished this dress, and did some alterations on that patchwork dress I made Kat last year so that she can still wear it as a top (I took off the velcro strap closure and sewed on rainbow ribbon ties, and I added a bit of rainbow rickrack to the waist to fresh it, and then I let out the straps a bit) I did a tiny bit of quilting for a plush zombie rabbit Britney is making, and lo and behold, the little oilcan graphic that indicates Heidi has reached her 100, 000 mile mark and needs to go in for a professional oiling and cleaning popped up and started flashing.
I was like, "Girl, why didn't you tell me this while I had you there already?"
So, back she goes tomorrow. Silly machine.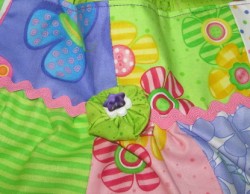 But at least I got the dress done. When I tried to do the buttonholes on Friday night and they wouldn't work, I nearly cried from frustration! But, it all went well. The dealership happened to still be open and I called and described the problem and they knew right away what was happening and told me to bring everyone in the next day and I could have it fixed in no time. And that is how it all worked.
While we were there, Britney and I saw a lovely vintage sewing machine from 1969, cabinet and all accessories included, sitting on the floor. It is in perfect working order and is the cleanest vintage piece I have ever seen. The owner of the shop, who also fixes old machines said he doubted that the woman ever used it–and that he hardly had to do anything but clean and oil it.
It is for sale and since he couldn't get parts for Gram's old machine to fix it, I am tempted.
Since I have to go back on Monday anyway, I will thread it up and see how it works, and I might pick it up for Morganna and Britney to use. Britney is very interested in learning to use a machine and Morganna is somewhat interested, so we will see what happens.
7 Comments
RSS feed for comments on this post.
Sorry, the comment form is closed at this time.
Powered by WordPress. Graphics by Zak Kramer.
Design update by Daniel Trout.
Entries and comments feeds.