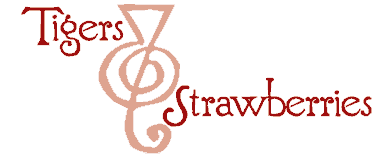 Cook Local, Eat Global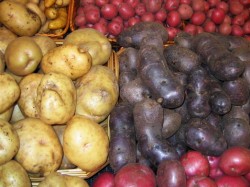 I know I just wrote about soup.
Actually, I wrote about a specific soup, and gave a recipe.
Now, I am just writing about soup in general, because in one of the comments about the Broccoli-Cheese and Kale Soup, a reader told me about something a cookbook author said that just got me all riled up and gave me the twitches.I could feel the indignant Depression-era farm wife who was my Grandma rising up from the grave and urging me to write a harangue worthy of Gram, my city-dwelling other grandmother, whose razor-edged tongue was known to often wither any damned fool ignoramus who dared utter a silly idea in her presence.
In other words, my grandmothers, if they were alive to hear such a thing would be set off on a tizzy of combined laughter and scorn such that I feel moved to speak for them, and stand up for the ideals which I was taught in childhood, ideals which could serve many people well in this desperate economy. Ideals that have made me loathe to throw any morsel of edible food away, because I was raised by people who lived through the Great Depression, and who worked with their hands to grow and produce the food they ate. Such folk do not look too kindly upon the waste of food. Rather, these folk tend to see it as sacrilege, and I most heartily agree.
So, what got me all het up?
Laura said, "I am glad to hear you say all that about older veggies and aromatics. One of my cookbooks, which I like otherwise, makes this big deal about how it is passe or some such nonsense to make soup out of anything less than perfect onions, etc, and every time I throw an older onion into a soup (there's one in the chicken stock simmering away for the soup I am cooking right now with the older sweet potato) I think well good lord if I listened to that book I'd be throwing away a perfectly edible onion. After all before mass transit those onions would be looking pretty sad by now in the north but people still used them!"
I hear you, sister! Preach on, can I get an amen?
Amen.
Passe?
Since when is frugality passe? I mean, really. That is just such utter nonsense, I am half-tempted to just guffaw and walk away, but no, I think that opinions like this need to be confronted and answered because they are so wrong it isn't even funny.
I mean, I once had a commenter on one of my recipes where I had used dried thyme leaves say, and I am not making this up, "No one uses dried herbs anymore–it is just so passe."
Well pardon me, Mr. Passepants. That is what I wanted to say, but I refrained, since it was a cheap shot, and I didn't feel like being a twitchy twit that day. But now, I will say it, not just to that guy, but to the unknown cookbook author and to the one chef in culinary school who saw me use a rubbery carrot to flavor and color a court bouillon for poaching salmon and said, "Garbage in, garbage out."
(What is it about American's quest for "the perfect—-fill in the blank with the name of a fruit or vegetable?" This quest for perfect produce is what has led us to beautiful but tasteless Red Delicious apples, huge, perfectly smooth skinned pumpkins with watery, tasteless flesh and giant, sweet-smelling strawberries that taste like styrofoam. It is all a passel of aberrant behavior on the part of food marketers and people who eat with their eyes, not their mouths–in other words, they want food that is pretty rather than food that tastes good.)
So, here I am, saying it, loud and proud–Pardon me, all you passepants-wearing elitist food snobs in the world, but when you go on about how using less than perfectly fresh vegetables and herbs in food is passe, you are making asses of yourselves and are just showing the rest of us how out of touch you are with the fact that food is not just art–it is meant to satisfy and sustain the souls and bodies of human beings.
And lots of those human beings whose souls and bodies need sustenance just as much as the passeposse cannot afford to just use the freshest and best of every little thing in every little dish they cook.
But that doesn't mean that their food is less able to incite gustatory delight as the food made by the "food is art" nose-in-the-air crowd.
Oh, no, no, no.
In fact, I will tell you that I -know- for a fact that food made with less than perfect vegetables and dried herbs can knock the socks off of any diner, and contains just as much soul-stirring goodness as the rarefied tidbits eaten by the trend-setting wealthy folks. In fact, I might have to say that the food of the proletariat, made from humble ingredients, prepared in a frugal manner might just have a bit more soul in them than the finest dishes from the most fancified restaurants in the world.
And frankly, having dined on both, I have to admit that I prefer the foods of the peasantry to the foods of kings.
So, now you know where I stand on the issue.
Now that we have the rant out of the way, I can take a breath and talk about what this post is really about–avoiding food waste, and making something amazingly delicious out of truly humble ingredients–meaning lesser cuts of meat, dried beans and herbs and vegetables that are a bit past their prime.
And this is a great time of year to talk about it, because we are at the end of winter and the beginning of spring, which is prime soup making season, not just because we have warm days with still cool to cold nights, but because all of the vegetables that have been in storage all winter are starting to show their age a bit. Even the ones from the grocery stores, which have been in climate-controlled facilities for months, where ethylene gas is vented away, and the humidity and temperature are controlled perfectly, are starting to succumb to the hand of time and are losing their crisp nature.
The cabbages are starting to wilt.
The carrots, parsnips and turnips are turning a bit rubbery.
And the potatoes, once crisp and snappy, all know 'tis the season to sprout, so they are getting soft as they start sending forth long-tentacle-like shoots which make me think of B-movie science fiction monsters from the outer darkness of the space-time continuum.
(The onions and the garlic are in the same boat with the potatoes. They know it is time they got planted, so they are going soft and sending out green shoots in an attempt to propagate themselves right there in your pantry.)
What is a poor, frugal householder to do when faced with a bin full of guishy potatoes, pathetic onions, flubbery carrots, rubbery rutabagas, wizened beets and flaccid cabbages?
You all know what I am going to say, so why not join in?
Make soup!
Make soup with a glad heart, because the truth is this–once you have simmered your vegetables for hours, perhaps with some dried herbs–which by the way, have a more concentrated flavor because the water, which dilutes flavor, is removed–(this is only true if your dried herbs have not been handed down from the time of Moses–if they are that old, please compost them) and some old, tough cuts of meat or maybe some bones left over from a roast–you will neither know or care what condition they were in before they were cooked. Their texture will not suffer, nor will their flavor. You may have lost some nutritive value, but not that much, really.
What you have done, however, by using these unfortunate foundlings of your pantry, however, is saved yourself some money by not throwing them out and buying new stuff all over again. You have saved money, you have helped out the environment by not wasting all of the resources that were used to grow them in the first place, and you made something delicious and nutritious to eat.
How can that be a bad thing?
Now, here are a few pointers on how to determine which vegetables are safe to use because they are just a little bedraggled and which ones are just plain old nasty and need to go very far away from your kitchen.
One: Follow your nose–it always knows.
If it smells bad, throw it out. If it makes you gag after one tentative sniff, then it has gone well beyond past its prime and travelled into the realm of "Oh, dear God, no!" Once it stinks, it is a candidate only for a toss into the compost pile.
Two: Let your fingers do the walking.
Your less than optimal, yet still usable vegetables will be softer than perfect vegetables, but, they should not give way under a nice, firm squeeze. If this happens, and your fingers sink into vegetative flesh that has deliquesced into primordial ooze, then bury the slimy remnants of a once proud foodstuff into the compost heap at the back of your garden. Say a few nice words over it and move along to washing your hands. The texture of a properly useful yet less than fresh vegetable is lightly soft, perhaps somewhat spongy, but the integrity of the skin should hold. You may find some bruised spots, and those can be cut away and composted, while the rest of the vegetable is then a candidate for the soup-pot, but overall, the flesh should be firmish, yet yielding. Trust me–your fingers will know that texture when they feel it.
Three: Seeing is believing.
Your eyes can finish telling you what your nose and fingers cannot. They will tell you if the onion is spotted with powdery black mildew, or if the wizened skin of a moldy potato has cracked and let the rotting agent inside the flesh. Surface mold and mildew can be cut away–in the case of the powdery black stuff on onions, it is usually only skin deep, and can be removed with the papery skin and perhaps one layer of flesh which has started to go slimy. Those bits, just like a moldy bit of potato, go into the compost, while the rest can be saved, rinsed and used. Your eyes will also warn you of potatoes what have been exposed to the light and have gone green–those can be used, but the green parts need to be completely removed and discarded, because they contain a mild alkaloid which will make you sick if you eat it. (The green part also tastes bitter–which is your tongues way of telling you not to eat something.)
Which brings us to–
Four: Taste the difference.
Yes, give your subjects a cautious taste. You will find that sometimes rubbery carrots have gone a bit bitter, or mushy apples taste a little alcoholic. (That would be because they are fermenting in their skins a bit. That won't hurt you if you cook the apples, the alcohol will be boiled off, but still it is nice to know.) Sometimes the taste is too radically icky to be useful and away the comestible in question goes, but sometimes, you may find that there is just a slight to no discernible flavor difference between the perfectly fresh specimens and the ones you are trying to save from the landfill. Often, the only difference is in texture, not flavor.
So you see that your senses, paired with a bit of common sense from your brain, can combine to tell you which vegetables are safe to eat but less than pretty, and which ones are possibly hazardous to your health and should be discarded. The only sense left out is your sense of hearing, which is because it is pretty worthless in this exercise. So as to keep your ears from feeling left out, how about putting on some nice music while you engage in your pantry-gleaning, vegetable-saving and soup-making?
For more tips on keeping food waste down in your kitchen, take a look at these posts from Jonathan Bloom's excellent blog, Wasted Food.

And please, whatever you do, don't tell him, or me, for that matter, that worrying about wasting food is passe.
Because it bloody well isn't.
And I suspect that the folks who thought it was passe a few years ago to use less than splendid carrots in a soup may just be changing their tunes in the coming months, and perhaps people will return to an appreciation for the frugal ways of the plebeian kitchen.
30 Comments
RSS feed for comments on this post.
Sorry, the comment form is closed at this time.
Powered by WordPress. Graphics by Zak Kramer.
Design update by Daniel Trout.
Entries and comments feeds.