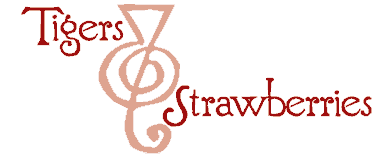 Cook Local, Eat Global
I had a wonderful Mother's Day this year.
Kat was adorable all day, and after Zak told her it was Mommy's Day, she would come running up and out of nowhere and hug me, which she does anyway, mind you, but this time she would say, "Mommy Day!" "Happy!"
It was terribly cute.
Zak gave me my presents a day early–a Starship Enterprise from the new Star Trek film (go see it, it rocks–I've seen it twice and plan to see it a few more times in the next week or so) as well as a new communicator and tricorder. Fun!
Morganna, in addition to not stealing me any flowers from other people's yards this year, for which I roundly commended her, also gave me an amazing gift. She gave me a pack of Cryptozoological critters–a whole playset's worth–which includes such luminaries of the cryptid world as Bigfoot, The Jersey Devil, Chupacabra, Nessie, and of course, my favorite and denizen of my home state, Mothman.
Of course, I looked at my presents arrayed before me and realized something–I am a geeky Mom. I mean, how many Moms do you know of who would be thrilled to receive not only a Starship Enterprise, which now owns pride of place in my sewing room, but a little plastic Loch Ness Monster, who now resides on my kitchen cookbook shelf with her cryptid companions? No flowers, no breakfast in bed, no massage gift certificates. Bah. Those are such run of the mill gifts. No, I get toys–and really cool ones at that!
So, yeah. Geeky. That's me.
I also got a great dinner, which served to celebrate both Mother's Day and Dan's birthday. I cooked the dinner, but that is okay–I had fun, and Zak and Brittney and Morganna helped with it all, so it was great fun to make and eat. We had a really tasty version of Jamaican Jerk Pork, this time with ramps instead of garlic, the best version of Peas and Rice I have ever tasted or made–and yes, a recipe is forthcoming–a great pickled ginger and mixed greens salad and for dessert, in honor of Dan, a White Russian Cheesecake.
Morganna gave me another great gift, but I won't tell about it yet. Maybe later.
Anyway, I hope that everyone else has a great Mother's Day!
5 Comments
RSS feed for comments on this post.
Sorry, the comment form is closed at this time.
Powered by WordPress. Graphics by Zak Kramer.
Design update by Daniel Trout.
Entries and comments feeds.