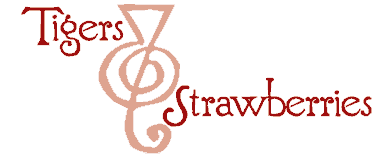 Cook Local, Eat Global
When I was a little girl, I loved spinach.
I loved it raw, I loved it cooked, I ate it frozen or canned.
It didn't matter. It was my favorite vegetable. (And not just because Popeye loved it, either. I just loved the taste of it.)
So, it should come as no surprise that when spinach comes into season in the spring, I buy bunches of it and eat it in salads and cook it as many ways as I can think of. (But I do have to admit that Zak only likes it raw in salads, so whatever I cook is usually only eaten by myself, Morganna, Brittney and sometimes, Kat. But that is okay–so long as Zak is happy and the spinach is eaten, it doesn't bother me what form in which it is eaten.)
Last night, I had about a half-pound of spinach that needed to be cooked, and I decided to make good on my promise to start learning to cook more South Indian recipes. I love the Northern Indian style dals with spinach, so I decided to try my hand at making South Indian palak dal.
In India, both in the northern regions and the southern dals are flavored with a technique called "tarka" or "tempering." This involves heating ghee or oil, and cooking spices, herbs, and/or aromatics like onions, garlic and chilies until everything is brown and toasty. Then, just before the dal is served, the entire pan full of flavored ghee or oil along with the spices and such are stirred into the pot of dal.
This makes a delicious, amazingly well-flavored vegetarian dish that, I swear, will convert people who swear they dislike Indian food or vegetarian food. I know it worked with both of my parents–they like "that Indian lentil soup you make" as they call it. And the bonus is–if you already like lentils or vegetarian food or Indian food, a good dal will make you feel cozy and homey inside–happy, secure and full of goodness.
I know that when I am feeling under the weather, I like to eat a nice, highly-flavored dal full of vegetables and spices, because it is like being wrapped in the warm embrace of my grandmother's quilt. It is highly comforting, and it has the added bonus that the flavorful spices and aromatics can help fight bacterial infections that can cause sore throats, and their strong flavors and aromas can help clear stuffed sinuses.
The differences between South and North Indian dals seems to be in the spicing, and in some cases, the types of lentils used in them. While both often use whole spices in the tarka, as well as ground turmeric, and onions, garlic and ginger are common, I have found that a combination of mustard seeds, fresh or frozen curry leaves, asafoetida (hing), and fresh or dried chilies are hallmarks of South Indian dals. Tamarind is also common, giving a fruity, tart flavor, although I have to admit that sometimes I substitute lemon juice if I don't happen to have tamarind.
For this recipe, I used a combination of masoor dal and split unskinned moong dal because that is what I had the most of in the house! I like the combination, because the moong dal gives texture and bits of color to the smooth, pale yellow masoor dal. And they both have a nice, earthy flavor that goes with the nutty mustard and cumin seeds and the musky, smoky aroma of the curry leaves.
The proportions of dal to spinach in this recipe are variable. You can make it with more lentils and less spinach like I did, or you can make it with more spinach. You can also make it thick and hearty like I did or thin and soupy, which is also really tasty and satisfying. If you want it thinner, add more water when you cook the lentils. You can also use frozen spinach instead of fresh, but if you do, after you thaw the spinach out, squeeze the extra water out, by taking handfuls of spinach and squeezing it as hard as you can in your fist and shaking the water away. If you leave the water in the spinach, you risk watering down the flavor of your dal, and you don't want to do that!
Anyway, here is my easy spinach dal with flavors reminiscent of the regions of South India. Cook up a pot of it, and taste something fresh, spicy, earthy and delicious.
South Indian Style Spinach Dal
Ingredients:
1 cup masoor dal, picked over and rinsed
1 cup split unskinned moong dal, picked over and rinsed
water as needed
big pinch of asafoetida
1 teaspoon turmeric
2 teaspoons grated fresh ginger root
3 tablespoons ghee, canola oil, coconut oil or butter
2 cups thinly sliced onions
1 teaspoon salt
5 cloves garlic, peeled and thinly sliced
1 fresh hot chili–whatever kind you like, thinly sliced
1 1/2 teaspoons cumin seeds
2 teaspoons mustard seeds
10 whole curry leaves, fresh or frozen
dried chili flakes to taste–optional
8 ounces fresh spinach leaves, rinsed and dried, large veins and stems removed
1/2 teaspoon tamarind concentrate or 1 tablespoon lemon juice
salt as needed to taste
Put both dals in a large saucepan with enough water to cover by 1″. Add asafoetida, turmeric, and ginger root, and bring to a simmer over medium heat. Cook, stirring and adding water as needed until lentils are soft. The masoor dal will break down to a puree, while the moong dal will just soften.
When the lentils are cooked, remove them from heat and cover to keep warm.
While lentils cook, melt ghee or heat oil in a wide, heavy-bottomed skillet. Add onions and sprinkle with salt, and cook, stirring, until they are a dark golden color. Add the garlic, and fresh chili, and cook until the garlic just begins to take on a bit of color. Add the cumin, mustard seeds, curry leaves and the chili flakes if you are using them and cook, stirring constantly until the onions are a dark, reddish brown, the garlic is deep gold, the fresh chili is browned on the edges and the mustard seeds pop like popcorn.
Add spinach to the pan, and cook, stirring until it wilts. At this point, uncover the lentils, and pour the entire contents of the skillet into the saucepan and stir it all together well. Add the tamarind or lemon juice and taste for salt, adding more if necessary.
This is enough to serve four people with rice and a raita or another vegetable dish for a good springtime vegetarian meal.
3 Comments
RSS feed for comments on this post.
Wonderful!! This is one of my favorite soul food, along with moong dal khichdi…
The only variation, in the way we cook it at home, is that we made the tadka by adding the mustard seeds first, and when they splutter, add the curry leaves and wait for the flavor to fill the kitchen… before we add the rest of ingredients..
Looking forward to more such dishes 🙂

Comment by Roxana — May 27, 2009 #

Mmm delicious. I'm under the impression that palak refers to general greens and sag refers to spinach? I've bookmarked to make it soon!

Comment by jennywenny — May 27, 2009 #

Sounds delicious, I must try it soon. Also, I just wanted to say a huge THANK YOU for introducing me to dal! Ages ago I found your recipe for masoor dal tarka, tried it, and fell in love. It suddenly became my go-to comfort food, which is interesting because I have not really had much experience with Indian food (except for naan bread, mmmm). My dal recipe has evolved into something rather fluid and definitely not authentic, but it serves me well and I love it. It was a particular comfort for me when I was living in a cold, lonely, 18-ft.-long trailer for 3 months for a bird-banding job. I had just enough room to make it, and it was warm and satisfying after long days or nights outside in the Canadian wilderness! So thanks again for showing me the joys of dal.

Comment by Corvid — May 27, 2009 #
Sorry, the comment form is closed at this time.
Powered by WordPress. Graphics by Zak Kramer.
Design update by Daniel Trout.
Entries and comments feeds.