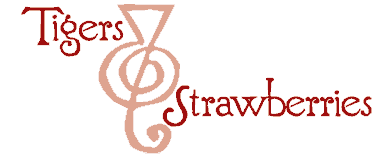 Cook Local, Eat Global
Bruschetta is a lovely way to use up leftovers. Consisting of sliced bread rubbed with garlic and brushed with olive oil then topped with any number of toppings and grilled or toasted, bruschetta is usually served as an appetizer or snack, but I think it can make a nice light lunch, especially if served beside a crisp green salad.
A perfect way to use up day old bread, bruschetta is an already frugal dish; but when you use leftovers as toppings, it is doubly frugal.
What sort of leftovers do I have in mind?
Well, I had made a batch of Melanzane con Noci–a Sicilian pasta sauce made with roasted eggplant, garlic and toasted walnuts which is traditionally served over spaghetti–but had more sauce than two people could eat. While I could have simply frozen the leftover sauce, I wanted to figure out another way to use this delectable puree.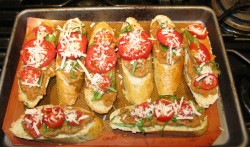 In putting together the bruschetta, which I made for Brittney and I for lunch, I decided to forgo rubbing the bread with garlic as the sauce is already quite sufficiently imbued with garlic; instead, I simply brushed 1/2 inch thick slices of multi-grain baguette (cut on the diagonal) on both sides with extra-virgin olive oil. Then, I spread about a tablespoon and a half of the cold pasta sauce on top of the bread. This was topped with a sprinkling of fresh basil leaves cut in a chiffonade, then on top of that, thinly sliced tomatoes and a generous, heaping teaspoon of freshly shredded Parmesan cheese.
Then all that is left to do was to place the slices on a tray and pop them under the broiler for a few minutes–until Parmesan is bubbly and melted and the bread is toasted and crisped.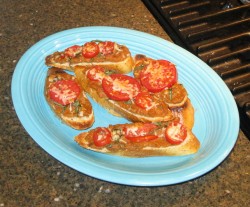 That is all there is to it–and frankly, as much as I love Melanzane con Noci as a pasta sauce–I liked it even better as a bruschetta topping. The rich sauce –a thick puree, garlicky and filled with the flavor of roasted eggplant and nuggets of toasted walnuts–tasted amazing on the crisped bread, and combined with the fragrant basil, tangy fresh tomatoes and salty cheese–it was a delicious contrast of flavors and textures. And I cannot imagine anyone not liking it–even folks who swear they dislike eggplant. It is also the sort of vegetarian dish that could convert the most ardent of meat-eaters!
Which made me think that there must be plenty of other pasta sauces that could be used to top bruschetta.
Have any of you used your leftover pasta sauces in such a way? Or have you done something else with them?
3 Comments
RSS feed for comments on this post.
Thanks for this post! I love bruschetta but have never made my own; but now that I make my own pasta sauce and have plenty of fresh basil in the garden, this is a perfect solution.

Pesto in our house often ends up on bruschetta (ironic given your pesto post a few days ago). I lightly toast the bread, add a smear of pesto and top with fresh tomato and a slice of fresh mozzarella, then put under the broiler until the top of the cheese just starts to get slightly brown. It reminds me of insalata caprese on bread.

Comment by De in D.C. — July 3, 2009 #

wow thanks. Tonight I didn't have enough pasta but plenty of sauce. I needed a side and this one sounds perfect. Thanks lots.

Comment by shadrick — January 10, 2010 #
Sorry, the comment form is closed at this time.
Powered by WordPress. Graphics by Zak Kramer.
Design update by Daniel Trout.
Entries and comments feeds.