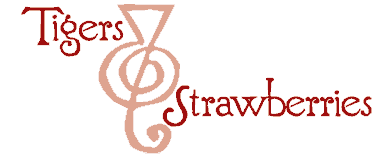 Cook Local, Eat Global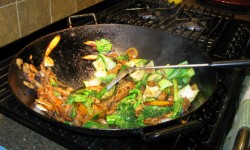 As if to prove to my avid omnivorous readers that I am not going to start writing exclusively about vegetarianism and presenting only vegetarian recipes, here is a quick and delicious, if non-traditional Chinese stir-fry that makes a great summer dinner that keeps the house reasonably cool, and makes a nutritious meal that is full of color, flavor and contrasting texture.
Most traditional Chinese homestyle stir-fried dishes did not combine a meat with a whole passel of mixed vegetables–usually if meat and vegetables were combined in a single dish it was one meat and one vegetable, or meat with a pair of vegetables. The vegetable melange you see mixed with meat in modern Chinese stir-fries arose from Chinese American restaurants, where customers were not accustomed to the idea of ordering separate meat and vegetable dishes.
I had intended to make Chicken with Broccoli-a mainstay of the Chinese-American restaurant menu: a dish consisting of exactly what its name tells you, plus a more-or-less ubiquitous savory brown sauce. However, I ended up cooking for two more people than I expected, and I had no extra chicken or broccoli, so I dug through my crisper drawer, and pulled out tender local bok choy and sweetly crisp local carrots.
So, my Chicken with Broccoli was instantly transformed into Chicken with Mixed Vegetables.
As for the black bean–while I like Chicken and Broccoli, that brown sauce, savory as it might be is a little flat to my taste, even when it is a particularly flavorful version of it. Made primarily of chicken broth or stock, soy sauce and a drizzle of sesame oil, with a dash of rice wine, it is a good sauce. (When made well. When made badly it is a sickly-sweet brown gloppy mess.) But I like my Chinese sauces to have a little more bang for the buck–I like little explosions of flavor on my tongue.
And for that, I turn to Chinese fermented, salted black beans. Black soybeans that have been salted and fermented, these little fellows pack a serious umami punch and they make everything taste just so much better. Paired with plenty of fresh garlic, they create a cloud of deliciousness that surrounds and pillows the main ingredients in your stir-fry, bathing them in savory goodness. If you add a teaspoon of chili garlic paste and a couple of teaspoons of ground bean sauce as I did, the usual restaurant brown sauce is kicked up so many notches it just flies into orbit and takes your taste buds with it.
You could substitute pressed spiced tofu for the chicken, or you could use pork instead. You could also substitute any number of vegetables for the combination that I put together out of my fridge–you could use gai lan instead of broccoli, and choy sum instead of bok choy with sweet red peppers instead of carrots. Or, how about mushrooms, water chestnuts and sweet red peppers? Or green beans, carrots, and sweet red peppers?
Really, any combination of vegetables would be tasty in this dish, I think, so long as they are vegetables that are suitable for a stir-fry.
At any rate–here we are–a meat dish, but one that uses a plethora of summer vegetables. Something to please everyone.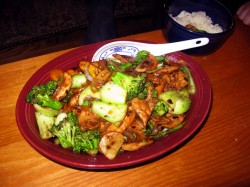 Black Bean Chicken with Mixed Vegetables
Ingredients:
1 chicken breast, boned, skinned and cut into 1″X1/2″X1/4″ strips
2 tablespoons light soy sauce
1 tablespoon Shao Hsing wine
2 tablespoons cornstarch
3 tablespoons canola or peanut oil
1 large onion, peeled and sliced thinly
1 1/2 tablespoons fermented black beans
1/2-1 teaspoon chili garlic paste
1″ chunk fresh ginger, peeled and thinly sliced
3 cloves garlic, peeled and thinly sliced
1/4 cup Shao Hsing wine
2 tablespoons light soy sauce
1/2 cup peeled and thinly sliced on the bias carrots
2 cups broccoli florets–cut into bite sized pieces
1/3 cup chicken broth
1 cup bok choy cut into 1″ chunks
2 teaspoons ground bean sauce
1/2 teaspoon toasted sesame oil
Method:
Toss chicken pieces with the first measure of light soy sauce, Shao Hsing wine and cornstarch and allow to sit for at least fifteen minutes, but no longer than a half hour or so.
Heat wok over high heat until a thin ribbon of smoke coils upward from the surface. Add canola or peanut oil and heat until the oil shimmers–about thirty to forty-five seconds.
Add onions and black beans, chili garlic paste, and cook, stirring constantly until the onions turn translucent and golden. Add ginger and cook for another thirty seconds, stirring.
Add chicken to wok, and spread into a single layer of the bottom of the wok. Sprinkle with the garlic slices, and allow chicken to cook, undisturbed, for about a minute or a minute and a half–until the chicken browns on the bottom. Then, stir and cook, stirring constantly until about 1/2 of the chicken is white or brown and the rest is still pin. Sprinkle with the second measure of wine and stir, scraping the browned bits of marinade off the wok, deglazing with the wine. Add the soy sauce and carrots and cook, stirring until the chicken shows very little pink.
Add the broccoli and cook, stirring, until it deepens in color and the chicken shows no pink. Add the chicken broth, and the bok choy and cook, stirring and scraping any browned bits off the side of the wok into the sauce. Spoon in the ground bean sauce and stir to combine.
Remove from heat and drizzle with toasted sesame oil and stir well to combine. Scrape into a warmed serving platter and serve immediately with steamed rice.
2 Comments
RSS feed for comments on this post.
You have one too many http's in the link to your post about fermented black beans…

Comment by metapundit — July 14, 2009 #

This was a really lovely recipe – the combo of the black beans and the ground bean sauce made it so lovely and deep-flavoured. I used gai lan and carrot as that's what I had on hand; I tossed through hokkein noodles at the end rather than serving on rice. Beautiful!

Comment by Beck — July 16, 2009 #
Sorry, the comment form is closed at this time.
Powered by WordPress. Graphics by Zak Kramer.
Design update by Daniel Trout.
Entries and comments feeds.