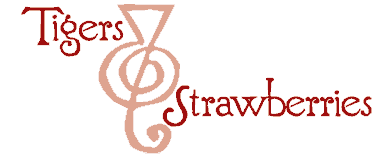 Cook Local, Eat Global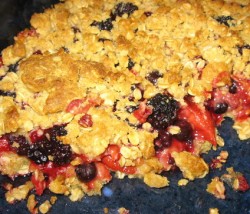 This recipe is not an original; I adapted it from a recipe I found on All Recipes a while back and have meant to make it ever since.
But, until last weekend, when I was presented with a stellar combination of summer fruits–the last of the summer's blueberries, fresh wild blackberries, both golden and red raspberries and an unexpected windfall of everbearing strawberries that were the juiciest, sweetest, reddest fruit imaginable, I hadn't really thought about baking anything for a while.
But then, faced with five of the best summer fruits, and the fact that this was the last time this particular combination of local berries would be available this year–I decided to mark this event with something special–but also something easy, since it was hot and I was in no way in the mood for arguing with pie crust.
Crisps are the best and tastiest way to bake with summer fruits when you are not in the headspace to deal with making pie crust. The dough is easy to put together–basically you mix together flour, brown sugar, rolled oats and some spices–cinnamon is classic, as is nutmeg or cloves–then cut in butter. The fruit is tossed with some sugar and maybe a bit of spices, and is put into a buttered baking dish, then the crisp crust is just sprinkled on top of the fruit and patted down gently. Then you bake it, and serve it warm out of the oven!
So easy!
Well, this recipe is a bit different in that it calls for half of the dough to be patted into the bottom of the baking dish, over which the fruit is dumped and spread. Then, the other half of the dough is sprinkled and patted over the fruit and the baking goes on as usual.
I was intrigued with this idea, because while I love fruit, and prefer fruity desserts to chocolaty ones any day, I also love the oat crusts of fruit crisps. And this method seemed like it would make for a crisp that was twice as good as your usual one with only the top crust. It sort of combines the best of a pie and a crisp–it has two crusts like my favorite kinds of pies and it is easy and full of oaty goodness.
I did modify the recipe a bit. I used more fruit than was called for in the recipe, in large part because I saw no reason not to, and the amount of fruit compared to the amount of crust seemed a bit parsimonious for my taste. And, there was the fact that I had a huge amount of fresh fruit to use, so why not? Instead of the four and a half cups of fruit, I used about seven cups of it, and since the berries were quite sweet, I used the same amount of sugar called for in the filling for the four cup amount.
I also added rosewater to the fruit, because all berries taste better with it, especially bramblefruits like raspberries and blackberries and strawberries are always made even more delicious with a sprinkle of rose flavor.
I added an extra half cup of oats to the dough because I like them, and used cardamom and a bit of dried ginger as well as the cinnamon to flavor it, and left out the nutmeg. (You know, I do like nutmeg, but I prefer it in savory foods than in sweet. I don't know why, but that is the case–I feel the same way about allspice.)
Kat helped with this dessert–and if you have an older child, like a nine or ten year old, they could probably make this dish all by themselves, with you only helping to put the pan into the oven and take it out when it is done. It is really that simple.
For a nearly three year old, there was still plenty that Kat could do. She helped stir the sugar and rosewater into the berries for them to macerate. Then, she stirred the flour, brown sugar, spices, and oats together. After I cut the butter into the dough, she (with very clean hands, of course) helped me mush the butter into the mixture very well–a step the original recipe leaves out. I find that it makes a more crunchy, crispy crust if you fully blend the butter into the dry ingredients by massaging it all together.
Besides, Kat and I thought it was a whole lot of fun!
And, of course, Kat helped eat the results of her labor. She loved it–and who wouldn't, really? Buttery crunchy crust with lots of sweet berries oozing with brilliant magenta, blue and purple juices–it really was heaven in a bowl.
Now, if only I had thought to make vanilla chai ice cream to put on top.
Next year.
But for this year, I can make an everbearing strawberry crisp with vanilla rosewater ice cream.
Or a peach melba crisp (peaches and raspberries) with vanilla chai ice cream.
Don't those sound wonderful?
Until then, here is the recipe–remember, you can use just about any fruits to make a crisp.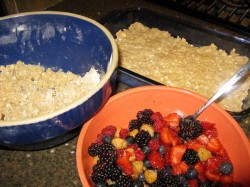 Summer Berry Crisp
Ingredients:
6-7 cups of mixed fresh summer berries, trimmed and sliced as needed
4 tablespoons raw sugar
1 tablespoon rosewater (optional)
2 cups all-purpose flour
2 1/2 cups rolled oats (not instant oatmeal!)
1 1/2 cups packed brown sugar
1 teaspoon cinnamon
1/2 teaspoon ground dried ginger
1 teaspoon ground cardamom
1 1/2 cups cold butter
Method:
Preheat oven to 350 degrees F.
In a large bowl, toss together the berries with sugar and rosewater. Allow to sit and macerate while you prepare the crust.
In another large bowl, stir together flour, oats, brown sugar and spices. Cut in butter until crumbly, then with clean hands massage the dough until it is smoother, but still with crumbly bits.
Press half of the dough into the bottom of a glass 9″X13″ pan. Dump in the berries and spread them about until they cover the bottom crust.
Sprinkle the remaining dough over the berries and lightly press them into the berries with gentle pats of your fingers.
Bake for 30-40 minutes, or until the fruit juice is bubbly and thick and the crust is golden brown. (If you have a convection oven like I do–the baking will take about 25-35 minutes, depending on how golden brown you like the crust of your crisps to be. I baked mine for thirty minutes exactly and it was perfect.)
Serve warm, with or without sweetened whipped cream or ice cream on top.
7 Comments
RSS feed for comments on this post.
Sorry, the comment form is closed at this time.
Powered by WordPress. Graphics by Zak Kramer.
Design update by Daniel Trout.
Entries and comments feeds.