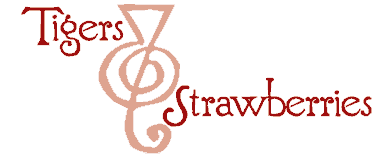 Cook Local, Eat Global
Aloo methi is one of my favorite Indian vegetarian dishes. Potatoes are parboiled, then fried in ghee or oil with browned onions, fresh ginger, garlic, chilies, spices and fresh, dried or frozen fenugreek greens. I love aloo methi the way that the earth loves the sky. And I am continually coming up with variations of it, from adding fenugreek greens to my usual saag aloo (potatoes cooked with greens) to aloo methi tamatar, which has tomatoes added.
I think that this version is my favorite so far, and I am very pleased to share it with you. In this recipe, I use tiny fingerling potatoes, parboiled and cut in half with their skins still on, and both fresh (or frozen) fenugreek and dried kasouri methi, and then, at the end, I add a small amount of frozen peas to the pan, so that they just cook to tender-crisp.
The peas pop in your mouth when you chew, sending little shivers of sweetness amidst the spicy potatoes cooked to creamy perfection and the slightly bitter, musky methi greens. And–the color is fantastic–the potatoes are stained yellow with turmeric, there are red flecks of chilies, the methi is deep green, and then, there are the peas–round morsels of brilliant grass green. It is so very, very pretty, and filled with delicious spices and flavors.
As usual, aloo methi mattar is better after a night spent in the refrigerator where the spices can mingle with each other and make great partnerships. It is just that the peas don't look as pretty after they are heated up, so my feeling is this: if you make it ahead to heat up the next day, add thawed frozen peas right before heating it up. Then, everything will look and taste perfect.
This is great rolled up into fresh chapati, and I bet it would be good wrapped in naan. It is also good paired with a very saucy curry, as it is a fairly dry preparation, sans sauce. I am of the opinion that it would go beautifully with any fairly soupy dal as well.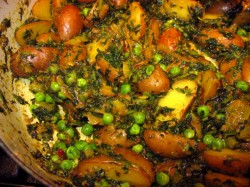 Aloo Methi Mattar
Ingredients:
5 cloves garlic, peeled
1″ cube fresh ginger, peeled and roughly chopped
3 teaspoons coriander seed
1/4 teaspoon fennel seeds
1/8 teaspoon fenugreek seed
2 teaspoons Aleppo pepper flakes
3 tablespoons ghee or canola oil
2 cups thinly sliced yellow or red onions
1 teaspoon salt
1″ cube fresh ginger, peeled and sliced into thin julienne strips
2-4 fresh red thai chilies, cut into thin slices
1 teaspoon mustard seeds
1 teaspoon cumin seeds
2 pounds fingerling potatoes, skins scrubbed, boiled until tender, drained and cooled and cut in half longitudinally
2 tablespoons dried methi (kasouri methi), soaked in 1/4 cup hot water until soft, then drained and excess water squeezed out
1 teaspoon turmeric
1-1 1/2 cups water, as needed
2 cups fresh or frozen methi greens, chopped (If frozen, thaw and squeeze out excess water)
1/2-3/4 cup frozen peas, thawed
salt to taste
Method:
Put the first 6 ingredients in the jar of a blender, spice grinder or mixie, and blend to a spice paste, using a bit of water if necessary to make it smooth. Set aside.
In a wide, heavy-bottomed pan or skillet, heat the ghee or oil over medium high heat and add onions. Stir the onions well, then sprinkle the salt evenly over them, and cook, stirring constantly, until the onions turn golden. Add the julienned ginger and the chili slices and cook for another three minutes until it is the ginger is quite fragrant. Add the mustard seeds and cumin seeds and cook, stirring, until the mustard seeds sputter and pop, and then add the spice paste, potatoes, dried methi and turmeric, and cook, stirring, until the spices start to stick to the bottom of the pan and brown.
Deglaze pan with as little water as possible, (a cup is ideal, but you may need a little more, which is why I have the measure of water being a bit vague) being certain to scrape up all of the browned bits on the bottom of the pan. Add the fresh or frozen methi, and cook, stirring, until the water is boiled away. Add the peas, and cook for a minute or two, stirring constantly, until the peas are heated through and everything is mixed together well.
Salt to taste, and serve.
No Comments yet
RSS feed for comments on this post.
Sorry, the comment form is closed at this time.
Powered by WordPress. Graphics by Zak Kramer.
Design update by Daniel Trout.
Entries and comments feeds.