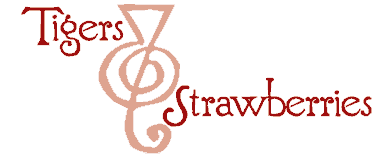 Cook Local, Eat Global
Saag paneer is a traditional Punjabi recipe for a mixture of mustard greens and spinach, cooked together with spices in a creamy sauce that is dotted with cubes of fried paneer. It is by turns, tingly, velvety, and tender-chewy, with a lovely flavor from the combination of spicy mustard greens and smooth, mild spinach.
Truly, saag paneer is one of my favorite northern Indian specialties; I like it even better than rogan gosht or mattar paneer. This is probably because I have such a passion for greens–spinach was a favorite food when I was a small child and I adored both mustard greens and kale. Collards and turnip greens were also eaten often in the winter months during my childhood, and I loved them all, which is a great thing, because all dark green leafies have a hefty dose of vitamins, minerals, antioxidants and phytochemicals.
When I make saag paneer, I do not feel constrained by the rule that it should contain only mustard greens and spinach; I like all of the greens so much that I cannot restrain myself from adding them into the mixture. Besides, most restaurants make "saag paneer" using only spinach–which really should be called "palak paneer." "Palak" is the word for spinach–and saag paneer made this way is too mild for my taste. Nothing wrong with it, really, its just not as robust and satisfying as proper saag paneer. Also, most restaurants puree the spinach in saag paneer, until they have essentially made a very smooth, thick sauce for the fried paneer cubes. That is fine, but I like my greens to have more texture, so I roughly chop mine, and let the cooking wilt them to a soft silky texture that still has a toothsome quality.
This particular batch of saag paneer included fresh local spinach, local turnip greens standing in for mustard greens, (they are in the same family, after all) local arugula, fresh methi greens and collards. To boost the fragrance of the methi, I added soaked dried methi greens to the masala paste before grinding it.
I also cook them for less time than most restaurants–my saag paneer is quite brilliantly verdant–filled with the goodness of lightly cooked mixed greens. This retains more of the vitamins and minerals that make greens so good for us, as well as making the color of the dish more appealing. (Again, there is nothing wrong with the flavor of restaurant saag paneer with its overcooked, pureed greens–I will never turn it down when it is presented before me–but I like mine better.)
In order to make great saag paneer, the greens re important, but so is the cheese. Make your own, or get the best quality store bought paneer you can–fresh, not frozen. Frozen paneer can get mealy in texture and is not good.
The best store bought paneer I have ever found is Nanak brand. It is creamy with a sweet, milky flavor that is a great foil for the lightly bitter greens in this dish. When pan fried, the outside crisps to a nice golden brown crust, and the interior is chewy and creamy without being rubbery or crumbly. (Some brands of paneer taste like old pencil erasers–ick.)
To pan fry paneer for curries, I cut it into 1/2 inch cubes. I start by slicing 1/2 inch thick pieces across the length of the block of cheese. Then, stacking three of these slices together, I cut them in half longitudinally, then cut those pieces into three cubes–you got it, approximately 1/2 inches each. Lots of recipes call for 1 inch cubes of cheese, but I like the smaller cubes better. More crispy crust to chewy cheese ratio, and I think they look prettier in the dish that way.
Pan-frying paneer is simple, and is one of the few times I still use a nonstick skillet.
I pour a couple of tablespoons of canola or peanut oil into the nonstick skillet and heat it until it shimmers over medium high heat. Then, I scatter a handful of paneer cubes over the bottom of the pan, and let them brown on the bottom. Then, using a spatula, I turn the cubes and let them brown on all sides. Be careful not to overcrowd the pan–it makes it easier to turn the cheese cubes if the pan isn't crowded, and of course, it keeps the oil from cooling too much. Cooled oil will seep into the cheese and make it heavy and greasy.
Once the cheese is brown on all sides, remove it from the pan to drain on a pile of paper towels. If you want, sprinkle some with salt and have a great snack while its still hot!
One thing I have to warn you about–frying paneer can be a messy business, as the cheese sputters and pops, sending oil droplets spattering over the stovetop, the countertop and your arms. Wear long sleeves and an apron to protect yourself from the shower of hot oil, and keep your face well away, especially when you turn the cubes with the spatula. Taking a hit in the face with hot oil, which I have had happen more than once, is not fun.
Once the cubes are all fried, you can let them cool down and store them in the fridge for later use or just set them aside until you have the rest of the curry ready. The cheese hardens up as it cools, but have no fear–once you put it into the curry, it will soften right up and as it warms, it will become like little sponges, soaking up the sauce and flavors, taking on a chewy texture that is a delightful contrast to the soft greens.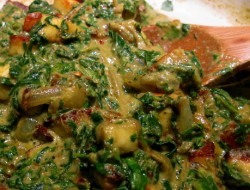 Saag Paneer
Ingredients:
2 1/2 tablespoons canola oil or ghee
1 1/2 cups thinly sliced red onions
1 teaspoon salt
1/2 teaspoon mustard seeds
1/2 teaspoon cumin seeds
1 tablespoon dried methi leaves, soaked in 3 tablespoons hot water
1″ chunk fresh ginger, peeled and cut into slices
4 large cloves garlic, peeled and sliced
1″ long piece fresh turmeric root, peeled and sliced (or 1/4 teaspoon ground dried turmeric)
1-3 green thai chilies, stemmed
1 1/2 tablespoons coriander seeds
1 teaspoon cumin seeds
1/2 teaspoon fennel seeds
1/4 teaspoon fenugreek seeds
1/4 teaspoon black peppercorns
1 tablespoon Aleppo pepper flakes
7 cups mixed fresh greens, including at least mustard greens and spinach, large veins and stems removed and roughly chopped
1/4-1/2 cup water
1/2 cup Greek yogurt
1/2 cup cream
8 ounces paneer, cut into 1/2 inch cubes and pan fried until golden brown, then drained and cooled
salt to taste
Method:
Heat the oil or ghee in a heavy bottomed, deep skillet or pot over medium high heat and add onions when the oil shimmers. Sprinlkle with salt and cook, stirring as needed, until the onions are a nice medium golden brown. Add the mustard and cumin seeds. Grind together the next few ingredients, from the dried methi leaves to the Aleppo pepper flakes, into a yellowish green paste, using some of the soaking liquid from the methi as needed to make a smooth paste.
When the mustard seeds sputter and pop, add the spice paste, and cook, stirring, until everything is fragrant and the onions are a reddish brown. Add the greens all at once, and stir in the water, starting with the smaller amount. Cook, stirring until the greens deepen in color and wilt. Once the greens are wilted, stir in the yogurt and cream. Bring to a simmer, and add the paneer, and cook, stirring, until the cheese is heated through and spongy–about five to ten minutes.
Add salt to taste and serve with naan or roti or steamed basmati rice.
12 Comments
RSS feed for comments on this post.
Sorry, the comment form is closed at this time.
Powered by WordPress. Graphics by Zak Kramer.
Design update by Daniel Trout.
Entries and comments feeds.