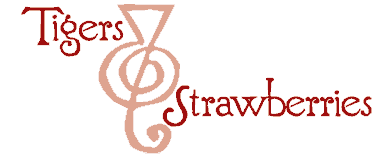 Cook Local, Eat Global
Ain't it just?
Yeah, the name of this dish is a reference to one of my favorite SF television shows, the short-lived "Firefly." In the future posited by Joss Whedon in "Firefly," humanity has long ago left Earth, known as "Earth-That-Was," to colonize a star system that consists of many terraformed planets and moons. A big war in the recent past occurred between the "Alliance," which appears to be a governmental entity that favors corporations and the interests of affluent citizens, and the "Browncoats," a group of rebels who favor the interests of the people who live in the frontier moons in societies that are much less affluent than those of the core planets, to the point that they are often impoverished or treated by corporations as slaves. The war was lost by the Browncoats, and it is from their ranks that many of the main characters of the ensemble cast of "Firefly" originate.
The term, "Big Damn Heroes," comes from the episode "Safe." Click the link to see the pertinent clip of the episode.
One of the most interesting parts of the background of "Firefly" is the blend of cultures represented in the show. Instead of a straight up "space opera" along the lines of "Star Wars," where a fairly homogenous culture for humanity is posited for both the Empire and the Rebels, Whedon extrapolated from present-day culture that near future human culture would be a blend of Western, particularly, American influences, and Chinese culture, though the blending also includes bits of Japanese, Middle Eastern and other influences. American culture is very strongly represented by an Old West flavor in the costuming, sets, English vernacular, weapons, and even agricultural practices (cattle ranching and cowboys), especially on frontier moons.
So, now, we finally get the steak. It's a combination of Japanese and American cowboy flavors and aesthetics, with ingredients that range from tamari soy sauce, mirin, garlic, ginger and sesame oil, to sugar and a good slug of cowboy whiskey in the form of Jack Daniel's "Tennessee Honey" blended whiskey and honey liquor. And, I named it in honor of Dan, the hardworking site admin who single-handedly rescued this blog from the clutches of unscrupulous and devious hackers who decided to use it as a platform to defraud decent folk out of their hard-earned money.
I named it in honor of Dan, because it was the main course of the dinner I cooked for him (along with itty bitty cheesecakes) as a thank you for his heroic work restoring this blog to its proper functioning.
I used a less tender, but very flavorful cut of beef for this recipe: top round. Often marketed as "London broil," top round is a fairly lean piece of beef that is usually cut about 1″ thick, and is well suited to many purposes, including grilling, broiling and when sliced thinly, stir-frying. As such, I often have a piece or two of it in my freezer, waiting to be transformed into one or another grilled or stir-fried dish at the spur of the moment. Top round isn't a very tender piece of beef, however, so you have to cook it carefully, and present it thinly sliced. It's flavor, however, is classically beefy without being as rich as a fattier steak like a ribeye or strip steak.
Instead of top round, one could also use a similarly tougher cut like flank steak or hanger steak for this dish–hell–you could use a more tender cut of beef like a porterhouse if you wanted to, but really, truly, I prefer the toothsome quality that the top round brings to this dish. (As Zak said last night, "London broil is a toothsome, but delicious piece of meat.") Having to chew the meat a bit longer seems to result in giving your tastebuds more time to be entranced by the zesty marinade/sauce.
And, so, we come to the marinade, which as noted just above, also doubles as a sauce. I let the beef sit in it for about two hours–long enough for it to come to room temperature in preparation for grilling. (Meat is easier to cook accurately on a grill when it's not cold. Cold meat takes longer to cook on the inside, and can lead to too underdone or overdone steak, neither of which is a happy thing.)
After putting the meat on the grill, I reserve a small amount of the marinade with which to baste the steak, while pouring the rest into a small saucepan and bringing it to a quick boil. After boiling it to kill any possible germs in it from the raw beef, I add another slug of the honeyed Jack Daniel's to it, and cool it down to room temperature to give it a final, alcoholic kick. This I pour back into the container I used to marinate the steak (after I wash said container well, obviously) so the steak can be set back into the sauce to rest before slicing and serving.
After giving it a five minute rest in the sauce, I take the beef out and carefully carve it into thin, diagonal slices against the grain of the meat–cutting it this way shortens the muscle fibers and makes the meat more tender than it would be if you sliced it with the grain.
Then, I served the sauce, enhanced with roughly chopped cilantro, in a little gravy boat on the side.
Nothing could possibly be simpler.
And, it's a fitting tribute to the beef-eating Big Damn Hero in your life.
Big Damn Hero Steak
Ingredients:
1 1/2 pound 1″ thick top round steak
2″ cube fresh ginger, peeled and finely minced
1 large clove garlic, peeled and finely minced
1/4 teaspoon Aleppo pepper flakes (or other mild chili flakes)
1 tablespoon raw sugar
1/4 cup mirin
1 1/2 tablespoons tamari soy sauce
1 teaspoon toasted sesame oil
3 tablespoons Jack Daniel's Tennessee Honey, divided into 1 1/2 tablespoon increments
roughly chopped fresh cilantro
Method:
Place steak in a shallow baking dish. Rub well with the ginger, garlic, sugar and chili flakes on both sides.
Mix together the liquid ingredients well (use only the first 1 1/2 tablespoons of the whiskey), and pour over the steak, turning the meat once to coat both sides with the liquid.
Cover tightly with a piece of plastic wrap and let sit at room temperature for about two hours.
Prepare a charcoal grill for direct grilling. We like to use hardwood charcoal with soaked wood chips for smoking when we grill. For this dish, we used mesquite chips soaked and placed in a little box that is laid over the coals. You can also put them in a loosely wrapped foil packet and put that on the coals, or you can put them directly on the coals. Whatever you want to do. Just make sure that the fire is at least 400-450 degrees F.
When the grill is ready, oil the grate however you prefer, whether you use a spray or an oil-soaked paper towel held by long tongs rubbed over the grate.
Put the steak on the grill, brush the top with some marinade and close the grill cover. While the steak cooks, pour off most of the marinade into a small saucepan, reserving a bare tablespoon to baste the other side of the meat when you turn it.
Bring the marinade to a boil, let it boil for a minute, then add the remaining 1 1/2 tablespoons of whiskey. Wash the baking dish used for marinating the meat and pour the sauce back into it.
Turn the steak after about five minutes (for it to be cooked rare. For medium, cook longer. Please don't cook top round to well done), and baste with the reserved tablespoon of marinade. Close grill lid again and cook for about another five minutes.
Remove meat from fire, put it back into the washed baking dish with the boiled marinade/sauce, and let rest for five minutes while you clean the grill.
After resting, remove steak, slice it thinly on the diagonal against the grain, and arrange on a serving platter. Sprinkle marinade/sauce with chopped cilantro and pour into a serving boat to be served on the side of the meat.
4 Comments
RSS feed for comments on this post.
Sorry, the comment form is closed at this time.
Powered by WordPress. Graphics by Zak Kramer.
Design update by Daniel Trout.
Entries and comments feeds.