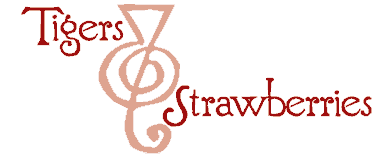 Cook Local, Eat Global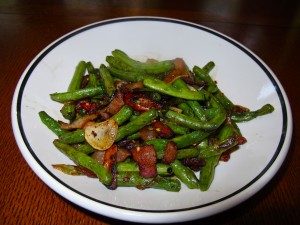 I've already posted two different version of Sichuan string beans–both of them dry fried. There's the more traditional one with pork and a vegetarian variation.
There's a reason I've done two different versions of the recipe–it's one of my favorite Chinese dishes ever.
I'm in good company–it was also Zak's Grandma Doris' favorite Chinese dish.
There's just something about the chewy texture of the beans with lightly crispy, browned exterior and the sweet, concentrated bean flavor (concentrated because dry frying cooks out most of the water in the beans) that is ultimately satisfying. Add Sichuan peppercorns, chilies, and preserved Sichuan vegetable–and it's a beautiful combination of flavors, textures and colors.
So why am I posting a third version of it?
Because I can introduce you to another cooking technique, tell you about a great Sichuan restaurant in Columbus AND because I can write about a really good recipe all in one post. That's why, so there.
First, about that Sichuan Restaurant in Columbus (2869 Olentangy River Road, next to Buckeye Bar & Grill). Zak and I read about it on alt.eats.columbus and after their ringing endorsement, we had to go and try it out.
So we did.
And it was GOOD.
In fact, it's pretty much the best Sichuan food I've had since we moved away from Maryland that I didn't cook my own self. Now, I have to admit, I like my own Ma Po Tofu better, but their Dry Fried Beef and Lamb with Fresh Chili and Cumin rock my world.
The last time we were there, we tried their "Mala String Beans," which is their own variation on Sichuan Dry Fried String Beans.
The restaurant, however, didn't dry fry the beans–they oil blanched them just until the skins of the beans wrinkled and crisped and there were only a couple of browned spots on the beans. Dry frying produces a smokier, more browned result–these beans were slightly juicier because more water was left in them, brighter green and with a slightly crisper texture.
They also had been cooked with thinly sliced fresh garlic, dried chili peppers and thinly sliced fresh chilies, with copious amounts of who Sichuan peppercorns sprinkled throughout. There was a tiny drizzle of soy sauce in the dish, and perhaps the tiniest sprinkling of sugar, but I am not positive about that.
They were addictive. Not too salty, not too sweet, not wet, not dry. Ringing with spices.
As Baby Bear of Goldilocks fame would say, they were "just right."
So, of course, I had to try and make them at home.
And, as per usual, I had to go and meddle with the recipe somewhat to make it my own. Besides, I had about a quarter pound of King Family Farm bacon unused in my fridge that would be a shame to let go to waste.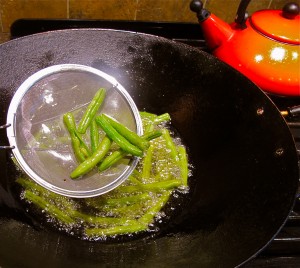 But before we start into the recipe, let's talk a bit about oil blanching.
Oil blanching is a technique used in Chinese cooking, primarily Cantonese and Sichuan cooking, to impart a special texture and flavor to the food that is cooked in this manner. It is an expensive technique, so it tends to be used more in festival foods, restaurant cooking, and banquet cookery, but it can be done in the home. I personally wouldn't do it often myself–it uses too much oil for my own sense of health and a happy food budget, but it's perfectly fine to do it every now and then.
Basically, using a wok, which means you will ultimately use less oil, you heat up enough oil to just cover the food you are blanching–you can do it in two or three batches if need be–and you heat it until a chopstick or a bit of the food you are cooking put into it foams up and boils merrily away in the oil. I heat the oil on medium heat to keep it from smoking and starting to break down–it takes a wee bit longer that way, but you end up with a better tasting end result.
For this recipe, I used about 3/4 inch of oil in the bottom of my wok. It was just enough to cover my string beans and have them float without crowding themselves in the oil.
After it's heated up, you add the food you are going to cook–and before you add it you make certain it's perfectly dry on the outside unless you like sputtering oil spattered all over yourself and your kitchen–and stir it with a chopstick to break it all up and distribute it evenly.
Then you let it cook until it's just cooked through, remove it from the oil and drain it on paper towels. When you are finished with the oil–you can filter it and use it again, but after oil blanching any vegetable, you are better off discarding it because it's full of liquid that has cooked out of the oil, and with the water in the oil, it won't really cook anything well again. It also takes on a funny odor after a while.
But that's all there is to oil blanching, which you need to know about to replicate this recipe.
Oh, one more thing–if you leave out the bacon, the result will taste more like what we had at Fortune. If you keep the bacon in and you aren't a vegetarian, I bet you'll be happier.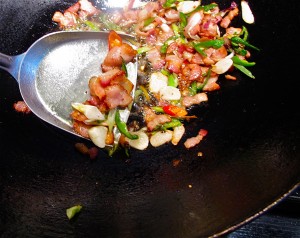 Sichuan String Beans with Bacon
Ingredients:
1 pound string beans, topped, tailed, snapped into bite sized pieces and washed, then dried thoroughly
enough peanut or canola oil to fill your wok up to about 3/4″ to 1″ deep
1/4 pound bacon, cut into thin slices
2 large garlic cloves, peeled and cut into paper-thin slices
3 scallions, white and light green parts, cleaned and thinly sliced on the bias
5 fresh red and green jalapeno peppers, cut into julienne slices
1 teaspoon whole sichuan peppercorns, picked over to remove stems and twigs
2 teaspoons thin soy sauce
1/4 teaspoon toasted sesame oil
salt to taste
Method:
Put the oil into the wok and heat up on medium heat until a green bean dropped into the oil will immediately start bubbling and frothing away.
When it's hot, add all the green beans at once, and using a bamboo chopstick, maneuver them around until they are distributed evenly in the oil without overlaying each other at all.
Cook, stirring with the chopstick now and again, until the color of the beans deepens and brightens, the skin wrinkles up and just begins to brown and crisp in a few spots on the edges. Fish the beans out with a skimmer, and drain on layers of paper towels.
Discard the oil, leaving a shiny, thin layer on the wok. Wipe the wok clean on the outside and put it on the heat again, and raise the flame to high.
Add the bacon to the wok and cook, stirring until it's half done. Add the garlic, scallions, chilies and peppercorns at this time and cook, stirring until the bacon is done and the garlic and scallions are golden brown. Add the beans back in and cook, stirring, one more minute.
Turn off the heat, add the soy sauce and sesame oil, and sprinkle in salt to taste–probably about a pinch will do.
Serve immediately with steamed rice. It goes beautifully with Ma Po Tofu.
No Comments yet
RSS feed for comments on this post.
Sorry, the comment form is closed at this time.
Powered by WordPress. Graphics by Zak Kramer.
Design update by Daniel Trout.
Entries and comments feeds.