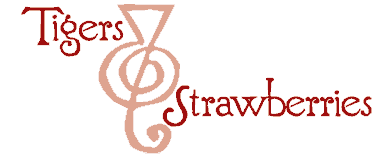 Cook Local, Eat Global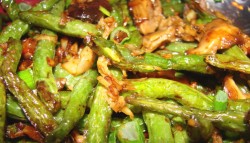 Back when I was a personal chef, a couple of my clients were vegans.
This presented a challenge to me which I welcomed; it allowed me to work at learning how to make vegan versions of common recipes such as lasagne with bechamel sauce, cream of mushroom soup and spaghetti with "meat" balls. However, my favorite recipes I cooked for these folks were the Chinese, Vietnamese and Japanese dishes which were, if not vegan to start out with, easily adapted to become vegan with no loss of flavor or texture.
I used to make a stir-fried dish which was similar in idea to these dry fried green beans, but completely different in execution, flavor and texture. I used to blanch the beans, and then stir fry a mixture of garlic, ginger and scallion in peanut oil. Then, I would add sliced up tempeh, and fresh shiitake mushrooms, with a pinch of sugar, a shake of soy sauce and a tiny bit of black vinegar. Then, I would add the beans, and finish the stir fry off with sesame oil and cilantro.
They adored it. I would have liked it better without the tempeh–the flavor of the mold that is used to make it always bothered me. I am allergic to several types of molds, so I suspect that was what was in play with my intense dislike for that meatless protein product. (Spiced dry tofu, on the other hand would have been killer in that dish–in fact–I may have to make some of that for myself soon, now that I am reminded of it.)
I wish I had been hip to th secret of dry fried beans back then. I think that they would have loved the way I made this variant on the more typical Sichuan Dry Fried Beans. I kept the chile peppers and the Sichuan preserved vegetable, but left out the dried shrimp and the minced pork. I could have used rehydrated dried black (shiitake) mushrooms for this dish, but I had some gorgeous and succulent fresh, locally grown shiitake on hand, and used them instead. They were delicious, and their firm meatiness contrasted beautifully with the chewy texture of the beans, while the muskiness of the mushrooms were a perfect foil to the sweet green pods.
This is a simple dish to cook; it just takes a bit of extra time. In a Chinese restaurant, the beans, in order to save time, would be deep fried; here I use the more time-consuming, but more traditional technique of dry frying. Dry-frying uses less oil, and results in a better flavor than deep frying the beans; dry fried, they attain a delicious roasted flavor that is at once smoky and sweet. Much of the moisture in the beans is driven off by the longer cooking time dry frying necessitates, which concentrates the sugars in the beans, giving them a much more intense flavor. With the deep fried beans, this is not quite the case; the texture is the same–wrinkled on the outside and chewy on the inside, but the flavor isn't nearly as good.
And, besides–deep frying makes the beans more fattening than they need to be!
I can't wait until summer gets here and I can dry fry the sweet new local beans; but until then, I am thinking of trying this technique out on asparagus.
As soon as the asparagus is ready, I'll cook a version of this dish with it, and let everyone know how it turned out.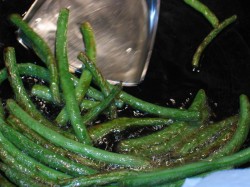 Vegan Dry-Fried String Beans With Fresh Shiitake Mushrooms
Ingredients:
2 tablespoons peanut oil
3/4 pound green beans, stringed, with ends snapped off, rinsed and dried
3 scallions, white and light green parts only, minced
3 cloves fresh garlic, peeled and minced
1″ cube fresh ginger, peeled and minced
1 or 2 fresh Thai bird chiles, minced
3 tablespoons Sichuan preserved vegetable (radish), rinsed and minced
6-8 fresh shiitake mushrooms, stems removed and sliced into 1/4″ wide strips
2 tablespoons Shao Hsing wine
1 tablespoon dark soy sauce
1/4 teaspoon raw or brown sugar
2-3 drops sesame oil
3 scallions, dark green parts only, cut diagonally into 1″ long pieces
Method:
Heat wok on medium high heat until it smokes. Add peanut oil, and heat until it is nearly smoking.
Drop in green beans–make sure they are perfectly dry–otherwise very hot oil will sputter and splash, possibly on you! Stir and fry until the beans dry out, shrivel slightly and begin to char to a dark brown in spots. Remove when they are quite wrinkled and somewhat charred, and drain well on paper towels.
Crank heat up to high and add all minced seasonings. Stir and fry thirty seconds until very fragrant. Add mushrooms, and stir well. Allow mushrooms to cook for about a minute, then add wine, and cook until most of it is boiled away. Then, put beans back into wok. Stir and fry for ten seconds to blend, then add soy sauce and sugar, then continue stir frying for about thirty seconds.
Remove from heat, stir in sesame oil and scallion tops.
Serve immediately with plenty of steamed rice.
10 Comments
RSS feed for comments on this post.
Sorry, the comment form is closed at this time.
Powered by WordPress. Graphics by Zak Kramer.
Design update by Daniel Trout.
Entries and comments feeds.