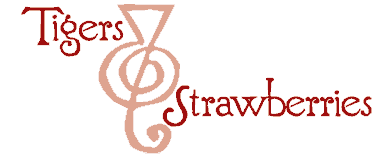 Cook Local, Eat Global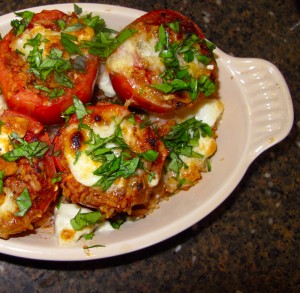 If you patronize your local farmer's market, you may be surprised at the huge number of different types, sizes, colors and shapes of tomatoes available out there.
Tiny round red, green, yellow or orange cherry tomatoes, pear (usually yellow but sometimes red) tomatoes, long finger-like red cherry tomatoes, giant beefsteaks in myriad colors and bi-colors, red or orange plum tomatoes for making sauces, and even tomatoes that are relatively hollow inside that are perfect for stuffing.
Stuffers are available in red, yellow or a pretty striped variety that is red with orange-yellow tiger stripes. It is the latter type I found for sale by Larry and Kim Cowdery of Cowdery Farms, and of course, I had to pick some up.
The truth is, you can stuff any kind of tomato you want, even cherry tomatoes (I've done it–I don't recommend it, though–it's maddeningly finicky to stuff things that small), but these mostly hollow stuffers are simple. They have three to five chambers for their seeds and the gel that surrounds them, with evenly thick walls of flesh surrounding them. They are also kind of squat or bell-shaped so they have a nice flattish bottom to sit on.
All you have to do is cut the top off the tomato and use a scoop, spoon or just your fingers (guess which venue I chose–yep, fingers) to remove the seeds and gel. Now you have a nice hollowed out tomato ready for filling up with whatever you like.
And I mean it. ANYTHING can go into a tomato.
I personally like to use leftovers. I basically combine an already cooked leftover grain: rice, spelt berries, bulgar wheat or quinoa, with a leftover sauce, then add any vegetables I want, and voila! Stuffing.
In the version pictured–I heated up leftover steamed rice, and mixed it with heated up leftover sausage-enriched (Harmony Hollow Farm Italian Sausage) marinara (the last of the jars I canned last fall) that I used for lasagne. I added some sauteed onions (from Vest Berries), but I could have easily added some steamed broccoli or sauteed chard or spinach.
I made a bit more filling than I needed to to fill the tomatoes and after oiling the bottom of a small casserole dish with olive oil, I lined the bottom with the filling, then filled the tomatoes and nestled them into the rice and sauce mixture in the dish.
And then, I added cheese.
I used a ripened blue goat cheese from Integration Acres called "Percy's Blue." When melted under a broiler, the cheese melts into an unctuous, delicious, gooey, satisfying topping that contrasts beautifully with the still cool, fresh tasting tomatoes, and the warm, flavorful filling.
Finally, I minced up some Greek Columnar Basil from my deck garden and sprinkled it on top.
The result is an almost completely local Farmer's Market lunch–the exceptions were the rice and the olive oil. If I had wanted to be perfectly local, I could have used Shagbark Seed & Mill's spelt berries and Hartzler's butter instead.
Stuffed tomatoes are very versatile. One could use cooked dried beans instead of grain, or in addition to grain. Or, you could use leftover grilled or roasted corn, cut from the cob, as the grain. Any kind of cheese could be used as the topping. Or, one could use Greek yogurt as a topping.
For sauce, one could use salsa or instead of a tomato based sauce, use a creamy one like Alfredo. Or, one could puree roasted bell peppers and use that as a sauce.
Basically, instead of a recipe, this post is going to give you a formula so you can make up your own versions of stuffed tomatoes. It's a great, frugal way to use up leftovers and turn them into something new for a very quick lunch or dinner dish. It can have meat or be vegetarian, it can be vegan–it can be made however you like it.
Stuffed Tomato Formula
Ingredients:
8-12 stuffing tomatoes (or beefsteaks)
1 1/2 cups cooked leftover grain (corn cut from the cob, rice, spelt berries, bulgar wheat, quinoa, wild rice or cooked dried beans, or a mixture of the two) (If you have huge beefsteak tomatoes, you will need more grain or beans.)
1 1 1/2 cup leftover sauce (salsa, tomato or cream based pasta sauce, pureed roasted vegetable sauce) (If you use really large tomatoes, you will need more sauce)
1/2 cup cooked leftover vegetables (optional)
1 teaspoon olive oil
2-4 ounces of any kind of meltable cheese or Greek yogurt
Minced fresh herbs for garnish
Method:
Preheat your broiler to high and set the rack so it is within two to three inches of the burner.
Cut the very tops off of the tomatoes and scoop out the seeds and gel to leave a hollowed out cup.
Heat the grain and sauce in the microwave and mix them together. Use enough sauce to bind the grain together. Add the leftover vegetables if you want, and mix it into the filling.
Lightly oil the bottom of your casserole pan–use the smallest dish you can to fit the number of tomatoes you have.
Stuff your tomatoes, and pack the filling so it is just even with the top of the tomatoes. Do not mound it–if you mound it, the melted cheese will have a tendency to slip off the top.
Put leftover filling into the bottom of the casserole and settle the tomatoes onto it, leaving them close together in a cluster.
Add cheese or Greek yogurt to the top of the tomatoes and over the top of any exposed stuffing in the casserole dish.
Run under the broiler for 5-10 minutes, or until the cheese is bubbly and lightly browned and everything is heated through.
Remove from the broiler carefully, turn off the broiler and garnish with minced herbs.
Posted by Barbara on August 12, 2012 in Leftover Makeover, Local and Sustainable, Local Athens Food and Foodies, Recipes: Almost Vegetarian, Vegetarian and Vegan, Recipes: American Regional, Recipes: Bread, Pasta, Grains, Recipes: Fruits and Vegetables | 3 Comments
3 Comments
RSS feed for comments on this post.
I googled "spelt berry stuffing", and to my surprise, one of the first results had a reference to Shagbark Seed & Mill's spelt berries! I joined a CSA this year and Shagbark is one of our suppliers – along with Snowville Creamery & I imagine several other local producers you know. It's heartwarming to know I can reference your recipes, which not only look yummy, but incorporate the same local ingredients I have at home. I'm going to try this with some green peppers that came in my bag this week. I see you also have a link to Kalyn's Kitchen, which has been a great resource for recipes as well. You gotta love the internet!

Comment by Terry — August 25, 2012 #

Kalyn and I started in food blogging at about the same time, so we go way back.

Have fun with your cooking–and especially enjoy your ingredients. The ones you are getting are among the freshest, tastiest and most nutritious ones you can imagine.

If you want fresh tomatoes from your garden and have a place in your house that stays between 55 and 45 degrees you can store your own home grown tomatoes this is how: just before the first frost or as soon as they get the first nip pull up the plant(s) roots and all and hang them upside down in the cool place mentioned above pick them off sa they ripen and enjoy or you can also store by putting in a single layer (in beer boxes flats) check weekly or more often and/or put folded newspaper between take out any that are going bad I have made fresh salsa from mine in Febuary and March that tastes as good as it did in the summer

Comment by Christine — August 26, 2012 #
Sorry, the comment form is closed at this time.
Powered by WordPress. Graphics by Zak Kramer.
Design update by Daniel Trout.
Entries and comments feeds.