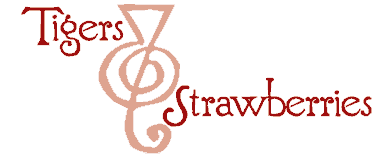 Cook Local, Eat Global
I know it isn't weekend cat blogging time, but I have some not so good news about Zak's beloved girl cat, Minnaloushe. She is at the vet hospital right now; she has Feline Hepatic Lipidosis, commonly known as "Fatty Liver Syndrome." It happens when a cat stops eating for whatever reason; when they do this, […]
Summer is officially gone; October's chill is in the air, the sun has hidden her face behind a veil of grey clouds, and night descends earlier with each turn of the Earth. The trees are flecked with scarlet and gold, and the air thrums with the beat of wings and the calls of geese as […]
The only reason the little git yet lives is because he is so damned cute. I was nearly finished with Part Four of the seemingly never-ending series of "Those Darned Chemicals" when Mr. Pain in my Tuchus decided to step on the switch to the power bar/surge protector on my computer. And I lost the […]
Ozy and Lennier sharing a chair. Ozy is doing what he does best: sleep.Lennier is doing what he does best: avoid sleep. He's exactly like a toddler–he will fight sleep until the bitter end. More later!
As I have mentioned before, Morganna is taking a class called "World Foods" at school which is a clever way to get kids to take Home Economics, learn to cook, and learn about other cultures all at the same time. It is a pretty good class, and the kids get to cook and eat foods […]
Powered by WordPress. Graphics by Zak Kramer.
Design update by Daniel Trout.
Entries and comments feeds.