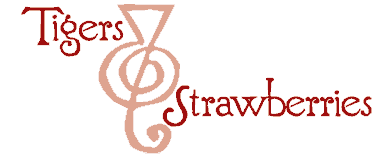 Cook Local, Eat Global
I realized when I was eating the catfish simmered in coconut milk with fresh turmeric that I had gotten out of the habit of cooking Thai food. I guess in my never-ending quest to learn as much as possible about Chinese cookery, I forgot to keep up with my studies on Thai cookery.
Tasting the lovely creamy yellow turmeric sauce made me want to rectify that situation.
I always have a range of Thai ingredients on hand; fish sauce, shallots, coconut milk, chiles, white peppercorns, frozen galangal and lemongrass and often lime leaves are seldom absent from my kitchen. Today was no exception, so I pulled out shallots, garlic, ginger and two Thai dragon chiles and minced them all up. Since I had no lime leaves, I added about a tablespoon of lime zest and a handful of Thai basil leaves.
I had thawed a yellowfin tuna steak and decided to see how it fared treated the way I usually stir fry chicken in a recipe reminiscent of Spicy Chicken with Basil. I thought about searing the tuna steak whole, and then pouring the sauce over it, but I decided that if I cut the fish into 3/4″ cubes, that there would be more surface area to get into contact with the very flavorful sauce. In addition, I could add the handful of green beans I found in the vegetable drawer in the fridge to round out the meal.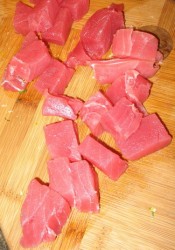 I have no idea if anyone in Thailand would cook a tuna steak this way, but I rather doubt it. However, Zak and I were very pleased with the result–the fish itself was not the best in the world. If it had been really good tuna, Zak said that the dish would have been superlative.
What pleased me most was that it was simple to cook, it had a great balance of spicy, hot, sour and salty flavors, and it went together extremely quickly. It also had a minimum of ingredients, and went perfectly with plain steamed jasmine rice. I could imagine anyone coming home from work, putting the rice in the rice cooker, then within the forty minutes it takes for it to cook, have the fish and vegetables prepped and ready to cook.
Cooking took a total of about five minutes, give or take a few seconds. You will notice that I cooked the tuna to medium-rare; I would never suggest cooking it to well done for this recipe. I like the flavor and texture contrast that medium rare tuna affords, and besides, the bright pink interior of the fish looks lovely with the vibrant emerald basil and grass-green beans.
Ingredients:
2 tablespoons peanut oil
2 shallots, peeled and minced
2 large cloves garlic, peeled and minced
1/2″ cube fresh ginger, peeled and minced
1/8 teaspoon freshly ground white peppercorns
2 Thai dragon chiles or 4 Thai bird chiles, minced
1 tablespoon finely grated lime zest or 2 kaffir lime leaves, shredded finely
1/2 pound green beans, rinsed, strung and snapped into 1″ lengths
1/2 pound tuna steak, cut into 3/4 inch cubes
1/2 teaspoon raw sugar
2 tablespoons fish sauce
1 tablespoon chicken broth
juice of one lime
handful roughly chopped Thai basil leaves
Method:
Heat wok or deep saute pan. Add peanut oil and heat until near the smoking point.
Add shallots, garlic, ginger, peppercorns, chiles and lime zest or leaves, and stir fry until very fragrant and shallots start to brown–about one minute.
Add green beans, and continue stir frying about 45 seconds.
Add tuna, and stir and fry to sear all sides of the tuna. When it is about halfway through being seared (half the pink has turned white), add the sugar, fish sauce and chicken broth. Continue stir frying until very little pink is showing. Add lime juice and basil leaves and stir fry for another thirty seconds to heat through, then remove from heat and serve immediately over steamed jasmine rice.
2 Comments
RSS feed for comments on this post.
i can even taste it now. will try this out if i get my hands on tuna.

Rokh–this will work on any firm-fleshed fish that like tuna, you can cook to medium rare. Swordfish steak or salmon would work equally well if you cannot find tuna.

I was sad to see none of the above at Bob the Fish Guy's place when we were at the North Market the day after I made this, because I really wanted to try it on really good fish instead of pretty good fish.

Let me know how it turns out!
Sorry, the comment form is closed at this time.
Powered by WordPress. Graphics by Zak Kramer.
Design update by Daniel Trout.
Entries and comments feeds.