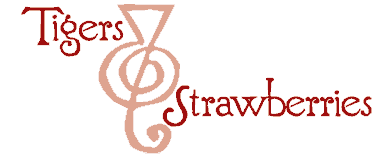 Cook Local, Eat Global
Do you remember when I wrote about pad thai the first time and mentioned that the stir-fried noodle dish was infinately variable, and that there was no one way to make it? And I said that even I didn't make it the same way every time, and that I would change around the ingredients to suit my mood, and what was in the pantry?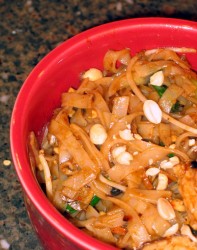 Well, here is proof. Another evening, another mixture of food items in my pantry, about 3/4 cup of leftover freshly made red curry paste, and a hungry family.
This leads to a second version of pad thai within a week.
And this one went over really well with the natives, including Dan, who happened to drop in just as we were eating.When I asked if he was hungry when I opened the door, he said, "No." Then I said, "I have pad thai," and he said, "Oh, well, I'm hungry then."
So, forthwith, he was provided with a bowl, some chopsticks and a napkin. He already had a drink with him.
The addition of the fresh curry paste, while it is the most striking difference between the two recipes, isn't the only one.
I added some pressed spiced tofu to this one as I only had 1/2 of a boneless skinless chicken breast thawed out. I found some opal basil (that is the purple, spice basil that tastes kind of like Thai holy basil) at the store fresh, so I added that. I had bean sprouts and red sweet pepper to throw in along with carrots. I didn't use tamarind for a souring agent, but instead went with straight lime juice at the end. I did use actual palm sugar, which dissolves instantly and isn't as sweet as raw sugar, in pretty copius amounts to offset the heat of the curry paste.
Another difference is that when I added shallots, chiles and garlic to this stir fry, I did not grind them up into a paste. I already had a paste, so I left these additional flavoring ingredients in thin slices to provide textural contrast and little bitty "flavor bombs" that add burst of aroma and taste in the mouth when they are bitten into. This adds another layer of complexity to this particular version of pad thai that makes it just a little more sophisticated than usual.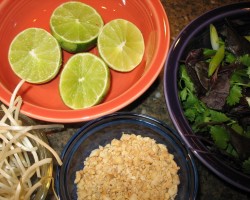 So, what I am saying is that this is pretty much a very different recipe for pad thai.
You can use commercially available red curry paste in this recipe. I won't come to your house and berate you if you don't make your own curry paste and use it. Just do me a favor and use Mae Ploy brand red curry paste–it tastes better and fresher than the other ones that come in cans. In my experience, though, in making it with commercially available pastes–you may not want to use as much paste–it is saltier when you buy it from the store than when you make it fresh. You don't want your noodles to end up tasting like a salt lick.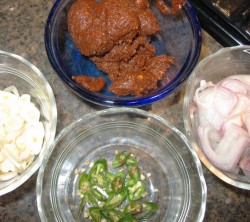 One thing you will notice–neither of my recipes for pad thai include scrambled eggs. I will eat scrambled eggs in pad thai when I go out, but I don't love them in there. I don't really know why–probably because they tend to be dried out a bit with some bits of crispy lacy overcooked egg whites that I don't find to be texturally appealing. So while you will see tofu and mushrooms and all manner of vegetables in my pad thai, what you won't find is eggy bits.
Cooking this version is only a little trickier than the other–the red curry paste, when you use your wok at extremely high temperatures, will want to stick. This meant that I ended up using a full cup of chicken broth when I cooked the noodles in the wok to get them to soften and not stick. No worries–the texture of the noodles turned out beautifully tender and a bit slippery with no tedency to gumminess or mushiness.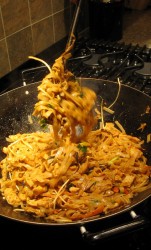 Pad Thai With Red Curry Paste
Ingredients:

1 package 3/4 inch pad thai noodles
4-6 tablespoons peanut oil for stir frying as needed
1 large shallot, peeled and thinly sliced
3-6 thai bird chiles, thinly sliced (to taste-optional)
1/3-3/4 cup red curry paste (to taste)
5 cloves garlic, peeled and thinly sliced
1/2 boneless skinless chicken breast, trimmed and sliced thinly, then marinated in 1 tablespoon fish sauce and 1 tablespoon cornstarch
6 ounces spiced pressed tofu, thinly sliced
7 fresh shiitake mushrooms, stems removed, caps thinly sliced
2-3 teaspoons palm sugar (to taste)
fish sauce, to taste
6 fat baby carrots, peeled and julienned
1/2-1 cup chicken broth
2 tablespoons oyster sauce
1/4 cup julienned red sweet bell pepper
2 handsful washed and dried cilantro leaves
1 handful washed and dried opal or thai basil leaves
1 handful washed and dried shredded scallion tops
1 handful bean sprouts, topped and tailed, washed and dried
1/2 cup coarsely crushed dry roasted unsalted peanuts
juice of 2 limes (to taste)
Method:
Soak noodles in warm water to cover until soft. Drain and allow to dry as much as possible. (If they are a little damp when you start stir frying don't worry over it.)
Heat the wok until it smokes. Add the smaller amount of oil. (You can add more if you need to later.) Add shallot and chiles and stir fry until the shallots begin to brown. Add curry paste, and garlic and stir for about one minute, or until everything is extremely fragrant.
Add chicken and stir and fry until chicken begins to firm–about a minute and a half. Add tofu and mushrooms, and then add fish sauce to taste and to deglaze the red curry paste that has begun to stick to the sides and bottom of the wok. Scrape up the deglazed bits, and stir until the chicken is nearly done. Add carrots, and keep stirring.
Add noodles, a little more fish sauce and the smaller amount of broth. Stir fry like mad, trying very hard not to spew noodles all over your stove. The first few times you cook pad thai, you will spew the noodles, just keep going and cooking and you will get better at stirring this neatly in time. Add the red pepper bits and keep the noodles moving. (This requires good forearm muscles and biceps.)
When the noodles begin to cook down and become limp, check to see if you need more oil or broth. Correct as necessary. As the noodles approach the level of doneness you want, add the oyster sauce. Keep stirring. Add the cilantro, basil and scallion, and stir in until it wilts. If your noodles are done, turn out the fire, sprinkle noodles with bean sprouts and peanuts, then squeeze in the lime juice.
Scoop into bowls and enjoy. This recipe makes about six good sized servings.
7 Comments
RSS feed for comments on this post.
Sorry, the comment form is closed at this time.
Powered by WordPress. Graphics by Zak Kramer.
Design update by Daniel Trout.
Entries and comments feeds.