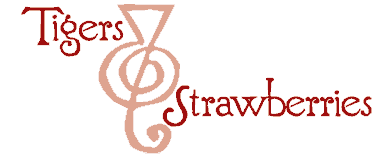 Cook Local, Eat Global
Alright, it's true: multiple award-winning chef Bradley Ogden, the originator of this dish did not call it Hillbilly DeLuxe Dinner. That right there is my very own nomenclature. But, I figured that since I fiddled with his recipe, which I found in The Fifth Taste, to the point of substituting no less than five ingredients and adding several others out of the blue, that I could call it whatever I pleased. And whether he likes it or not, his "Roast Pork Shoulder with White Beans, Smoked Bacon and Kale," is nothing less than a big mess of southern Applachian comfort food in a pot.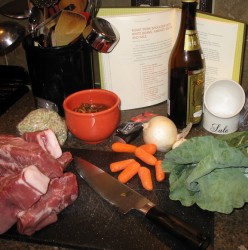 Besides, my name has more of a ring to it. It is tantalizing. It runs trippingly off the tongue.
And it makes me giggle, which is, as we know, the most important part of any recipe name in my house. (Remember that Garlic Booger Chicken I told you about? See what I mean?)
I reckoned that as I was revewing The Fifth Taste, I should give one of its recipes a try, (besides which, I had made a New Year's Resolution to use my cookbooks more in the the way they are meant to be used instead of as pure inspiration) and so I dug through the book with the help of Morganna and Zak, to pick one that sounded good. I had struck out until I turned to Chef Ogden's recipe, when Morganna's finger snaked out and stabbed the page with authority. "That one!"
I looked at Zak. He nodded. "It sounds good, except for that kale business, but I'm sure you can do something that will make the kale edible."
It was decided, so I pranced off to read the recipe, scout out the pantry and make a shopping list. As I looked at the recipe, I realized that it qualified as "comfort food," so I decided to kill three birds with one stone and enter this into January's Weekend Cookbook Challenge. So there we are–a recipe from a cookbook that I reviewed, and it fits the theme of a challenge. Excellent.
Now, I have to tell you that this time, I did not have any thought in my head of changing anything in the recipe. It was circumstances that forced me into it. Yes, circumstances. Like, when I went to the Bluescreek stall at the North Market, they didn't have any pork shoulder left, but they had five of the thickest, juiciest looking pork country ribs you can imagine.
And then, when I went to buy kale, there was none, so I had to buy collards instead.
Now the beans were a willful change. Chef Ogden specified white beans, but not which kind. I was at the North Market, so I picked up a pound of flageolet beans. I know that they are kind of celedon colored, but when they cook, they cook up the same pale beige that white beans do, so there.
Of course, I didn't buy bacon, because I thought I had some, but I didn't, because we ate all of it. But not to worry–I had in my refrigerator the secret weapon of all Mountain Mamma cooking–a mason jar of bacon grease. Bacon grease is an insurance policy in the kitchen–nearly any dish can be improved upon by its addition, it's cheap, and it contains the essence of bacon. How can that be bad? (Okay, so it clogs the arteries–but you don't eat it with a spoon you goober, so why worry?)
Needless to say, by the time I actually cooked this dish last night, I had already changed it all around. That's okay–once I actually read the instructions, they included all of those fussy, wasteful, silly-assed chef steps that I learned in culinary school that I never do at home, and am not going to start now, just to make glorified redneck food. Besides, I didn't have several hours in which to play fussy games with some pork, beans and greens, so I made use of the pressure cooker in addition to my Le Creuset buffet casserole, so now that I think on it, I really made it differently.
And how did it turn out?
Deliciously–amazingly so, in fact. Part of it was that Ogden chose no-fail ingredients: pork, beans, bacon and greens are all umami-filled bringers of delight and joy, especially to those who grew up on hillbilly food.
Without further ado, I now present, a recipe inspired by Bradley Ogden's "Roast Pork Shoulder With White Beans, Smoked Bacon and Kale from The Fifth Taste: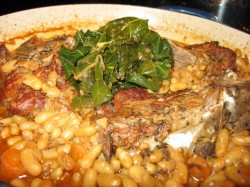 Hillbilly DeLuxe Dinner
Ingredients:
3 thick country style pork ribs (about 2 pounds)
2 tablespoons olive oil
salt and freshly ground black pepper to taste
1 tablespoon bacon grease
1 medium onion, roughly chopped
1 handful dried porcini mushrooms, rehydrated in 1 cup water, squeezed out and roughly chopped
1/2 teaspoon celery seed
1 cup sliced carrots
1 teaspoon dried thyme
4 cloves garlic, minced
1 bay leaf
1/2 pound flageolet beans, soaked 1 hour in hot water, then drained
1/2 cup sherry (or, as I used Shao Hsing wine)
2 cups chicken broth
2 tablespoons tomato paste
1 tablespoon bacon grease
1 large shallot, thinly sliced
1/2 chipotle en adobo, minced
3 garlic cloves, minced
10 ounces collard greens, washed, thick ribs removed, and cut into thick (1″) ribbons
2 tablespoons balsamic vinegar
Method:
Preheat oven to 375 degrees.
Using a cast iron casserole or dutch oven, heat olive oil on medium high heat. Pat ribs dry with paper towel, and sear well on all sides until golden brown and quite fragrant. Set aside on a plate, and set casserole aside as well.
In pressure cooker, heat bacon grease, and add olive oil and pork fat from casserole. Add onion, mushrooms, celery seed and carrots and cook, stirring, until onions are golden. Add thyme, garlic and bay leaf, and continue cooking for one more minute. Turn heat down to low.
Bring casserole back on heat, and add sherry, deglazing all the browned bits off the bottom of it. Pour resulting umami-filled liquid into pressure cooker, along with the mushroom soaking liquid (Be sure to leave last bit of that liquid in the bowl, as it will contain grit from the mushrooms and is not appetizing), beans and chicken broth. Add ribs, and any accumulated juices from where they have been sitting, into the pot. Bring to a boil, cover pot, lock it and bring to full pressure. Turn heat down to low, and cook on full pressure for twenty-seven minutes.
Quick release pressure. At this point, meat should be fork tender and beans should be done. Using a slotted spoon or skimmer, bring the beans and meat out of pressure cooker, and lay into casserole. Take out one and a half cups of cooking liquid from pressure cooker and whisk into it the tomato paste, then pour it into the casserole. Cover and put into oven to bake for about twenty minutes.
Take remaining liquid from pressure cooker and reserve–it should be around a cup or a cup and a half.
Put remaining bacon grease into pressure cooker, melt, then cook shallots, chile and garlic until very fragrant and golden. Deglaze pan with cooking liquid and bring to a boil. Put greens on top of boiling liquid, cover with lid, lock down, and bring to full pressure. Turn down heat and cook for five minutes under full pressure.
Release pressure and add balsamic vinegar.
To serve, bring meat and beans out of oven, and garnish with a mound of greens in the middle. Each diner gets a rib and as many beans and greens as they like. (Which means Morganna and I get more greens, because Zak is silly and doesn't like them.)
Umami profile of the dish: The original recipe listed the meat, bacon, carrots, beans, broth, red wine vinegar and tomatoes as having umami. In my version, not only does the meat have umami, but there are bones involved which boosts the umami content of the dish considerably. I also had mushrooms, mushroom soaking liquid, carrots, bacon grease, broth, carrots, tomato paste, sherry or Shao Hsing, and balsamic vinegar. I also count collards as being an umami ingredient–when they are cooked this way, they release a lot of amino acids when they are cooked in this fashion. The cooking broth in the greens is extremely tasty and thick, and we ended up serving it drizzled over the entire dish.
6 Comments
RSS feed for comments on this post.
Sorry, the comment form is closed at this time.
Powered by WordPress. Graphics by Zak Kramer.
Design update by Daniel Trout.
Entries and comments feeds.