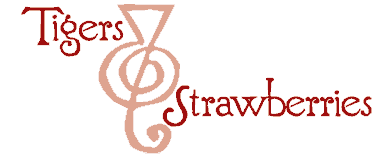 Cook Local, Eat Global
I have always loved Indian breads. Naan, pooris, chapati, roti and paratha are all great favorites of mine, but I think that my best-beloved is bhatura. This is probably because the first time I had it was at Akbar in Colubia, Maryland, where we were surprised by a basket of it by one of the waiters. We were eating channa masala, one of our favorite dishes, and out of the blue, we looked up to see a basket of steaming hot bread that we had not ordered set before us.
The waiter smiled broadly and said, "Surprise–compliments of the chef." He lifted the enfolding napkin that cradled the bread, revealing golden, fragrant, puffy rounds of fried yeast dough. "Bhatura. We call them bhatura," he said. "In the north, where our chef is from, these go with the channa masala. Everywhere, there are roadside stands, little restaurants on the corner, and vendors with carts, selling only channa masala and bhatura. Everywhere. We eat them for breakfast, for lunch, for tea–even a midnight snack." He watched us tear open the bread, the yeast-scented steam warming our faces. "You can dip it, or you can put the channa inside–like a pocket. It is good."
I scooped up some chickpeas with mine and took a bite. He wasn't kidding. It was good.
Satisfied to see our eyes roll back in our heads, and to hear our appreciative noises, he nodded and went away to procure more chai, leaving us to our new obsession: bhatura.
Zak said, "You must learn to make this. It isn't even on the menu. We may never eat it again if you don't learn how."
So, instead of learning something simple (and lower in fat) like chapati or roti first–I learned bhatura.
It isn't so hard as all of that.
The dough is similar to some versions of naan. In fact, I think that the chef at Akbar used naan dough to make his. I originally used a naan recipe for the dough, until I got an actual bhatura recipe from Lord Krishna's Cuisine by Yamuna Devi. I have, of course, changed it a bit over the years to make it more to our liking. For example, I have often started it the night before and let it rise slowly in the refrigerator instead of letting it rise quickly as Devi's instructions specify. I have found that this develops a more complex and interesting flavor. (I have also cooked one half of a batch of bhatura, and left the rest in the refrigerator for a day or two until I am ready for another meal with fried bread. Then, I simply take the dough balls from the fridge, pat them down into thin rounds, let them warm to room temperature, heat the oil and fry them. The flavor is even better after it has been left to continue fermenting in the refrigerator for several days.)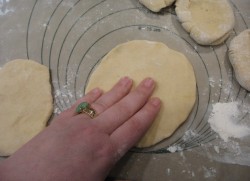 I also ended up using kamut flour instead of semolina–I liked the flavor and the softer texture better. (Kamut is an ancient Egyptian form of wheat which has a higher percentage of protein than modern wheat and boasts a sweeter flavor.) Instead of ghee, I generally use butter, and I always use full fat yogurt, with the cream stirred in. The addition of these small amounts of fat yield a softer, tenderer dough which fries up crisp on the outside and airy and puffy on the inside.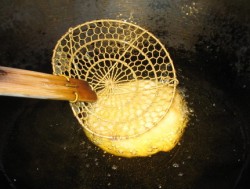 I use only peanut or canola oil to fry the bread, and I use my wok for the operation, since one can use less oil and still deep fry in a wok. I pour about 3/4″ to 1″ of oil in, and heat it up on medium high heat. It is important to get the oil perfectly hot before you fry your bhatura–otherwise the bread will soak up oil and be heavy and greasy, which is utterly uappealing. No one wants oil-sodden bread.
I also discovered that in order to inflate bhatura and have them make pockets that you can stuff with channa masala, you can tap the dough with the back of your skimmer or strainer–this will cause large bubbles to form. (This is how it works with pooris, too.) Otherwise, the bhatura themselves will only make smaller bubbles if left alone. (Which way you like them is your own personal choice. They are good both ways, but I like them inflated so I can fill them with channa masala, or as you will see later, scrambled eggs.)
Once the bhatura is brown on both sides, you just take it from the oil, let it drain on paper towels, and if you want to keep it warm, cover them with another towel and pop them in an oven warmed to about 170 degrees. That's it.
Now, what are they good with besides channa masala?
Well, I like them with any dal and raita, really. I discovered this week that they are good with scrambled eggs: I had four eggs in the house and a handful of discs of bhatura dough, and was hungry. So, I took the dough out to warm up, and heated up the warming oven to 170. When they were at room temperature, I flattened them out into five inch diameter discs, heated the oil and fried them, then popped them into the oven. I heated a little butter until it was foamy, tossed in some mustard seeds, beat the eggs with a tiny bit of milk and some garam masala, and waited for the mustard seeds to pop. Once they popped, I poured the eggs into the pan and cooked them, then ate them with the bhatura, and discovered that they were quite delicious.
If only I had some cilantro to toss into the eggs at the last and a bit of raita! But, I was fresh out of yogurt, so it was eggs and bread for breakfast that day. (And, since the theme of "From My Rasoi" this month is "breakfast," I guess this is my entry. Check out Meena's Hooked on Heat for more details.)
Bhatura
Ingredients:
½ ounce fresh yeast
1 teaspoon sugar
½ cup lukewarm water
1 ¾ cups all purpose flour
½ cup kamut
½ teaspoon salt
1 tablespoon ghee or butter
2 tablespoons plain yogurt
oil for deep frying
Method:
Mix the yeast with the sugar and water in a measuring cup and allow to proof.
Place flour, semolina and salt in large bowl, and mix together. Using hands, rub in ghee or butter.
When the yeast mixture is foamy, add to flours along with yogurt and mix to form a dough. Turn out onto a lightly floured surface and knead until smooth and elastic: about ten minutes.
Place in a lightly oiled bowl, cover with either a damp towel or lightly oiled plastic wrap and allow to rise in a warm place until doubled in bulk: about one hour.
Turn out onto a lightly floured surface and punch dough down. Divide into 10 equal pieces by rolling into a rope and cutting it 9 times. Shape each piece into a ball, and flatten into discs with the palm of your hand. With a floured rolling pin, roll into 5 inch rounds. (Or, you can do as I did in the picture above and pat it into a circle with your fingertips, or between your palms.)
Pour oil to depth of about 3/4 inch in a wok or karahi. Bring to temperature: test with a bamboo chopstick. (When hot enough, lots of bubbles will form on edges of chopstick when you put it into oil.) Gently slide bread, one piece at a time, into oil, frying for about one minute: turning after thirty seconds.
Drain on paper towels and serve while warm with channa masala and raita. (Or, scrambled eggs!)
9 Comments
RSS feed for comments on this post.
Sorry, the comment form is closed at this time.
Powered by WordPress. Graphics by Zak Kramer.
Design update by Daniel Trout.
Entries and comments feeds.