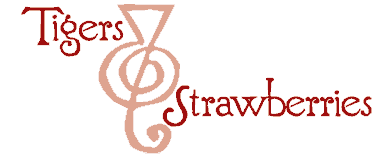 Cook Local, Eat Global
Freeganism is in the news again, this time in the UK, and so I have had a flurry of links to the essay I wrote on the subject a couple of weeks ago. This renewed interest in the subject has spurred me to revisit it with a few more of my thoughts.
When I wrote my essay entitled, "Freeganism: What's Up With That?", one aspect of the freegan philosophy I found to be most curious, yet could not successfully work into the the post, was their intense hostility towards vegans who did not embrace the freegan lifestyle of consuming products gleaned from dumpster-diving.
While I have sympathy with the freegan core beliefs that the immense waste in our society is a cause of ecological, economic and social ills, I still stand against the means by which freegans attempt to redress the issue. I still very strongly believe that their "political statements" and "lifestyle choices" do little to assuage the damage caused by capitalist society and instead, they benefit directly from the waste generated by the industries they revile. I also do not share their very dim view of vegans, which I find to be strange, since many self-described freegans are also vegans, and in fact, the very name by which they call themselves, was coined as a play off of the word, "vegan."
I should, of course, define what veganism is, before I continue.
Wikipedia defines veganism as "a strict form of vegetarianism, consisting of abstention from the consumption or use of all animal products, including eggs and dairy products, as well as articles made of bone, leather, feathers, mother of pearl or other materials of animal origin."
In short, vegans are people who do not consume products that are non-plant in origin (including eggs, dairy, and honey), and many of them do not use or wear items made from any animal products, such as wool or leather.
The reasons for adhering to such a diet or lifestyle are myriad, but most of them boil down to a strong ethically-framed belief that the consumption of animal products involves cruelty to the animals, even if the animal is not killed to obtain the product. Many others are vegan for reasons of health, citing lowered cholesterol and blood lipid levels as the result of a vegan diet, while others become vegan for environmental reasons, stating that raising vegetable matter for human consumption uses fewer resources and results in less environmental degradation than intensive animal farming. Others note that if fewer humans ate meat, then more plant-based food would be available for humans to eat, and the result would be less issues of starvation and hunger in the human population.
These ethical reasons may or may not arise in conjunction with spiritual or religious beliefs, though there are some vegans who claim to be more spiritually aware as the result of not eating meat. Various religious beliefs around the world involve vegetarianism in several different forms as a means of spiritual purification and as a physical acknowledgement of the "oneness" of all life, including animals.
So, really, what's not to like?
Well, if you are freegan, apparently quite a bit.
In an essay entitled, "Veganism," author Adam Weissman states: "Usually, the question of animal oppression is approached only in terms of compassion and prejudice: animals are exploited and destroyed, bands like Earth Crisis would have us believe, simply because we see them as subhuman and are willing to abuse them in order to satisfy our greed. I suspect that the problem runs much deeper than mere cruelty and avarice. Under capitalism, it's not just animals that are exploited—it's everyone and everything from farmlands and forests to farmhands and grocery clerks. The oppression of animals is just a little more obvious to us because it involves the murder of living things; but it's not just animals that have been enslaved and transformed by our society, it's everything, ourselves included. Without an understanding of how and why our social/economic system drives us to seek to dominate and exploit everything, we will not be able to alter the way animals are treated in any significant or long-lasting way"

He continues, "When I walk through the aisles at the supermarket, looking at all the products for sale around me, perhaps I can tell which ones are manufactured from the exploitation of animals, but I can't tell which ones—if any—are manufactured without exploiting anyone or anything….So the idea that you can be sure that your dollars are not financing anything inhumane or destructive just by examining the ingrediants of a product and ascertaining that it includes no animal products strikes me as absurd. There are a thousand other kinds of oppression, just as outrageous as animal oppression, that keep the wheels of our economy turning, and there is no reason to be less concerned about any of them than about animal oppression."
From reading Weissman's words, it is clear to me that he feels that vegans are not "radical" enough to satisfy his own beliefs regarding how best to stop the exploitation of animals. When I was in college, I noticed that a lot of the more radical, hardcore fringe groups dedicated to social change on a grand scale suffered from a lot of infighting, when they could be banding together in order to more efficiently affect real changes in society. Much of the bickering involved minutia that revolved around which group or individual was the most "radical," which essentially created a situation where marginalized groups fought to marginalize each other further–a most illogical activity.
This is what Weissman's diatribe against vegans and veganism feels like to me–a very far-fringe individual pointing a finger at a less-fringe (yet still marginalized) social group and accusing them of siding with "the man." Or, in this case, the "capitalist pigs."
Of course, Weissman has more to say on the subject. He never seems to lack for words.
"In the meantime, rather than practising veganism, I practise "freeganism." I know that as long as I participate in the mainstream economy, whether I am buying vegan or non-vegan products, I am supporting the corporations which represent world capitalism. So rather than just buying animal-friendly products, I try to purchase as few products as possible….Anything I can get for free at the expense of the exploiting, oppressing capitalist system is a strike against that system, while purchasing vegan food from Taco Bell (which is owned by Pepsi Co.) is still putting money into the hands of an oppressive, exploiting corporation. I live off of whatever resources I can scrounge or steal from our society, trying to avoid animal products when I can, but concentrating above all on keeping my money and labor out of of their hands….A willingness to pump money into the mainstream economy, which is responsible for the oppression of animals and humans and the destruction of the environment, through consumer spending…is not compatible with the professed goal of most people who follow a vegan diet, which is to end the exploitation of animals."

In other words, vegans don't do enough to end capitalism, which is the root cause of the oppression of animals, because it is the root cause of all oppression. (I cannot help but wonder if Weissman believes that capitalism was extant in the Neolithic period when the domestication of farm animals began. Once again, as I noted in my first essay, his grasp of food anthropology and human prehistory is fundamentally flawed.)
His argument against veganism as being mired in consumerist society, however, is flawed, because while he hopes to create a new and different economic system, one that is not based upon oppression, he refuses to acknowledge the existence of alternate means of food aquisition beyond buying from the corporate-owned grocery stores.
No mention is made of buying directly from small, local farmers through CSA's (consumer supported agriculture), farmer's markets or local co-op stores. Nor does Weissman mention supporting small local producers of tofu, or locally-owned bakeries. Supporting local farmers and small food producers would go a long way providing an alternative to the current corporation-dominated economy, but these possibilities are ignored, even though many vegans and omnivores participate in the support of these businesses.
Instead, Weissman proudly proclaims that he sometimes steals in order to "stick it to the corporations."
That certainly sounds ethical, doesn't it?
Why does Weissman refuse to recognize the viability of smaller, local farmers and food producers as a means by which to change society into a more ethical, less cruel and oppressive one?
That may be because Weissman inherently mistrusts agriculture and farming. In another essay, entitled, "Freeganism: Liberating Our Consumption, Liberating Our Lives," Weissman attacks farming: "From the outset, the creation of farmland involves the complete destruction of preexisting habitat and ecosystems, whether this means logging a forest or simply threshing preexisting browse and to clear land for crop rows and loosen soil, inevitably leading to significant topsoil loss. Animal species and the ecosystems they are part of rely on a highly specific and delicate set of habitat conditions to survive. When we turn biodiverse, unspoiled plains and forests into farmlands, we kill countless animals that fall to their deaths as trees crash to the ground or who are crushed or to ground to their deaths by tractors or plows."
In this essay, Weissman makes no distinction between ecologically sound methods of agriculture, and factory-farm, corporate monoculture which utilizes pesticides and other harmful petrochemicals that endanger humans, wildlife, water supplies and the health of our soil. It is obvious to me that he is either willfully ignorant of the differences between sustainable farming and corporate monoculture, or he simply does not care about them, because if he actually supported the local economy by buying organic produce from a reputable farmer who practiced sustainable agriculture, he wouldn't be able to keep getting by on a free ride by dumpster-diving.
Oh, and stealing. Let's not forget the stealing part.
What does he suggest as an alternative to farming? Well, he doesn't actually suggest that farming cease–or if he does, he gives no viable alternative to agriculture as the basic means of food creation. He does, of course, as I noted in my earlier essay, invoke the glorious days of our hunter-gatherer past, when humans never saw the earth as raw materials for exploitation, and we only took what we needed and all was loving kindness and beautiful. And, of course, he equates freegans with the noble hunter-gatherers of old.
But I have a question.
If it is true that the goal of freeganism is to bring down capitalism and to create a new and different society that is not based upon the oppression of anyone or anything, then how exactly does a bunch of priviledged kids dumpster-diving for food accomplish this? What is the mechanism here? Sure, some folks leave the corporate-driven consumption cycle, but how does this stop factory farming? How does this create a new economy?
How, exactly, does ragging on vegans, many of whom support local food economies by carefully shopping at farmer's markets, bakeries and tofu-makers, "stick it" to Pepsi-co?
It doesn't.
Freegan philosophy is empty. For all of its high-minded ideals and long-winded arguments, it is simply a means by which people who feel powerless in the face of corporate hegenomy can feel like they are doing something worthwhile that will really bring about an end to the evils of capitalism. It is a way of getting something for nothing, while feeling heroic at the same time.
If I were a vegan, I'd be really pissed right about now.
As it is, I'm not a vegan, yet I am still plenty disgusted.
20 Comments
RSS feed for comments on this post.
Sorry, the comment form is closed at this time.
Powered by WordPress. Graphics by Zak Kramer.
Design update by Daniel Trout.
Entries and comments feeds.