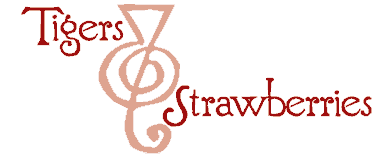 Cook Local, Eat Global
One of the best things about having a food blog is the people you meet.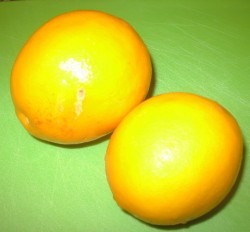 People like the nice lady in California who read the post I wrote about Meyer lemons last year, and commented that if I wanted to pay for the shipping, she would pack me up a box of her Meyers from the tree in her yard and send them out to me.
So, we emailed back and forth, and she packed me up a box of Meyers with some pink grapefruit thrown in for fun, and I arranged a UPS pickup and had it shipped to me.
And about a week later, I had a box of beautiful, huge, ripe, fragrant, delicious Meyer lemons on my doorstep. (I paid for ground shipping–the two day shipping price from there to here was beastly expensive.) Only one lemon did not survive the journey–the rest were in great shape.
What did this kind lady ask of me in return for her sweet offer to share the fruit from her tree?
That I post a few new recipes for Meyer lemons.
So, here we are. I have a box of lemons (one of which I sliced up and just plain old ate out of hand), and I need to figure up some new things to do with them.
The first thing that struck me was this is the perfect time to make a recipe I have been meaning to make for nigh on twenty-five years.
I read about this 19th century recipe that originated with the Shakers, a sect of ecastatic Protestant Christians who lived in communes and had visitations from angels, and I wanted to make it right away. My boyfriend's sister thought it sounded amazing, too, but somehow, the two of us never got around to making it–in large part because we were not so good at making pie crust. But you see, now that I spent a summer perfecting pies and pie crusts, I have no excuse.
What is Shaker Lemon Pie? Well, it is simple. You slice two lemons paper thin, rind and all, take out the seeds and macerate it overnight with two cups of sugar. You stir it now and again so that the sugar all dissolves into a fragrant syrup. The next day, you prepare a crust for a 9-inch two crust pie and then beat four eggs really well, them mix them with the syrup and the lemon slices, and pour that into your bottom crust, cover it with a top crust, and bake it.
And that is it.
Well, that is it if you are a Shaker, which I am not, which Zak is very glad of, for the Shakers were celibate, which explains why they kind of died out.
But, if you are like me, and like the flavors of lemon and ginger together, you have to gild the lily a bit.
So, I added a tablespoon of Stone's Original Ginger wine to the syrup, along with two tablespoons of crystallized ginger that I had minced up.
The ginger mixed with the floral-scented Meyer lemons took the pie into orbit. It was just plain old amazing.
So, here is the recipe, if you couldn't get it from my description.

Meyer Lemon and Ginger Pie
Ingredients:
2 large Meyer lemons sliced paper thin (If you only have small lemons, use about 6-8 of them.)
2 cups brown sugar
1 tablespoon Stone's Original Ginger (optional–you can substitute ginger juice from fresh ginger)
2 tablespoons minced crystallized ginger
pastry dough for 2 crust 9-inch pie (Note: I made this crust with all butter–Plugra to be exact)
4 large eggs, well beaten
Method:
The night before you want to bake your pie, slice your lemons very thinly with a sharp knife, discard seeds, and put into a glass bowl, with as much juice as you can collect from cutting board. Add brown sugar, Stone's, and ginger, and stir until well combined. Cover tightly with plastic wrap and put in the refrigerator to macerate overnight. Stir it once or twice to make sure the sugar all dissolves into a fragrant brown syrup.
The next day, preheat oven to 450 degrees.
Prepare pie dough and roll out. Line 9-inch pie plate with dough, and trim edge neatly.
Take the well beaten eggs and stir them into the lemons and syrup. Pour into prepared pie shell, cover with the other piece of rolled out dough, trim edges, flute and seal edges, and cut vents in the center.
Cover edges of pie with foil or an edge guard, also known as a "Pie Chakram" if you are a weirdo like me, and bake at 450 for fifteen minutes. Turn the heat down to 350 degrees and bake for twenty minutes more.
Allow to cool completely on a rack before cutting.
Note: Of course, I am trying to figure out what other citrus I can do this with. I am thinking a mixture of Meyer lemon and blood orange, like the pomegranate-colored Moro. Zak is all up in that, so I may have to go grab some blood oranges before the season is through so I can give it a shot and see what happens.
But the flavor is wonderful, particularly considering how few ingredients the pie filling has–it is tangy, sweet, floral and lemony all at once, with just a hint of ginger heat.
27 Comments
RSS feed for comments on this post.
Sorry, the comment form is closed at this time.
Powered by WordPress. Graphics by Zak Kramer.
Design update by Daniel Trout.
Entries and comments feeds.