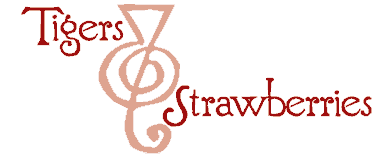 Cook Local, Eat Global
One of the most exciting things about shopping at the farmers market is finding something new and interesting to cook that I have never tasted before.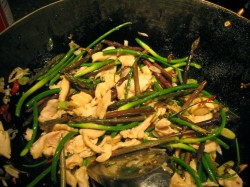 And the farmers who sell at the Athens Farmers Market are so very much into diversity, experimentation and growing new and interesting plants, that there is seldom a week that goes by that I don't find something I haven't yet tried, beckoning to me from one of the baskets, crates, or tables.
This week, two lovelies called to me, and begged for me to give them a whirl: garlic scapes and purple asparagus.
What are garlic scapes?
Well, they are the flowering stalk of hardneck garlic, and they grow up out of the plant in gorgeous loops and whorls of vibrant green. Many people cut them off and compost them, but they are good to eat, and so there is a farmer here in Athens who sells bags of them for a very low price.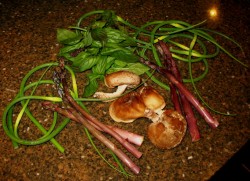 I had no idea what to expect from them, but they looked so beautiful, with graceful curves ending in a pointed flower bud with a long trailing tip. They are reminiscent of the recurve of a swan's neck, so I just could not leave them alone.
The other beautiful find was purple asparagus.
First of all, it is asparagus, which I thought we had seen the last of for the year (I was never so happy to be wrong!), and secondly, it is an amazing red-violet color shaded with burgundy and green. Looking at it, I wanted a dress in those colors, made with silk velvet. Lacking that, I had to have the asparagus.
Of course, there is a downside–the purple color does not stay once it is cooked. The anthocyanin, which is the pigment that gives blue potatoes, red cabbage and purple asparagus their vibrant colors, does not survive heat well. So, why buy purple asparagus in the first place?
Well, because it is pretty, of course! And, besides, if you cook the asparagus with an acidic component, some of the pigment can be coaxed to stay–just as one adds vinegar or lemon juice to red cabbage as it cooks to make a brilliant colored sweet and sour cabbage, one can add lime juice to purple asparagus and get some of the lovely violet to stay intact.
It was the lime juice (I had no lemons) and the fact that I had Thai basil that made me decide what to do with my garlic scapes, purple asparagus and fresh shiitake mushrooms: yet another variant on Spicy Thai Basil Chicken.
(The fact that I had chicken thawed out that needed using also played a part in this decision.)
I used the garlic scapes and asparagus as I would use green beans, and cooked the sliced mushrooms along with the chicken. Instead of using shallots in the recipe, I used local scallions, and the garlic I used was also local, fresh hardneck garlic. I used soem of the last few Thai dragon chiles from last fall that have been in the freezer, and have been heating up my cooking all winter long; in fact, the local ingredients in this dish outweighed the non-local ones. The ounce of lime juice, few tablespoons of peanut oil, several tablespoons of fish sauce and oyster sauce, were all that I used that did not come from Athens county.
How did it taste?
I think that this combination of vegetables in the basic Thai Spicy Basil Chicken recipe was my favorite. The garlic scapes were amazing–they had the texture of Chinese long beans, and a bit of a green-beanish flavor, owing to the "greenness" of them. But they also tasted wonderfully and mildly of garlic, but no overpoweringly so. The asparagus, of course, was delicious–the same wonderful springtime delicacy that we know and love, but with the added beauty of being emerald green tinged with deep amethyst colors. The mushrooms soaked up the flavor and heat of the sauce and were silky on the palate–eminently slurpable.
And of course, the basil tied it all together.
All in all, it was a wonderful supper.
So–if you find some garlic scapes and purple asparagus in your neighborhood–do take them home and cook them. Treat the garlic scapes as green beans in a recipe and see what happens, and try cooking your asparagus with a bit of lemon, lime or vinegar, and see how purple you can keep it. The flavors are worth it and of course, there is the distinct pleasure of working with something new, pretty and strange.
Cooking can be such an adventure!
20 Comments
RSS feed for comments on this post.
Sorry, the comment form is closed at this time.
Powered by WordPress. Graphics by Zak Kramer.
Design update by Daniel Trout.
Entries and comments feeds.