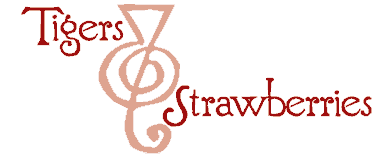 Cook Local, Eat Global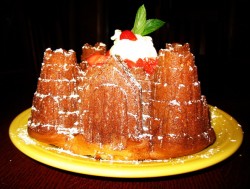 What is a king without a castle?
I don't often do whimsy in my cooking, however, when Morganna and Brittany saw this castle-shaped Bundt cake pan from Nordic Ware in a catalog, they insisted I had to get it. I already have a small collection of the sculpted Bundt pans, (and have used the rose-shaped one many times) and am pleased with how well they work, so, while the three of us were at Sur la Table last week, we picked one up.
Of course, once the pan was aquired, the young ladies -had- to bake a cake in it. So, while I took care of the burgers, toppings, potatoes and corn for the Not-Quite-All-American-Cookout on Thursday, they were in charge of dessert.
They looked through the recipes in the Bundt Classics Cookbook, and at first were disappointed with the many choices that included cake mix in the ingredient lists. However, I pointed out one "from scratch" recipe that I had adapted in the past, and which I thought that they would like; it used fresh ginger as a flavoring agent. They wanted to do a lemon and ginger flavored cake, so I rewrote the recipe a bit to include lemon flavorings as well, and let them loose in the kitchen. (I am, of course, very pleased, that neither of them wanted to use a cake mix, but were instead, unfazed by the thought of baking a cake from scratch.)
They had a grand time, and made a beautiful, very fragrant cake that we garnished with fresh strawberries and sweetened sour cream.
Thier success to me to thinking of what to take to Dad for Father's Day, which we celebrated yesterday after we took Brittany home. I decided to make him a chocolate cake, and found a recipe in the same book for a cake that is supposed to be the deepest, darkest chocolate cake ever. I, of course, changed the recipe around a bit; I added cinnamon and espresso powder to the flavorings, omitted the almond extract and exchanged it for double-strength vanilla extract. (You cannot actually taste the espresso and cinnamon in the finished cake–this was my intention–they both add depth to the chocolate flavor by adding bitterness and a floral quality that enhances the chocolate without standing out as their own flavors.)
I also rewrote the directions, noting that the order in which the recipe called for mixing the ingredients would result in a heavier, less aerated cake. Knowing how strongly flavored and rich the cake would be with 3/4 cup of cocoa, four eggs and a half pound of butter in it would be, I determined that I wanted the crumb to be as delicate as possible, so I redid the instructions to reflect the "creaming method" of butter cake making, instead of the rather haphazard directions the cookbook gave.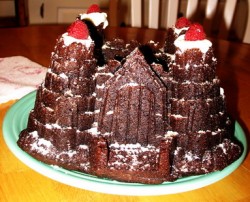 I also ended up adding a ribbon of seedless raspberry preserves into the batter as I poured it into the cake pan. This added extra moisture and just a little zing of flavor that sent the cake over the top. After sprinkling the cake with powdered sugar, I garnished it with unsweetened whipped cream and fresh raspberries.
Dad loved it–he said it was the best chocolate cake he had eaten in a long time, and he thought the castle shape was very, very cool. In fact, so far, everyone who has seen the castle cakes, before they are cut into, and start to resemble ruins, have loved the shape, so I highly recommend that if you want just a dab of whimsy in your kitchen, that you pick one of these up and give it a go. They are well-worth the investment, and they are simple to use–they have non-stick interiors that release the cake perfectly, especially if you take the extra step of using Baker's Joy, a spray that includes both flour and oil in it, to liberally coat the interior surfaces before baking.
Here are the adapted recipes for your fun and Dad's enjoyment. If you don't have a castle-shaped Bundt pan, you can use any 10-cup tube-shaped pan in which to bake these cakes. They won't be as cute, but they will taste just as good, I promise.
Now, all that remains is to decide which flavor your Dad would like? Lemony and gingery (and not nearly so rich) or deep, dark chocolate?
Lemon-Ginger Cake
Ingredients:
1 1/2 cups firmly packed brown sugar
1/3 cup softened butter
2 eggs
1 teaspoon lemon extract
1/4 teaspoon lemon oil
finely grated zest of one lemon
1 tablespoon finely grated fresh ginger
2 tablespoons minced crystallized ginger
1 1/3 cups milk
3 cups all purpose flour
1 tablespoon baking powder
1 teaspoon baking soda
1/2 teaspoon salt
1/4 teaspoon ground cardamom
Method:
Grease and flour your chosen 10 cup capacity tube cake pan, or use Baker's Joy spray. Preheat oven to 325 degrees F.
In a mixer on medium speed, cream butter and sugar until light and fluffy. Add eggs, lemon extract, lemon oil, lemon zest and grated and minced gingers, and beat until well combined and fluffy.
Add milk, and beat until well combined.
In a separate bowl, mix together dry ingredients, and while beating the cake batter, add it gradually, beating until well combined.
Pour batter into prepared pan, and bake at 325 for 50-60 minutes (if you have a convection oven, check after 40 minutes–in our oven, it was done at this point), or until toothpick inserted in the center of pan comes out clean. Cool ten minutes in pan, then using a wire rack, invert pan, and gently remove from pan. Allow to cool completely on rack.
Sprinkle with powdered sugar, and garnish as desired with berries and sweetened whipped or sour cream.
Deep, Dark Chocolate Raspberry Cake
Ingredients:
3/4 cup natural process cocoa (I used Penzey's)
1/2 teaspoon ground cinnamon
2 tablespoons espresso powder
2/3 cup boiling water
2 cups sugar
1 cup butter, softened
2 teaspoons double strength vanilla extract
4 eggs
1 cup buttermilk
2 1/2 cups flour
1 tablespoon baking soda
1/4 teaspoon salt
1/3 cup seedless raspberry preserves
Method:
Heat oven to 325 degrees F. Grease and flour a ten cup Bundt or tube pan, or use Baker's Joy spray.
Stir cocoa, cinnamon and espresso powder (instant espresso) into boiling water until dissolved, then set aside. In a large mixing bowl, cream together sugar and butter until light and fluffy. Add vanilla extract and continue to beat until well combined. Scrape down sides of bowl as needed throughout the mixing process.
Add the eggs and beat until batter is fluffy and light yellow colored. Beat in buttermilk; at this point the batter will look curdled and broken. Do not worry about it–it is fine. Beat until combined.
Add the cocoa mixture and beat until smooth.
In a separate bowl, mix together flour, baking soda and salt, and gradually add to the batter while beating, until the batter is smooth and thick.
Spoon half the batter into pan. Using a teaspoon, drop in bits of the raspberry preserves, stretching them out into a ribbon through the batter. Finish filling pan with remaining batter.
Bake at 325 for 65-75 minutes or until toothpick insterted in center comes out clean. (If you have a convection oven, like I do, check after 50 minutes–mine was done at that time.) Cool in pan for ten minutes, then remove gently from pan and cool completely on wire rack.
Sprinkle with powdered sugar and garnish with unsweetened whipped cream and fresh raspberries. If desired, you can glaze the cake with melted raspberry preserves by brushing them on to make a shiny finish and to give added flavor. Then, proceed with the powdered sugar and garnishing.
5 Comments
RSS feed for comments on this post.
Sorry, the comment form is closed at this time.
Powered by WordPress. Graphics by Zak Kramer.
Design update by Daniel Trout.
Entries and comments feeds.