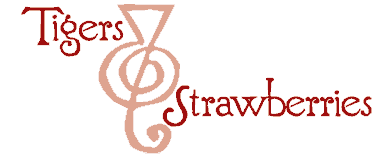 Cook Local, Eat Global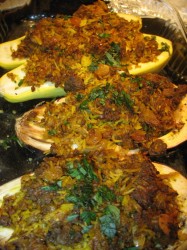 One of the most beautiful things about the CSA box is that it is like Christmas once a week.
You never know what will be in it, and opening it up is like peeking into a vegetal treasure chest.
For the past several weeks, we have been getting delicious baby squashes, but last week, included in the box was a trio of lovely medium-sized yellow summer squash.
And down a couple of stalls, at the Shade River Organic Farm stall where I get my lovely tomatoes, there were the first small eggplants of the season.
I knew exactly what I would have to make: Indian style stuffed vegetables.
I used to make these for my Pakistani and Bangladeshi personal chef clients all the time, and they -loved- them.
You can use the filling mixture for absolutely -any vegetable; I have used squash, eggplant, sweet bell peppers, large chile peppers, and tomatoes in the past. I am sure that folks could come up with other vegetables to use this treatment on–just about any veggie that can be hollowed out and stuffed would work.
I use lamb in this recipe, but it is not necessary. You can leave it out entirely, and just use a little more vegetables: what I would do is roughly chop up a squash or two to take the place of the meat, and maybe at the end of the sauteing process, add some fresh or frozen green peas.
I always serve these stuffed veggies with a moist dish to go on top: my two favorites are cucumber-tomato raita with mint, cumin, salt and sometimes cilantro, and an uncooked mango chutney with chiles, sweet red peppers, cumin, red onion, garlic and cilantro. This time around, as you will be able to see in the photograph below, I made the raita, taking advantage of the fresh cucumbers and tomatoes at the market. (But, now that I think of it–I bet green chutney, otherwise known around here simply as "Green," would be really wonderful, too.)
While my mother's favorite version of this dish is sweet red or yellow bell peppers stuffed with this mixture (I chopped up a squash to go in the stuffing as the peppers have no edible innards to go in the stuffing) with mango chutney, I prefer the squash and eggplant variation showcased here, with the raita. I think that the flavors are more subtle and savory than the very sweet peppers with the sweet, hot and sour chutney.
In order to make this recipe, you need to make some of my keema sookh (leaving out the potatoes and green beans); however, if you are only doing one eggplant and one squash, you only need to use about 1/3 of a pound of meat mixture in it. This means several things–you can either scale down the keema sookh recipe, or use the stuffed vegetables idea as a way to use up leftover keema sookh and turmeric-tinted basmati rice.
I usually take the latter course, which is how I came up with this dish in the first place for my clients. It was a way to use up leftovers they had in their fridge to make a completely new and tastier dish–and they loved it.
Anyway, here is the recipe–I hope you will try it out, or something like it, to take advantage of all the beautiful produce that is coming out in the farmer's markets this summer.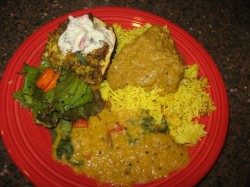 Indian Stuffed Vegetables
Ingredients:
1/3 of a recipe of keema sookh, minus the potatoes and green beans
1 cup basmati rice, rinsed thoroughly
1 1/2 cups water
1 tablespoon turmeric
1 squash–zucchini or yellow summer squash
1 medium eggplant
3 tablespoons canola or peanut oil or butter
1 medium onion, sliced thinly
2 cloves garlic, peeled and minced
1 teaspoon garam masala
salt to taste
handful of fresh mint leaves, minced
Method:
If the keema sookh is freshly made, set it aside to cool.
In a rice cooker, mix together rice, water and turmeric, and following manufacturer's directions, cook the rice. When it is done, open rice cooker, fluff rice, and turn off warmer. Allow it to cool to room temperature.
Slice vegetables in half lengthwise. To get vegetables to sit flat, before hollowing them out, cut a thin slice off the bottoms of the halves. Using a melon baller, a spoon or a lemon zester, scoop out the interior of both vegetables, leaving a shell about 1/4″ thick all around. Save the interior bits, and then when all the halves are hollowed, roughly chop the vegetable innards.
Preheat oven to 375 degrees.
Heat oil or butter in a saute pan on the stove on medium heat. Fry onions, stirring, until they are medium reddish brown. Add garlic and vegetable bits, and stir, cooking, until the squash and eggplant wilt and become transleuscent and wilt. Add the keema sookh and the rice, and stir and fry until all is well combined and fragrant. Season with garam masala and salt to taste.
Place hollowed out vegetable "boats" in a baking pan that will accommodate them all easily. Pour about 1/4″ of water in the bottom of the pan–do not let it come up to the opening of the "boats"–but you do want the bottom of the pan fully covered with water. Spoon filling carefully into the veggies, mounding decoratively and packing it lightly. Do not worry if you lose little dabs of filling into the water in the pan–it won't burn or anything.
Cover tightly with foil and place in oven. Allow to bake for about 35-40 minutes, or until vegetables are tender and steamed through.
Garnish with a sprinkling of chopped mint leaves, and serve with raita or mango chutney to go over. Serves four as a main course, or eight if it is served with a lot of other Indian dishes, as shown here.
11 Comments
RSS feed for comments on this post.
Sorry, the comment form is closed at this time.
Powered by WordPress. Graphics by Zak Kramer.
Design update by Daniel Trout.
Entries and comments feeds.