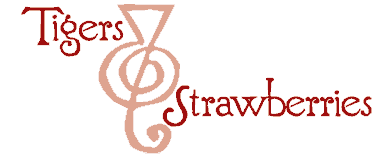 Cook Local, Eat Global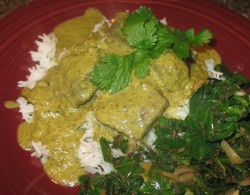 Sri Lanka is a land of gemstones, tea and spices.
This independent island nation, which sits about 18 miles or so off of the southeastern coast of India, is cast in the Indian epic, The Ramayana, as the stronghold of Ravana, the abductor of Sita, the wife of Rama, a human avatar of the god, Vishnu. Most Western people, however, think of it, if they think of it at all, as the place where Celyon tea is grown, and as a part of India. (Which it most certainly is not.) With the highest per capita income in southeast Asia, and a mixed population of Buddhists, Hindus and Muslims, Sri Lanka, the political landscape of Sri Lanka is complex, and sometimes violent, but always filled with the scent of spices.
It is the spices which tie the cuisine of Sri Lanka to the foods of India; in essence the two cuisines are sisters to one another. However, Sri Lankan cookery also show a great deal of Thai and other southeastern Asian influences, so it can be seen, metaphorically, as a bridge between southern Indian foods and the foods of the rest of Southeast Asia.
Sri Lanka is possessed of a fascinating culture and history which I am hoping to learn more about, especially after making this delicious curry I found in Madhur Jaffrey's book, From Curries to Kebabs. It is a curry that is enlivened by a plethora of fresh herbs, including curry leaves, cilantro and pandanus leaf; the musky, deep savor of the curry leaves is brightened by the fresh cilantro flavor, while the pandanus leaf adds a sweet, nutty, vanilla-like sweetness to the top notes of the dish.
Unsurprisingly, since coconut is one of the main crops of Sri Lanka, this curry uses coconut milk as the base for its delicious sauce. As I am used to cooking many curries from northern India, many of which are based on tomatoes, yogurt or milk, I find the flavor of Indian coconut milk curries to be somewhat reminiscent of Thai food, while still being unmistakably Indian in the ways in which spices are used.
This Sri Lankan curry is somewhere in between an Indian and a Thai style curry, and is both simple to cook and delicious to eat. We had it with plain steamed basmati rice and Indira's Magic Greens.
I did make a few changes in the recipe, of course, but not too many. Mostly, I used slightly more meat, and used a bit more coconut milk, in large part because I didn't want to waste the remaining six ounces of coconut milk in the can. (She called for a cup of coconut milk, and I used the entire 14 ounce can.)
The curry was amazingly delicious, and the only change I would make in the future is to use more green chilies, in order to give the dish more bite. That is the only change I would make. Oh, and even though Jaffrey states that the dish can be made with beef, pork or lamb, I would stick with the lamb. It was just perfect, and I think that the only other meat I might use would be goat or perhaps venison.
One quick note before I give the recipe: it calls for the use of pandanus leaf, fresh or frozen. Pandanus, (or kewra) also known in English as "screw pine" for its appearance of long, tapering leaves that are arranged in a spiral around a central stem. Its scent and flavor, which intensify as the leaves wither, are somewhat nutty and vanilla like; in fact, the plant is known as "the vanilla" of southeast Asia, because of its use in all sorts of desserts.
It is found in the US in Indian and Asian grocery stores in several forms, some of which are useful than others.
The most commonly found version is "screw pine essence," a brilliant green extract that has been enhanced by chemical food coloring agents, which is most commonly used in southeastern Asian sweets. There is also kewra water, which looks just like, and is made the same way as rosewater–it is a mixture of distilled water and essential oil derived from the plant. Finally, there are frozen pandanus leaves available at Thai and Chinese markets, which are quite fragrant and are easy to use.
I will admit that when I first made this curry (I have made it twice now), I used several drops of the electric emerald-green extract, because it was the only version of pandanus I had on hand when I found the recipe and decided to make it for supper. The result, which I photographed for this post, was mildly greener than necessary, and unfortunately, dyed the meat chunks as they cooked, resulting in savory brown mottled with unpalatable green. (Meat should not be green. It is just a thing.) The second time I made it, I used the frozen pandanus leaves I found in an Asian market in Columbus, and the results were not only less odd-looking, but more fragrant and flavorful.
I would highly suggest finding the leaves to make this recipe, or obtaining kewra water and using a small amount of it at the end of cooking to introduce the flavor of pandanus leaves into the curry.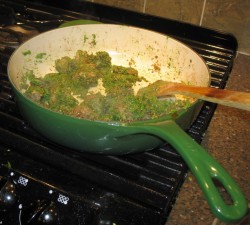 Sri Lankan Lamb Curry with Fresh and Dry Coriander
Ingredients:
2 teaspoons whole brown mustard seeds
1/2 teaspoon whole peppercorns
3 tablespoons whole coriander seeds
2 whole cloves
5 tablespoons roughly chopped shallots
3 medium cloves garlic, peeled and chopped
1/2″ piece fresh ginger, peeled and finely chopped
1 well-paced cup freshly chopped cilantro
2 hot fresh green chilies, sliced
3 tablespoons peanut or coconut oil
1 medium stick cinnamon
2 whole green cardamom pods
10-20 fresh curry leaves
2 inch length fresh pandanus leaf
1 1/4 pounds fresh boneless leg of lamb, cut into 1″ chunks
1 1/2 cups water
1/4 teaspoon ground turmeric
1 14-ounce can coconut milk (I used Chaokoh brand)
1 teaspoon fresh lime juice
salt to taste
Method:
Grind together the mustard seeds, peppercorns, coriander seeds and cloves to a fine powder in a spice grinder or coffee grinder. Set aside.
Grind the shallots, garlic, ginger, cilantro and chilies into a fine paste, using either a blender (to which you can add up to five tablespoons of water) or a spice grinder.
Pour the oil into a large lidded pan and set over medium-high heat. When the oil is hot, add the cinnamon stick, cardamom pods, curry leaves and pandanus leaf. Stir for five seconds or so, then add the meat. Brown the meat on all sides. Reduce the heat to medium and add the dry spice mixture. Stir for one minute. Add the wet paste mixture, then stir and fry for about five minutes. Add the water and turmeric.
Stir and bring to a simmer, then cover and cook over very low heat for about an hour. Stir once or twice during this time.
Remove lid, add the coconut milk, and the lime juice, then add salt to taste. Stir and heat through.
Garnish with sprigs of cilantro.
8 Comments
RSS feed for comments on this post.
Sorry, the comment form is closed at this time.
Powered by WordPress. Graphics by Zak Kramer.
Design update by Daniel Trout.
Entries and comments feeds.