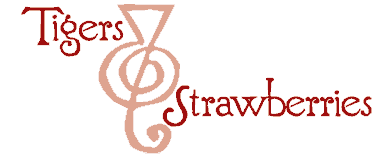 Cook Local, Eat Global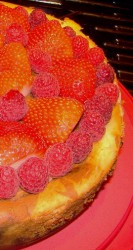 Last weekend, when my dear friend Tom, also known as Brother Thomas, visited, he asked if I would make him a strawberry cheesecake.
Of course, I said yes, and used the last of the local strawberries, along with a quantity of very good strawberry jam to do it. I also flavored the batter and topping with rosewater, which makes the strawberries taste, if anything, "strawberrer," while adding its own distinct and sensual floral aroma.
The cheesecake was, as is usual, a hit.
Then, this weekend is our friend Howie's birthday, and for his party, I decided to make a cheesecake. One only turns fifty once, you know. But what flavor?
As Howie likes chocolate, it had to be a part of the mixture. I finally settled on a marbled espresso-chocolate and Irish cream cheesecake with an espresso-chocolate crust. And then, to make it pretty, it was topped with fresh raspberries and strawberries.
I like to think of it as the "Irish Mocha Cheesecake;" and as you can see from the illustrations, it was quite pretty indeed.
It also tasted quite amazing.
When I was making Howie's cheesecake, I realized that I wasn't using a recipe; nor had I used one for Tom's strawberry cheesecake, nor Dan's Chocolate Raspberry cheesecake.
I just adapted the basic cheesecake recipe I have used for years by adding different flavorings and crusts, and using different proportions of egg yolk and the like.
Which led me to think that instead of giving every cheesecake variant as I develop it, I should give the basic recipe, which is essentially fool-proof and let everyone else come up with great combinations of their own. And that way, when I write about cheesecakes ever afterward, I can refer back to the basic recipe as needed.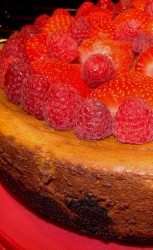 First things first: I did not develop the basic recipe myself.
It comes from a wonderful cookbook called Rosie's All-Butter Fresh Cream Sugar-Packed Baking Book, which was written by the owner of the rightly popular Boston bakery, Rosie's, Judy Rosenberg. Rosenberg is a baker after my own heart: she knows that the treats she makes are not supposed to be eaten every day, so she doesn't bother with making them low-fat or otherwise healthy. Treats are just that, treats, and they are not meant to be everyday indulgences, so she loads her recipes with all the evil fattening stuff that a sweet tooth could want.
You have got to love a woman like that.
Anyway, her cheesecake recipe is based upon one she remembers from her childhood, at Reuben's Deli, and I have been using this recipe, in about a bazillion different variations since I first got her book when it came out in 1991. It is virtually a no-fail recipe, it is quite simple, and it is well worth making it a part of your own dessert repertoire.
So, without further ado, here is my version of Rosenberg's cheesecake: stripped down to its essentials so that it can be used as a formula or naked canvas upon which the baker can paint her own flavorings and additions. And at the end, I will give the changes one needs to make to make Tom's Strawberry Cheesecake (which alas, I did not photograph before it was eaten) and the Irish Mocha Cheesecake.
This formula is the single best cheesecake I have ever eaten–it is creamy, smooth and rich without being dense or heavy on the palate. As Morganna, my dear daughter says, it is by my cheesecakes that one can tell I am of German descent: I make cheesecakes with which one could take over the world, one happy tongue at a time.
If I must have a secret weapon, let it be cheesecakes, I say.

Universal Cheesecake Formula
Ingredients:
1 1/2 cups crumbs (vanilla wafers, graham crackers, shortbread cookies, chocolate wafers, or zwieback crumbs
1/2 cup finely ground nuts (optional–use almonds, hazelnuts, walnuts, pecans–whatever you like, though I prefer almonds)
1 tablespoon sugar (optional–for the shortbread, vanilla wafers, and chocolate wafers it is not necessary–I seldom use it at all, but when I do, I use raw sugar)
1/4-1 teaspoon dry spice or flavoring (optional–for graham cracker, dried ginger, cardamom and cinnamon, for chocolate wafers, espresso powder rules)
6-8 tablespoons butter, melted (This depends on how dry the crumbs you are using for the crust are. Start with six tablespoons. and if the crumbs are to dry to come together into a crust, add more butter 1/2 tablepoon at a time)
3 pounds cream cheese, softened
1 1/2 cups sugar (for pale, non-chocolate cheesecakes, I love the flavor of raw sugar)
1 teaspoon-2 tablespoons flavoring (vanilla paste, extracts, liquor, citrus zest and juice, rosewater, espresso powder dissolved in heavy cream)
3 whole large eggs
2-3 egg yolks (for chocolate cheesecakes, I use 3–all others get 2)
3-6 ounces high quality (I use Sharffen-Berger and Lindt)bittersweet chocolate, finely chopped (optional–for chocolate or marbled cheesecakes)
Method:
Preheat oven to 375 degrees F.
Place crumbs, optional sugar and nuts and any flavorings to be used in the crust into the bowl of a food processor. (I also use the processor to make the crumbs, by the way, so they are usually already in the bowl.) Start the processor and as it is running, drizzle the melted butter through the feed tube. Allow machine to mix thoroughly until the texture of damp sand is accomplished. (Start with smallest amount of butter, then if the crumbs are still too dry to hold together like damp sand, add more melted butter, a half tablespoon at a time until it holds.)
Dump crust ingredients from processor bowl into the center of a non-stick 10 inch springform pan. Pat the crumbs in an even layer on the bottom of the pan and about a third of the way up the sides of the pan. Don't worry if the top edge is a little ragged. It won't matter.
Bake in the preheated oven for fifteen minutes (ten if you have a convection oven), then remove from the oven and allow to cool thoroughly. Turn the oven temperature down to 300 degrees and put a pan of water in the bottom of the oven. This creates a moist, steamy environment for the cheesecake to bake in, without having to bake it -in- a water bath.
Beat together the cream cheese and sugar in a heavy-duty mixer until they are thoroughly combined and are fluffy. Add any flavorings, extracts, liquors or citrus zest and juice at this time, and beat well to combine.
Whisk together the eggs and egg yolks until they are thoroughly combined and lighten in color somewhat. Add to cheese batter and beat well to combine. (This also incorporates some air into the batter.)
If you are using chocolate, melt it carefully, either over a boiling water bath on the stove, or in the microwave, at ten second intervals, stirring between each interval. Do not allow water to touch the chocolate–this will cause it to seize up and solidify instantly in a very ugly and nasty way.
After the chocolate is thoroughly melted–and I mean no lumps–melted all the way–scrape it into the cheesecake batter and beat to combine. Remember, if you are using chocolate, to add that third egg yolk before you add the chocolate. (For an all-chocolate batter, use the larger amount of chocolate–for a marbled batter, use the smaller amount, and mix it into one third of the cheesecake batter, leaving the other two thirds plain.)
Scrape cheesecake batter into the prepared, cooled pan over the crust, and smooth the top so it is even. Place into the center rack of the 300 degree preheated oven and bake for one hour and fifteen minutes. (Bake for fifty minutes to an hour if you have a convection oven.)
Remove from oven when done–the cake will be set around the edges, and will be somewhat jiggly in the middle. Do not worry–as it cools on a wire rack on the counter, the residual heat of the cake will continue to bake the middle. By the time it is at room temperature, it will be completely set.
Allow to cool to room temperature, then cover tightly with foil, and still in the pan, refrigerate for at least ten hours or until completely cold.
To remove from the pan and serve, run a thin icing spatula or knife gently around the outside of the springform pan to loosen the cake from the pan. Unlock the spring, and loosen the sides of the pan away from the cake, and lift away.
Decorate and top as you choose and serve proudly.
It serves at least sixteen people, up to twenty or so, depending on how thinly you slice the cake.
Variations:
In making these variations, use the Universal Cheesecake Recipe above, and plug in the ingredients outlined in these little recipelets below in the places where they belong in the formula. It is very simple, and the results are very satisfying.

Brother Thomas' Strawberry Cheesecake
Ingredients:
1 1/2 cups graham cracker crumbs
1 teaspoon raw sugar
1/4 teaspoon ground dried ginger
1/8 teaspoon ground cinnamon
1/8 teaspoon ground cardamom
1 tablespoon lemon juice
1 tablespoon grated or minced lemon zest
1 1/2 cups high quality strawberry jam or preserves
2 tablespoons rosewater
1 quart fresh strawberries
Method:
Following the Universal Cheesecake Formula, make the crust out of the graham crackers, sugar and spices.
Add to the batter recipe the lemon juice and zest at the point indicated in the universal recipe.
In a separate, microwave safe bowl, heat up the strawberry jam or preserves until it melts slightly. Mix in rosewater. Set aside to cool somewhat. Separate out 1/3 of the jam mixture and set aside.
When batter is complete, scrape half of it into the prepared pan with the baked crust. Spoon dollops of the jam mixture that was not set aside 9use half of it) on top of the batter, and using a chopstick or the handle of a teaspoon, swirl to create a marble effect. Scrape the rest of the batter on top, and repeat with the remaining jam (not the stuff that was set aside–leave that alone for now!). Dollops on top of the batter, swirled into a marble pattern with a chopstick or teaspoon handle.
Bake cake as directed.
Wash your strawberries and allow to dry completely. Cut off the green stems and leaflets with a straight cut across the top of the berry.
When the cake is completely cool, just before serving, heat up the set aside jam and rosewater mixture slightly, so that it can be spread over the top of the cake, in the natural well created by the higher-rising edge and the slightly sunken center. Cover the jam with the whole berries, placed pointed end up.
Serve immediately.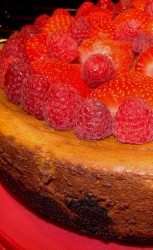 Irish Mocha Cheesecake
Ingredients:
1 1/2 cups chocolate wafer cookie crumbs
1 tablespoon espresso powder
1 teaspoon vanilla bean paste
3 tablespoons Bailey's or Carolan's Irish Cream liquor
1 egg yolk
3.5 ounces Lindt bittersweet chocolate, chopped finely
1 tablespoon heavy cream, warmed
1 tablespoon espresso powder
fresh strawberries and raspberries as needed to cover top of cake
Method:
Use the chocolate wafer cookie crumbs and espresso powder to make crust as directed in the Universal Cheesecake Recipe.
Mix into the batter the vanilla bean paste and Irish cream liquor where directed in the recipe. Add the extra egg yolk with the rest of the eggs and yolks as directed in the recipe.
Remove 1/3 of finished cheesecake batter from bowl and set aside.
Melt the chocolate carefully as directed in the recipe.
Dissolve the espresso powder into the cream and mix into the melted chocolate. Beat chocolate mixture into the 1/3 of the cheesecake batter until completely combined.
Scrape half of the plain batter into the cheesecake pan, and add dollops of the chocolate batter (use half the chocolate), and swirl with a spoon or chopstick to combine into a marble pattern. Repeat a second layer, using the rest of the batter.
Bake as directed.
When the cake is completely cool, cover the top completely with fresh raspberries and halved strawberries. Serve immediately.

The Universal Cheesecake Formula is also the recipe I adapted to make Pomegranate Cheesecake and Chocolate Raspberry Cheesecake. I am sure that I will come up with other variations as the days go by and more people ask me to bake a cheesecake for some occasion or another.
10 Comments
RSS feed for comments on this post.
Sorry, the comment form is closed at this time.
Powered by WordPress. Graphics by Zak Kramer.
Design update by Daniel Trout.
Entries and comments feeds.