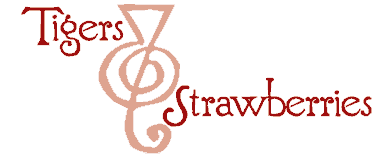 Cook Local, Eat Global
I always tend to lose weight during the months of August and September.
That is because those tend to be the hottest months of the year here in Southeastern Ohio. Humidity is usually off the scale, and no breezes blow, while the endless sunlight pours from an azure sky in unremitting waves of heat, crashing down over every living thing mercilessly.
If it weren't for fresh tomatoes, green beans, chilies, corn, peaches, eggplant, garlic, basil, cucumbers and bitter melons, I would absolutely abhor late summer and would immigrate to Siberia just so I can enjoy the balmy weather.
But, the fresh produce wins out over my inborn dislike of intense heat every year and I make it through the hottest days of summer by eating very little except salads, fruits, and anything that is cold –most especially cold noodles.
I adore Chinese cold noodles–I first started making them when we lived in Athens about twelve years ago. For a while, there was a tiny Chinese restaurant located in a most disreputable looking storefront with only a few tables scattered about the decrepit looking linoleum floor. There was no decor to speak of, but they made a dish they called "Hunan Cold Spicy Noodles" that were to die for. They were absolutely and utterly refreshing during the dog days of summer when I barely went near the kitchen to cook, much less to eat. Fiery with chilies, and sprinkled with icy cucumber shreds, these noodles were a godsend, and they opened my eyes to the possibilities of Chinese noodles served cold.
Later, when we moved to Maryland, I became acquainted with Cold Sesame Noodles–a dish of chewy fresh egg or plain noodles dressed with Chinese toasted sesame paste, garlic, sugar, vinegar and soy sauce and garnished with bean sprouts and cucumbers. Chinese toasted sesame paste is similar to Middle Eastern tahini–except that the seeds are toasted dark before being ground up. If it turns out you cannot get the Chinese kind, just use tahini instead, and add an extra teaspoon of toasted sesame oil to the dressing mixture to make up for the tahini's lighter flavor.
The creamy sauce was slithery and satisfying without being rich, and the noodles were both tender and chewy and were substantial enough to quell hunger without being so heavy as to weight the stomach down. They were amazing, and quickly became Zak's favorite summer food, which he could eat seven times a week if I'd let him.
I learned as I researched the sesame noodles so I could recreate them for Zak when we moved back to Ohio, that many restaurants use peanut butter in addition or instead of the sesame paste. This originally came about because sesame seed paste was at one time difficult to find in the US, so enterprising Chinese chefs replaced it with the easily obtained peanut butter. But later, some chefs kept using it in addition to the sesame seed paste because they and their customers liked the blended flavor better than the traditional dish.
I cannot argue with them on that point. I like the traditional dish well enough, but I was never as much of a fan of it as Zak was. But, man, if you put peanut butter in my cold sesame noodles or get cold sesame noodles in my peanut butter, I get all into it. Add to the dish the musky fire of Sichuan broad bean chili paste and Sichuan peppercorns, and sprinkle it all with some slivered carrots and cilantro, and suddenly, my jaded summer tastebuds are having a party in my mouth, one to which my appetite is invited. Wow! It makes me want to eat again, which is a good thing.
A cook who doesn't want to eat is a very sad creature to behold, let me tell you.
Another cool thing about this dish is that it can be made totally vegan by exchanging vegetable stock for the chicken stock and it makes a great little supper for four hungry vegetarians or two, if they are really hungry.
One word of advice, however–only make as many as you are going to eat that day. These noodles don't really keep very well in the fridge, unlike the Hunan Spicy Noodles recipe I have already posted. The dressing for this one starts to seize up and get sticky and unappetizing if you leave it in the fridge for more than an hour or so. It is just one of those recipes that is best made fresh.
Also–while I specify making this dish with fresh plain or egg noodles that are square in cross-section, and are about 1/8″ wide, you can use 1/4″ wide dried noodles for it instead. The texture is different; with dried noodles, you lose the substantial chew of the fresh noodles which goes a long way toward feeling full without becoming stuffed. But, if you need a lighter dish, one that is still soul-stirring, then try the recipe with the dried noodles and see how you like it. (The photograph below of the noodles in the red bowl, has the recipe made with dried plain wheat noodles. The photograph at the beginning of the post has the recipe made with fresh plain noodles.)
While you can make the sauce in a blender or a food processor, I find that using an immersion blender is the easiest way to get everything, particularly the stiff and thick sesame paste, blended. Sesame paste is spoon-bendingly stiff, and it takes some hefty forearm muscles and a stubborn will to get it out of the jar, but once you taste the finished noodles it is all worth it. An immersion blender manages to not only blend together the peanut butter and sesame paste, but also minces the cilantro, garlic and scallions into very fine bits, which makes the flavor of the sauce positively radiant, while making cleanup easy. (I hate washing regular blender jars–I just want to say that. Immersion blenders are so much easier to clean!)
My last tip has to do with the noodles. After they have been rinsed and soaked in cold water to chill and firm them, and you are about to combine them with the dressing, shake excess water off, but don't blot them or drain them in a colander overmuch. You want them to be slightly damp, because the extra drops of water help the sauce mix into and cling to the noodles.
I can't guarantee that these noodles will entice every sun-weary foodie to eat, but I suspect that quite a few of them might have their waning summer appetites perked up by a bowl of these fragrant, spicy, creamy delights.
I know it works on me, anyway.
Ingredients:
1 pound fresh or dried medium-wide plain wheat Chinese noodles
1/2 cup carrots, peeled and cut julienne
1/2 cup cucumbers, peeled, seeded and cut julienne
1/2 cup roughly chopped cilantro
1/2 cup thinly sliced scallion tops
For the Sauce:
2 heaping tablespoons toasted sesame paste
2 heaping tablespoons smooth peanut butter (all natural or Simply Jif)
2 tablespoons minced scallion, white part only
2 1/2 tablespoons finely minced fresh garlic
1 tablespoon finely minced cilantro leaves
2 tablespoons chicken or vegetable stock/broth
2 tablespoons light or thin soy sauce
2 tablespoons rice vinegar
1 tablespoon Shao Hsing wine or dry sherry
3 teaspoons chili-broad bean sauce/paste (or to taste)
1/4 teaspoon toasted and ground Sichuan peppercorns (or black pepper to taste)
1 teaspoon sesame oil
2-3 teaspoons honey or raw sugar (this is to your taste–I like it less sweet, Zak likes it sweeter…you try it with less first, taste it and then mix in some more if you want.)
Method:
Boil the noodles according to the directions in this post. Keep the noodles chilled in cold water until you are ready to dress them with the sauce.
Blend the sauce ingredients together using an immersion blender, a blender or a food processor until it is combined smoothly into a dark reddish brown sauce.
Drain the noodles, shaking them in a colander until they are mostly dry, but still with some droplets of water clinging to them. Pour one half of the sauce into a large bowl, put the drained noodles on top of them, and pour the rest of the sauce over them.
Toss the noodles with either two sets of chopsticks, two forks, or clean hands until the sauce coats every strand of noodles. Divide into serving bowls (it serves four for a light meal, six to eight for a cold appetizer) and sprinkle the vegetables, cilantro leaves and scallion tops over them as a garnish.
Serve immediately–do not refrigerate. If you wish to make this ahead, you can make the sauce ahead a few hours ahead and chill it, then bring it to room temperature to serve. You can make the noodles about an hour ahead and soak them in cold water until service.
Note: You can add less chili flavor if you want, but if you want more, you can always garnish with thinly sliced red chilies. Bean sprouts are good as a garnish, as are sweet red peppers cut julienne. Snow peas, thinly sliced on the diagonal are also good as are raw sweet purple onions. And, if you like, you can use all sesame paste in this recipe, which would be traditional, but I like the peanut butter blended in better, myself. However, all peanut butter doesn't taste as good, at least not to me.
Posted by Barbara on August 14, 2007 in Recipes: Almost Vegetarian, Vegetarian and Vegan, Recipes: Bread, Pasta, Grains, Recipes: Chinese, Recipes: Comfort Food, Recipes: Fruits and Vegetables, Simple Chinese Recipes, The Chinese Pantry | 14 Comments
14 Comments
RSS feed for comments on this post.
Sorry, the comment form is closed at this time.
Powered by WordPress. Graphics by Zak Kramer.
Design update by Daniel Trout.
Entries and comments feeds.