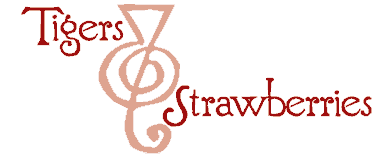 Cook Local, Eat Global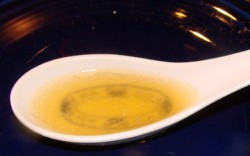 Zak and I were sitting with Kat, all of us with a bowl of roast pork noodle soup in front of us (well, Kat had noodles with minced up bok choy, finely minced roast pork and a bare dribble of soup in her bowl) and we were eating happily.
Zak looked up thoughtfully from his bowl and said tentatively, "You know, this is awesome–but there is something not perfect about the broth. It is missing something."
Now, he wasn't telling me anything I didn't already know. The broth was excellent, very flavorful, meaty and rich, with great body and aroma. It was a dark golden color from the soy sauce and Shao Hsing wine and the drizzle of toasted sesame oil gave it just the perfect tinge of nutty smokiness.
But still, there was something missing.
It wasn't sugar–there was just enough in it to enhance the pork and bok choy flavors without making it taste like "candy soup," which has a definitely unappetizing sound to it. It wasn't lack of white pepper, nor was it that the stock was too weak–the main flavor was meat.
Zak and I talked about it while we each offered Kat spoonsful of broth from our own bowls to slurp. He said, quite clearly as he took another sip, "It has something to do with the meat flavor–it is almost right, but not quite."
I finally stood up and sighed. "I bet I know exactly what it is," I stated, as I strode purposefully to the kitchen, opening the spice cabinet. I plucked out a jar I have had for ever, but which I have never opened.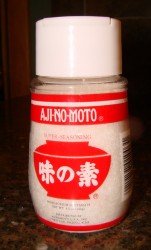 I carried it back to Zak and cracked it open. Over my bowl of broth, now swept clean of noodles, pork and greens, I sprinkled a few grains of sparkling crystalline white powder.
"What's that?" Zak asked.
"MSG," I said. I handed him the jar, and said, "I kind of wondered when I was cooking this if I shouldn't add some, but it goes against my nature to do it. I thought about using Chinese black mushrooms or kelp to get enough glutamates in the broth, but they both have their own flavors which come along for the ride, which would clash with this dish."
He sprinkled a few grains into his bowl, stirred it and took a sip. The umami flavor which had been missing–that meatiness, that savory component–it had arrived.
His eyes lit up. "It is almost like a whole new broth. You are right. It's perfect."
I tasted mine. He was right. The broth was taken to another level: it was meaty and savory and wonderful, with all of the natural flavors enhanced perfectly. That was the not-so-secret secret ingredient to make my soup taste just like the ones from our favorite noodle shops. A little tiny sprinkle of MSG. It is amazing how little was needed to add that last bit of oomph.ZZ
So, what do I suggest you do if you want to recreate this recipe?
Well, if you are opposed to MSG as an ingredient, or are sensitive to its effects, I suggest you just do without. In truth, the soup tasted plenty wonderful without it, such that Zak kept repeating as he ate his first bowl of it, "I love you, I love you. Oh, I love you."
So, the soup was fine, really.
But, if you want it to taste just like you remember from some noodle shop somewhere, wait until you have poured the hot soup over the noodles, pork and greens in a bowl. Then, sprinkle a few grains of MSG, known in Japanese as Aji-no-moto, over the broth and give it a stir with a chopstick. I am of the opinion that it is easier for you to season it by the serving than by the potful–it would be too easy to end up using too much MSG if you try to season several quarts of soup broth at a time.
Remember, you want to use as little MSG as possible if you use it at all. If you overuse it, instead of enhancing the flavor of your food, it will flatten it out and make it one dimensional. And you might end up unintentionally giving your guests a headache.
And if you don't want to use it–that is fine, too. Your soup will still be good without it.
For thoughts on MSG and health, check out my earlier posts:Let's Talk About MSG and More on MSG and Glutamates
15 Comments
RSS feed for comments on this post.
Sorry, the comment form is closed at this time.
Powered by WordPress. Graphics by Zak Kramer.
Design update by Daniel Trout.
Entries and comments feeds.