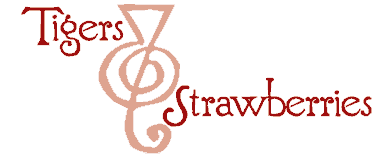 Cook Local, Eat Global
Chow fun is a transliteration from the Cantonese, which means "stir-fried rice noodles;" the Mandarin transliteration would be "chao fen." It does not have anything to do with the English slang word, "chow,' meaning "food" and "fun", meaning "fun." No, it does not mean "food that is fun," though I do think it is fun to eat and now I am pretty sure it is fun to cook, too.
The Cantonese name is the one by which this dish is most commonly known in American Chinese restaurants, however, in large part because the first waves of Chinese immigrants to the shores of the United States came from Guangdong Province, formerly known as Canton. Thus, much of what many Americans think of as "Chinese" food is Cantonese food that has been adapted to Western tastes and available ingredients; the deep influence of Cantonese cuisine upon our perceptions of the myriad cuisines that make up Chinese food in the US is hard to overstate.
Chow fun is one of the dishes that is often found on Chinese restaurant menus here in the US, and it is properly made with soft, fresh rice noodles cut into 1/2 to 3/4 inch widths. These noodles, known in Cantonese as "ho fun" or "hor fun," and in Mandarin as "shahe fen" or "he fen", are soft, chewy and have a special stretchy texture which is distinctive and very interesting on the tongue. Most restaurants use a great deal of oil in cooking these noodles, because in part, they require a good bit of lubrication to keep them from sticking to a hot wok. They can be served either "dry" where they are cooked with a meat and vegetables and no sauce to speak of, or "sauced." where the noodles, meat and vegetables are moistened with a savory sauce.
I prefer the sauced version myself, as I have found that the unsauced noodles to be a bit too greasy feeling for my taste, but there are others who swear that the dry versions are best.
A classic Cantonese teahouse dish is chow fun made with beef, mushrooms and bean sprouts, stir fried in a light sauce. It goes very well with pu er tea; a fermented, aged tea that has an earthy, deep aroma and flavor that goes very well with rich foods. It is said to help the digestion and it is believed to help lower cholesterol, though I have not seen any peer reviewed articles on that particular claim in any medical journals, so don't take my words as gospel truth.
My very favorite version of it is the decidedly untraditional but delicious one at Noodles Corner in Columbia, Maryland, with beef, fermented black beans and broccoli. It is delicious, filled with the bittersweet savor of the broccoli and the strong flavor of the beef, tied together with the funky and fantastic aroma of the fermented black beans.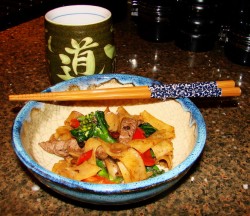 I have to admit to making my version of chow fun with half inch wide dried rice noodles; fresh rice noodles of the type used to make real chow fun are nearly impossible to come by in my section of Ohio. I was concerned about that, thinking that I wouldn't be able to make a good chow fun without the proper fresh noodles, but none other but cooking teacher and cookbook author Florence Lin said that she preferred dried rice noodles to fresh because they were more consistent and versatile to work with. She gave a chow fun recipe in her seminal work, made with rehydrated rice noodles. Taking my cue from her experience and wisdom, I decided that just because I couldn't get proper ho fun, didn't mean I couldn't have fun with making my own chow fun at home.
I decided to eschew the traditional mushrooms and bean sprouts since Zak doesn't care for either of them and replace them with gai lan and sweet red pepper. This would approximate the flavor and color palette of my favorite chow fun at Noodles Corner while using my favorite Asian vegetable of all time–gai lan is the best green in the world, as far as I am concerned. I kept the fermented black beans in the dish, and added onions, garlic, ginger, a single fresh chili from my Kung Pao chili pepper plant, and a good amount of ground bean sauce to the aromatics in the stir fry. These combined to make the noodles rich with umami scent and flavor, with tender beef, crunchy gai lan stalks and pepper slices, and velvety gai lan letaves.
Though the noodles lacked the slightly stretchy, chewy quality that fresh ho fun have, they were still wonderful, soft and slippery, soothing and yet still toothsome ribbons that carried the other flavors beautifully, contrasting with all the other textures like a symphony in the mouth.
When the dish was done, I was pleased to discover that I could use much less oil than traditionally called for in the cooking of the fresh noodles, which lightened the finished flavor considerably. Al though my first impulse was to call these noodles "faux chow fun," I changed my mind and called them "fun chow fun" because I liked playing with the homophones which have different meanings but still point to a singularly good kitchen experience.
Lighter it may have been, but Zak and I discovered that this version of beef chow fun still went hand-in-hand with pu er tea. The dark forest flavor and scent of the tea cut through the vivid flavors of the noodles, cleansing the palate and allow us to savor each bite as if it were our first.
Ingredients:
1/2 package of 1/2″ wide flat dried rice noodles
water as needed
1/2 pound top round or sirloin, cut into thin strips–2″X1/2″X1/4″
1 tablespoon dark soy sauce
1 tablespoon Shao Hsing wine
1 teaspoon raw or brown sugar
1 tablespoon cornstarch
3-5 tablespoons peanut or canola oil
1 cup thinly sliced onion
3 cloves fresh garlic, peeled and thinly sliced
2″ cube fresh ginger, peeled and sliced thinly
1 fresh red chili pepper, thinly sliced on the diagonal (optional)
2 tablespoons fermented black beans
2 heaping tablespoons of ground bean sauce
1/2 pound gai lan, bottoms trimmed, stalks cut into thin slices on the diagonal, leaves cut into bite sized chunks
1 small sweet red pepper, cut into slices the same size as the beef
1 tablespoon dark soy sauce
1/4-1/2 cup chicken broth or stock (I used the chicken-pork stock I made last week–it really tasted good here!)
1 teaspoon toasted sesame oil
Method:
Soak the noodles in very hot water to cover until they soften–about on half hour to forty-five minutes.
Bring a pot of water to boil, and add noodles. Allow to boil for a mere thirty seconds, then drain. Rinse well in hot water, then cold water, and fluff with hands coated in a bit of your cooking oil to keep them from sticking to each other.
Mix beef with next four ingredients and allow to marinate while doing other prep work–marinate at least twenty minutes, but no more than an hour.
Heat wok until it smokes. Add three tablespoons of oil–leave the rest of the oil to be used only if you need it.
Add onion and cook, stirring, until it browns lightly. Add garlic, ginger, chili and fermented black beans, and cook, stirring, for another thirty to sixty seconds, or until very fragrant. Add beef all in one layer in the bottom of the wok, and leave it undisturbed for about a minute to brown on the bottom. Then begin stir frying vigorously. When most of the beef is brown and is showing very little red, add the ground bean sauce and the soy sauce. Stir and fry for another thirty seconds, then add gai lan.
Cook, stirring until leaves wilt. Add sweet pepper and drained noodles. Add smaller amount of stock or broth and cook, stirring, until the meat is brown, the gai lan leaves are well-wilted, the noodles are well-mixed and starting to brown a bit and curl on the edges, and everything comes together in a very light brown sauce that coats everything evenly, but does not slosh around in the wok. If you need to add more oil or broth to the noodles to keep them from sticking, do so, but do it in small increments. You don't want to make the noodles either greasy and heavy with oil or overcooked and mushy with the broth, so be sparing in your additions. I only used three tablespoons of oil and a scant quarter cup of broth in my chow fun, and it turned out really well. Be judicious.
When dish has come together, drizzle with sesame oil, give it a quick stir or two to combine and scrape into a serving bowl or platter.
This makes enough for 2-4 people, depending on appetite and whether or not you are serving other dishes with this as a meal. With this as a one dish meal, Zak and I ate comfortably, and there was enough left over for Morganna to take to school for lunch the next day. It is good at room temperature, or reheated in the microwave.
Posted by Barbara on September 10, 2007 in Chinese Cooking Lessons, Recipes: Bread, Pasta, Grains, Recipes: Chinese, Recipes: Comfort Food, Recipes: Meat, Poultry and Fish, Simple Chinese Recipes, The Chinese Pantry | 17 Comments
17 Comments
RSS feed for comments on this post.
Sorry, the comment form is closed at this time.
Powered by WordPress. Graphics by Zak Kramer.
Design update by Daniel Trout.
Entries and comments feeds.