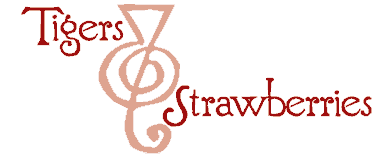 Cook Local, Eat Global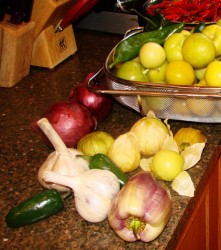 Tomatillos are a gorgeous fruit, and they are an integral ingredient to one of my favorite cooking sauces from North America–salsa verde. The fruit, which is encased in a papery husk like a leafy Chinese lantern made of mulberry paper, is often thought of as simply green in color, but the truth is, the hues it comes in are myriad. Subtle shades of kiwi, celedon, celery and leaf green are mixed with butter yellow, cream, and golden mushroom tones. Some fruits are even speckled and streaked with dusky violet which complement the greens and yellows in a way that many painters and interior designers would envy.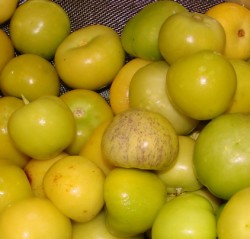 There are a couple of farmers who grow tomatillos here in Athens, and they seem to have had a bumper crop this year. Like the tomatoes which have been extremely flavorful (probably because of the very long summer drought we have had), this year's tomatillos have been fairly bursting with flavor. Not simply tart, but also sweet, with a tangy pineapple fragrance and a rather herbal, woody tang, these tomatillos were perfect for making some salsa verde to can for the winter.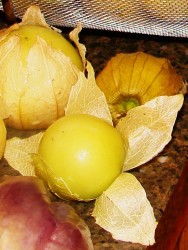 Nearly every ingredient in this salsa is local: I paired the local tomatillos with red or violet sweet bell peppers, and plenty of red onions, garlic and chilies. The hot version had green jalapeno, poblano and Anaheim chilies, while the mild had just poblano chilies.To raise the acidity to safe levels for canning, white vinegar was used, but significant amounts of lime juice were also added, while cilantro, cumin and smoked paprika boosted the flavor. Of course, there is also some salt to round out the flavors and keep the salsa from tasting flat.
I adapted the recipe from The Ball Complete Book of Home Preserving which is edited by Judi Kingry and Lauren Devine. The only things I changed about were the types of chile peppers and the seasonings–it is not a good idea to change the amounts or proportions of acidic to non-acidic ingredients in recipes that are going to be put up in a hot water bath (non-pressure) canner. This is because the acids used in these recipes are part of what helps prevent bacteria from growing in the canned food.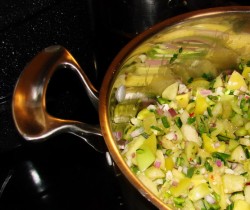 Cooking it is simplicity itself; you just chop the ingredients–I did the tomatillos in medium sized dice, and the peppers and onions in small dice, and minced the garlic and cilantro–and then put everything in a pot, bring it to a boil, turn it down and simmer it for ten minutes. I find that the colors look especially lovely in the uncooked salsa–not only does the red onion boost the sweetness of the salsa and complement the natural sugars in the fruit, but the violet color, even in the finished, canned product, looks lovely flecked through the variegated greens of the salsa.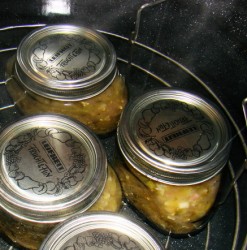 The recipe I give here fills five pint jars or ten half pints. Whether you pack into the larger or smaller jars, the processing time is the same–you boil them in the covered canner for fifteen minutes. Then, remove from heat and let sit for five minutes before opening the canner and lifting the jars from the water.
So, what do I intend to do with my finished salsas verde?
Make enchiladas verde, of course! Or chile with pork and white beans….mmm.
There are lots of possibilities for soul warming foods to be made with this salsa in the coming winter months.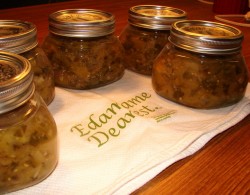 Tomatillo Salsa For Hot Water Bath Canning
Ingredients:
11 cups husked, cored and chopped tomatillos
2 cups diced red onion
1 cup green Anaheim or New Mexico chiles, diced finely
1/2 cup green jalapeno chiles, diced finely
1/2 cup green poblano chiles, diced finely
8 cloves garlic, minced
1 cup white distilled vinegar
8 tablespoons lime juice
2 teaspoons ground cumin
4 tablespoons finely minced cilantro
1/2 teaspoon smoked paprika
1 teaspoon salt
Method:
Wash five pint or ten half pint jars, their lids and rings thoroughly in hot, soapy water and rinse well.
Fit jars in the rack to a three-quarters full hot water bath canner, lower into the water, and bring to a boil. Lower heat and simmer for ten minutes. (Make sure water comes over the top of the jars and fills them all the way up. Turn off heat and allow jars to sit
Put lids in a saucepan and bring to a simmer–not a boil–and allow to simmer for ten minutes. Turn off heat and keep the lids warm.
Put all the ingredients to the salsa in a clean, heavy bottomed dutch oven or stockpot. Bring to a boil, stirring constantly, then turn heat down and cook at a vigorous simmer for ten minutes, stirring now and again. Turn heat off of salsa.
Following the instructions in my post on pressure canning–fill hot jars with hot salsa, and leave 1/2 inch of headspace at the top. Make sure there are no air bubbles in the jars, and wipe rims of jars, then top with a lid and screw down the ring. Do not tighten ring–just scew it on until it is firm, but not tight.
Put filled jars back into rack in canner, and lower them into the water. Make sure the water covers the jars. Bring to a boil, cover the canner, and process at a full boil for fifteen minutes. Turn off heat and remove canner lid. Let the jars cool for five minutes, then remove from the canner with jar lifter and set on a folded clean towel on your counter away from drafts. (If your kitchen is drafty, or your counter is near an open door or window, cover the jars with another clean towel.
Leave undisturbed for about eighteen hours. Check to make sure the lids have sealed properly–they should be concave and you shouldn't be able to easily pry the edges up–then tighten the rings on the jars, wipe the jars down and store them in a cool place out of direct light.
Makes ten half pints or five pints of salsa.
Posted by Barbara on October 3, 2007 in Food Preservation, Food Safety, Kitchen Science, Local and Sustainable, Recipes: Almost Vegetarian, Vegetarian and Vegan, Recipes: American Regional, Recipes: Canning and Preserving, Recipes: Fruits and Vegetables, Recipes: Mexican/Native American/ Latin American/Caribb | 29 Comments
29 Comments
RSS feed for comments on this post.
Sorry, the comment form is closed at this time.
Powered by WordPress. Graphics by Zak Kramer.
Design update by Daniel Trout.
Entries and comments feeds.