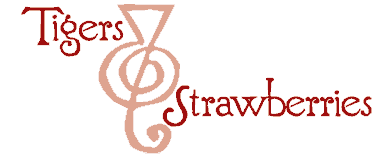 Cook Local, Eat Global
Apples are gloriously in season this month; at our farmers market, a double handful of varieties are currently available, including two of my favorites, MacIntosh and Jonathan. MacIntosh apples, in fact, were the first apples I introduced Zak to in order to convince him that he really liked apples. He was convinced for years that he hated them, because the only apples he had ever tasted were the insipid, mealy Red Delicious apples available in every grocery store in the country. When I finally got him to taste a MacIntosh, fresh from the orchard down the road from our house, his eyes rolled back in his head and he muttered through his mouthful–"God! It's juicy! And it tastes flowery–and sour and sweet and wow! This is really good!"
Now Zak is a big fan of apples, and every year, the number of dishes I make with apples increases, since everyone in our household are fervent fans of the pommes.
This dish was inspired by one of the new seasonal salsas at Casa Nueva. The folks at Casa change their menu seasonally to reflect the local bounty available to them from our area's many farmers. They choose a cheese and several vegetables or fruits, and use them as the basis for seasonal menu items which showcase the flavors, textures and aromas of their chosen ingredients.
Apples and cayenne chilies feature prominently in the Autumn 2007 menu, and are used to splendid effect in a large number of recipes, including an Apple Salsa Verde that is fantastic. It is a very spicy (from the cayennes) verde salsa which features tart apples to add a crisp note to the primarily soft, cooked fruits in the salsa. It is wonderful–very fresh, and very shimmery on the tongue–like the way that the first truly cold, snapping crisp sunlit autumn day feels after a long, hot, dusty summer.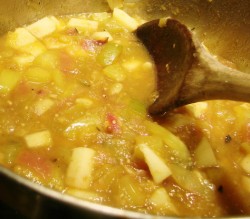 The cayenne chilies add heat, of course, but the problem is that all of the chilies grown in Athens this year are very hot–hotter than usual for Ohio. This is because we had drought conditions here for most of the summer. The drier the weather, the hotter the chilies–it has to do with having less moisture in the cells of the pods, which concentrates the oils which make the flavor hotter.
So, depending on who makes the salsa on a given day at Casa, the apple verde salsa can be a great balance of flavors and textures, or searingly, tongue-torchingly hot. And this is coming from me–the Queen of Heat. I can eat hot things–very hot things, in fact, but with some dishes, heat can completely overwhelm the other flavors the way a brushfire can get out of control and destroy an entire forest.
The other day, Zak had gotten some enchiladas verde with shredded pork and the apple verde salsa, and he couldn't really stand the heat of the cayennes. There were a lot of them in there, added uncooked, as near as I could tell, and it was beyond tingly into torturous to eat. I ate as much of them as I could and gave him what I had ordered, but he was sad because he had really wanted that particular set of flavors.
So, I asked him if he wanted me to make something akin to his lunch for dinner, only not so hot.
Which is what I did.
The salsa itself was simple–I made my usual salsa verde, but added MacIntosh apples to the onions as they browned and let them cook down to thicken the sauce, and then at the end, I added some diced Jonathan apples and let them barely cook in order to add another layer of tartness as well as a bit of crunch.
The filling was two-fold. I made a shredded pork filling by braising bits of locally produced pork butt roast in beer, chilies, onions, garlic and some vegetable broth. This I sauteed with onions, garlic, corn kernels, shredded kale and sliced apples. The second filling was a mixture of softened tangy chevre, cream cheese, shredded sharp cheddar cheese, cilantro and thinly sliced green onion tops.
My Mom calls these layered enchiladaesque casseroles I make "Mexican Lasagne," and there is some truth to that comparison. Instead of noodles, I use corn tortillas, usually fresh, although this time around I used some tortillas made in a tortilla factory in Columbus, Ohio, which is pretty close to here. (And, I have to say–the freshness of these corn tortillas was excellent–they tasted almost as good as the ones I make, and they were heavy with corn fragrance, which is what I love most abot fresh tortillas.) Then there is usually a meat or vegetable based filling and a creamy, cheesey filling taking place of my ricotta, pesto and spinach creamy filling for lasagne. And then, there is the salsa in betwen the layers and shredded cheese melted into a gooey, crisped layer on top.
Actually, it is quite an apt analogy. This enchilada casserole is like lasagne in that you can come up with nearly endless variations by being creative with the fillings, cheeses, salsas, and garnishes. It is a wonderful, comforting food that seems to make everyone quite happy–and the layers, when cut into, are fun to peer at as well as eat.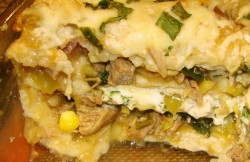 Once the components are all made, it is a cinch to put together–just start with a 9″X9″ pan, oil it lightly with olive oil, then pour in a scant 1/4 cup of salsa, spreading it across the bottom. Then, cover the bottom completely with a single layer of corn tortillas–tearing some in half if you need to, then cover those with a thin layer of salsa. Add filling and a sprinkle of shredded cheese, then repeat the layers until you come to the top. Finish with a generous amount of salsa and cheese, with a sprinkle of cilantro and some thinly sliced green onion tops for a garnish. Put it in the oven at 375 degrees F for about fifteen to twenty minutes and then, before you slice it let it rest for about five minutes.
Dinner is then, thus, served.
This makes enough for three to five people, depending on how hungry they are and what side dishes you offer.The flavors of this version are great, a very autumnal mixture. The salsa is both sweet and tart, with a warm, comforting chile heat, not a searing one. The pork, corn, kale and apple filling is the essence of autumn–the corn and caramelized onions and apples complement the rich pork perfectly, while the bittersweet kale adds another layer of complexity to the dish. The cheese filling, if you use more goat cheese than cream cheese, is tangy, creamy and rich without being too gooey, and the corn tortillas, along with the salsa, tie everything together into a harmonious whole.


Autumn Mexican Lasagne: Pork, Corn and Kale Enchilada Casserole with Apple Verde Salsa
Ingredients:
2 tablespoons olive oil
1 cup thinly sliced onions
1/4 teaspoon salt
2 cloves garlic, peeled and minced
2 cups shredded pork
1/4 teaspoon ground cumin
1/2 teaspoon ground coriander
1/4 cup apple cider, sweet or hard
1 1/2 cups fresh or frozen corn kernels
1 tart, firm apple, peeled and diced finely
1 cup shredded fresh kale leaves (remove the large veins before shredded)
4 ounces cream cheese
6 ounces chevre
1/4 cup sharp cheddar
1/4 cup fresh, roughly chopped cilantro leaves
1/2 cup thinly sliced green onions
3 cups verde salsa with one finely shredded, peeled apple added with the onions, and one finely diced tart apple added near the end of cooking, so it stays somewhat firm and crisp (you could also use jarred salsa verde with your own apple added to it in order to save time, or if you have no access to fresh tomatillos)
1 dozen freshly made or packaged corn tortillas
1 1/2 cups shredded sharp cheddar cheese
cilantro leaves and/or thinly sliced green onion tops for garnish
Method:
Preheat oven to 375 degrees F.
In a heavy bottomed skillet, heat olive oil over medium heat. Add onions and sprinkle with salt, then cook, stirring, until the onions turn golden. Add garlic and shredded pork, and the spices, and continue cooking, stirring until the onions begin to brown well. Add cider and deglaze any brown juices stuck to pan. Add corn and apple and keep cooking until both have a bit of brown color on them. Add kale, and allow to wilt and deepen in color. Remove from heat and set aside.
Allow cheeses to come to room temperature. Using your hands or an immersion blender, mix together cream cheese, chevre, and 1/4 cup of sharp cheddar cheese, then mix in cilantro and sliced green onions until well blended. Set aside.
Lightly oil inside of a 9″X9″ square baking pan. Put a scant 1/4 cup of salsa in bottom of pan and spread to cover bottom in a thin layer. Cover bottom of pan with three tortillas–one cut in half in order to fill in corners. Add a 1/4 cup layer of salsa over the tortillas, then layer half of the meat and vegetable filling over, then add another bit of salsa, and a sprinkle of the shredded cheddar cheese. Top with another layer of tortillas, then a 1/4 cup of salsa, then the cream cheese and chevre filling (all of it) and then more salsa, and another layer of tortillas. Then, salsa, the other half of the meat/veggie filling, then salsa, then cheese, then tortillas. Press layers down with your hands to firm them up, then pour the rest of the salsa over the top, and sprinkle with the rest of the shredded cheese, and garnish with cilantro and green onion tops.
Bake in preheated oven for 15 to 20 minutes, or until filling is bubbly and the cheese on top is melted and browned in spots.
Allow to rest five minutes before cutting in order to keep the pieces intact and thus attractive–if you cut it too soon, it will fall apart as you serve it.
6 Comments
RSS feed for comments on this post.
Sorry, the comment form is closed at this time.
Powered by WordPress. Graphics by Zak Kramer.
Design update by Daniel Trout.
Entries and comments feeds.