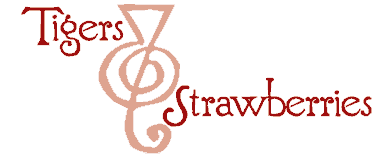 Cook Local, Eat Global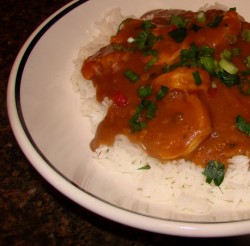 Now you see why I had to explain to y'all how to go about making a roux.
Because if you don't know how, the first sentence of most etouffee recipes will not make a damned bit of sense to you, whether they are in many Cajun-Creole cookbooks or they are coming from the mouths of friends and relatives from South Louisiana.
So, here we go on how to make etouffee.
First of all, what the heck is etouffee, and why would you want to make it in the first place.
Etouffee is a South Louisiana dish made both by Cajuns and Creoles (Yes, Virginia, there is a difference between those two sub-cultures–they are not the same people) which consists of a deeply flavored dark roux-based gravy or sauce which has been seasoned with the Holy Trinity: onions, celery and bell pepper, along with other aromatics, including garlic, cayenne, herbs and spices, in which some sort of protein has been cooked, usually crawfish or seafood of some sort, but it can also be fowl or game. The word "etouffee" comes from the French, "étouffer" which means, "to smother or stifle," and that is an apt description of this dish–the main item, in this case, shrimp, is smothered in the rich sauce speckled with softened vegetables and herbs, then served over plain white rice, and topped with a sprinkling of thinly sliced scallion tops and minced fresh parsley.
When well made, etouffee is a rich, satisfying dish which embodies the essence of New Orleans culture–it is a mixture of European (primarily French and Spanish), African and Native American culinary traditions, a concatenation of all that is beautiful in those cultures, cooked together into something sublime that partakes of the strengths and beauties of those cultures while creating something new and unique.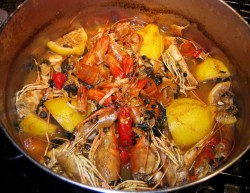 Etouffee, which may be based on roux, depends on the quality of all of its ingredients for its goodness. The first, most important ingredient besides the roux, is the stock, which, with the roux, forms the thick, silky smooth sauce, which enrobes the main protein ingredient.
In the case of shrimp etouffee, shrimp or seafood stock, homemade is the best. However, in a pinch, you can use clam juice, enriched with seafood soup base from Penzey's, Minor's or another maker. But really, even though the alternatives will result in a pretty good etouffee, if you are going to invest in eating so many calories in a meal, why not start out with the absolutely best ingredients you can. Besides, shrimp stock is so easy if you buy shell on shrimp, that there is no real reason not to make it.
After the stock and the roux, one needs to buy shrimp of the best quality available, uncooked. I used Gulf shrimp that had been flown into Columbus that morning, and I put them directly on ice and cooked them that night. Buy the freshest, best shrimp you can from a seller you trust. If you are buying from most grocery stores, I suggest buying still frozen shrimp, since most of the "fresh" shrimp are just thawed–and who knows when they were thawed. Frozen shrimp are flash frozen at the source, so they are of a higher quality than the thawed out shrimp you will see in most grocery stores.
(Live shrimp would be best, but, well, they aren't available everywhere. But, if you can get them, go for it!)
Seasoning is a matter of preference; I like my etouffee plenty hot with lots of flavor from the aromatic vegetables. I freely admit to adding way more garlic than is usual in most Cajun or Creole recipes, and I use fresh cayenne chilies in addition to the usual dried ground cayenne. I also differ in my use of red sweet bell pepper rather than green–which is typical in most South Louisiana recipes. I do this because everyone in our house likes ripe sweet peppers rather than green, and I like the color that it gives to the etouffee. I also remove the strings from the celery before dicing it, because that allows it to melt into the sauce, rather than stand out.
I also add a tiny bit of sherry to the sauce, and instead of fresh tomato, which many Creole cooks use, I use a bit of tomato paste, the way many Cajuns do. (Or, you can leave the tomato out entirely, if that is your wish.)
Once you know how to make a roux, and make your dark roux, and saute your aromatics well within the roux, then mix in a good stock, you are more than halfway to great etouffee. It really isn't that hard, and the results are very, very well worth it. The dish tastes like you are a culinary genius, especially when paired with a green salad with a vinaigrette, and lots of fresh baguette to sop up the delicious sauce.
If you have access to good shrimp, make this dish as written. If you have access to crawfish–definitely substitute them. If you can get crabmeat, use that. If you can get rabbit, use that, or chicken….or some combination thereof.
Ingredients:
dark roux made with one cup of flour and one cup of lard, butter or a combination of the two
2 cups of yellow onions, diced finely
1 1/2 cups red bell pepper, diced finely
1/2 cup celery (stringed) and finely diced
3 fresh cayenne chilies, thinly sliced
6 large cloves garlic, minced
1 1/2 tablespoons tomato paste
1 tablespoon fresh thyme leaves
1 bay leaf
1/2 teaspoon dried ground cayenne pepper
freshly ground black pepper to taste
2 1/2 cups shrimp or seafood stock
3 tablespoons dry sherry
2 pounds fresh shrimp, shelled and deveined (I used 15 count size)
salt to taste
1/4 cup roughly chopped flat leaf parsley
6 scallions, green tops only, sliced thinly
6-8 cups steamed jasmine rice
Method:
Make roux in a heavy-bottomed skillet, at least twelve inches in diameter, and a couple of inches deep, preferably cast iron. Once it has come to the color you like, either peanut-butter colored or a medium or deep mahogany, turn the heat down to low, and add the aromatic vegetables, all at once and cook, stirring, for about ten minutes.
Stir in tomato paste, thyme, bay leaf, cayenne and black pepper (I used very little because of my sensitivity to it–some folks use a lot of freshly ground pepper to great effect), and cook for a minute or two more.
Bring stock to a boil in a separate pan, and stir in sherry. Pour hot stock slowly and steadily into the hot roux, and whisk until it forms a dark, very smooth, velvety sauce.Bring to a simmer, and cook, stirring now and then, for about forty five minutes.
Add shrimp, and cook, stirring, until done–about five minutes. Salt to taste, and correct seasoning as needed.
Remove bay leaf, and serve over mounds of steamed jasmine rice, with parsley and sliced scallion tops sprinkled liberally over the top.
Serve with a good green salad and crusty baguette.
9 Comments
RSS feed for comments on this post.
Sorry, the comment form is closed at this time.
Powered by WordPress. Graphics by Zak Kramer.
Design update by Daniel Trout.
Entries and comments feeds.