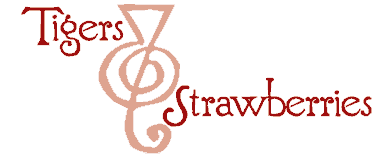 Cook Local, Eat Global
One of my favorite subjects of study in the world is the history of food, and how the foods of various cultures evolve over time due to human exploration, trade and conquest. I find it endlessly fascinating to examine foods such is cumin, which is a favored spice in India and the Middle East, then ask why it is also prevalent in many Mexican foods, and is even found in use in Western China. Or to trace the path of chile peppers and tomatoes from the New World to the Old World, and take note of the culinary changes these two imports brought in their wake. Or, to take note of the use of pomegranate paired with walnuts in India, Persia, and, surprisingly, Mexico, of all places.
In ferreting out these little bites of history, and tracing the origins of various flavor combinations, I find my imagination fired with the possibilities of fusing combinations of various foodstuffs together which have historical precedent, and which make sense in the context of a place and time, but which have been forgotten in the modern collective palate of the United States.
Take, for example, the case of pasta, eggplants, tomato and pomegranate.
Pomegranates are native to Persia, and across the Middle East to India, and they have spread from there to be grown throughout Europe, Asia, Africa, and North, Central and South America. Tomatoes were native to Central and South America, but after being brought back to Europe by the Spaniards, have become integral ingredients in countless cuisines, from Italy to the Middle East, to India, Africa and beyond. Eggplant may have originated in China, or India, or Persia, but what is certain is that it was introduced into Mediterranean Europe by Arab traders. And pasta, of course, was first developed by the Chinese, but was also developed in Italy. What is not much known is that types of semolina pasta are made and consumed throughout the Middle East and India, as well as Italy and Europe.
My way of fusing foods together is to take cuisines which share something in common historically, culturally and most importantly, culinarily, and then pick out some common ingredients between them. Then, I combine these ingredients in a way, which hopefully, brings out something new which my family and friends may not have tasted before, but which is firmly grounded in the traditions of the parents cuisines such that the dish comes across as a natural progression of flavors, instead of seeming to be the bastard love child of an unthinkable coupling.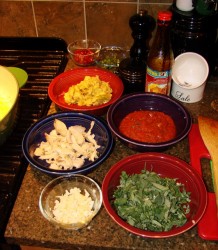 Most people would not think that Italian and Arab cuisines would have much in common, but truly, they share many ingredients in common, such as garlic, lemons, various legumes, greens, eggplants, peppers and tomatoes, onions, olives and olive oil, and fresh herbs. Pasta is much more prevalent in the Arab world than most people in the US seem to know, and is used in many ways similar to its use in Italy.
There is even a fair amount of culinary cross-pollination evident in both cuisines; what many people do not realize is how much contact the Muslim world had with Italy; Arab traders brought spices and silks across to the ports in Venice which was the distribution point to the rest of Europe for hundreds of years, and Sicily, for a time, was a Moorish protectorate. As a result of these contacts, there is a much greater trading of foodstuffs, dishes and techniques than is usually recognized by the casual diner.
Which is why I loved the thought of combining eggplant, tomatoes, and pomegranate into a pasta sauce.
I have previously combined these ingredients in a traditional Sicilian sauce, Spaghetti Con Melanzane e Noci, a creamy sauce that features pureed roasted eggplant, garlic and walnuts, mixed with tomato sauce. Realizing that since the sauce was Sicilian, and that the island had been in the control of Arabs for centuries, I added a bit of pomegranate molasses–a typical Middle Eastern ingredient–to the sauce to give it some zing, and found the recipe vastly improved.
This recipe is a combination of the Sicilian dish, and my improvised Ditalini with Eggplant, Kale and Caramelized Onions, with an eye toward making a rich, but not heavy vegan pasta dish that combines elements of both Italian and Middle Eastern cookery.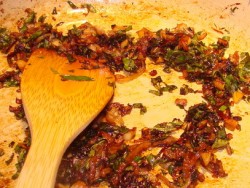 In addition to the pomegranate molasses, I added chopped mint and ground cumin to the dish to play up the Arabic flavors. For contrast in texture, I sauteed some of the onions, garlic, kale and mushrooms until they were very browned and somewhat crisp. This gave a distinctive sweet flavor to the vegetables, and also made a nice contrast between the soft pasta and thick, velvety sauce and the crispy-chewy caramelized vegetables.
Finally, I will note that I left the walnuts out of the version I made last night, because Kat would be eating it. You will note that I returned them to the sauce when I wrote out the recipe–that is because I think they are integral to the dish, adding protein and richness, but since we are trying to avoid tree nuts in Kat's diet until she is a good bit older, I compromised. If I were cooking this dish either at home for someone other than Kat and the rest of us, or at the restaurant, I would definitely use the walnuts. (Yes, I have been brainstorming about dinner specials for the past several days.)
For a garnish, I sprinkled fresh rubine pomegranate seeds over the dish to add a juicy crunch, a tart flavor and a gem-like beauty which adds visual interest.
All that was left was to name this voluptuously vegan pasta dish. I named it for Sheharazade, the clever and beautiful narrator of the Thousand and One Tales of the Arabian Nights, who eluded certain death by beguiling her husband with the power of poetic storytelling. To me, the stories of food are almost as suspenseful as Sheharazade's magical tales of djinn, heroes, resourceful maidens and wise sages, and I hoped to evoke her magic by borrowing her name.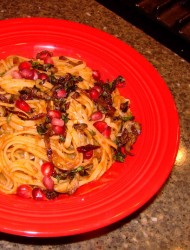 Pasta alla Sheharazade
Ingredients:
4 tablespoons olive oil, divided
1 cup thinly sliced onions
1 fresh chile pepper, thinly sliced on the diagonal–optional
1/8 teaspoon salt
1/4 cup minced fresh garlic
1 medium-large fresh eggplant, roasted, peeled, seeded and mashed to make 1 cup puree
1 cup basic marinara
1 1/2 tablespoons pomegranate molasses
1/4 teaspoon ground cumin
salt and pepper to taste
1 cup thinly sliced mushrooms
1 cup fresh kale greens, large veins removed, cut into a medium width chiffonade
scant 1/4 cup of finely chopped English walnuts
1/4 teaspoon pomegranate molasses
2/3 pound linguine
1/4 cup finely minced mint leaves for garnish
1/4 cup fresh pomegranate seeds for garnish
Method:
To roast the eggplant, prick the washed and dried fruit with a fork or knife all over, and set into a baking pan in a preheated 400 degree F oven until it is soft–from twenty to forty minutes. Remove, cool, peel, remove the seeds and mash the flesh with a fork, or chop finely with a knife.
Heat three tablespoons of olive oil over medium heat in a heavy-bottomed pan or skillet. Add onions, chile, if you are using it, and sprinkle with salt and cook, stirring until they turn golden. Add garlic, and keep cooking, stirring, until the onions turn deep gold and begin to brown, and the garlic is golden. Scoop out half of the onion-garlic mixture, and put into a medium sized saucepan on low heat. Add eggplant, marinara, pomegranate molasses, and 1/8 teaspoon of the cumin and bring to a simmer, stirring as needed to keep it from sticking. Cook until the mixture dries out slightly, and becomes fragrant, about five to ten minutes. Taste and add salt and pepper as needed. Set aside and keep warm. The sauce can be made ahead of time and kept refrigerated and then simply warmed by microwave or on the stove before serving.
Meanwhile, add the mushrooms and the remaining tablespoon of oil to the onions and garlic still in the heavy-bottomed pan, and cook, stirring, until the mushrooms are golden. Add the kale and walnuts, and cook, stirring, until the mushrooms, walnuts and onions are browned, and the kale leaves are darkened and starting to crisp. Stir in the rest of the cumin and pomegranate molasses, and cook, mixing the ingredients together, until fragrant. Keep warm.
When the saute is about done, start cooking the linguine in salted, boiling water. When it is cooked al dente, drain well. Return the cookpot to the heat, and dry it by allowing the water to boil off. Pour the warmed sauce into the cookpot and add the linquine. Using tongs, mix together until the pasta is well coated with sauce, and it clings well to the noodles. Add 1/2 of the contents of the saute pan to the pasta pot, and stir well, tossing with the tongs, to combine the vegetables into the sauced pasta.
When well combined, plate the pasta by twirling it into heaps in a serving bowl, and sprinkle the remaining sauteed vegetables over the top, then sprinkle the mint and pomegranate seeds over the top as well.
Makes three servings.
6 Comments
RSS feed for comments on this post.
Sorry, the comment form is closed at this time.
Powered by WordPress. Graphics by Zak Kramer.
Design update by Daniel Trout.
Entries and comments feeds.