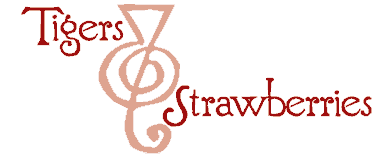 Cook Local, Eat Global
I enjoy everything about my job–I don't even mind the cleaning–but the best part is coming up with the specials. It's like a game, coming up with new ways to combine pantry items we already have, with a minimum of ingredients especially purchased for the week, into delectable dishes that fit the theme of the restaurant and the tastes of the our guests.
Every week, I try to type up a list of specials, with detailed descriptions of the dishes, a list of the pantry items they utilize (this is called cross-utilization) and a shopping list for the special items we will need to make them. This is the most sensible way I can think of to keep the process organized, and to keep a record of what specials we ran and later, I go back into the file and add notes on how well they sold. This way I can keep track of which recipes I should repeat in a few weeks or a month, which might need some more work before being presented to the public again, or which ones should just fade into the mists of forgotten foods.
The process of coming up with specials also means I get an excuse to investigate the foods of the Middle East, Greece and North Africa, regions whose cuisines I admire, but do not know a lot about. And as everyone knows, there is nothing that a nerd, culinary or otherwise, likes better than learning new stuff.
This recipe is an adaptation of a Moroccan chicken tagine, which is a long-cooked stew, served over couscous. (Couscous is tiny seed-like bits of pasta which serve the same purpose as rice or bulgar wheat–it is a grain-based staple starch.) I adapted it to the unique cooking capabilities of our kitchen, and to the pantry items we have on hand, which means it is not what anyone could call authentic.
However, it was good.
Each flavor was distinct, but still blended into a harmonious whole. The sauce was tangy and tart without being overwhelmingly lemony or bitter, while the salty olives balance the lemon. The artichokes add a verdant note, while the chicken is rich and meltingly tender.
My first adaptation was to not use whole chickens cut up–I used chicken breast meat. Because of this, I didn't need to cook the stew as long as I would normally. My second adaptation was to use fresh lemons rather than preserved ones, because the jar of preserved lemons I had made at work needed to cure another three weeks before they were ready to use. I changed around the spices a bit, and the herbs, but really, I think that I kept the spirit of the original recipe intact.
The amounts for this recipe are for a regular family meal–about four to six servings. I am not giving you the amounts I used for the special–most folks don't need recipes to feed around twenty people or so!
One more thing–about the garnish–those are chile threads. They are finely cut bits of chile that have been dried. They are lovely and add a tiny bit of heat, but mostly look really cool as a garnish. You can mail order them from Savory Spice Shop.


Moroccan Chicken Stew With Lemons, Olives and Artichoke Hearts
Ingredients:
4 tablespoons olive oil
2 cups thinly sliced red onions
1 teaspoon salt
6 cloves garlic, minced
1 teaspoon freshly ground cumin seeds
1 1/2 tablespoon Aleppo pepper flakes
1/4 teaspoon cinnamon
1 1/2 cups crushed, pitted and lightly chopped green olives
1 pound thawed frozen or canned artichoke hearts, cut in half, chokes removed (if you use canned, drain and rinse well)
1 teaspoon ground turmeric
juice and zest of three lemons
1 quarts chicken stock or broth
1 teaspoon brown sugar
1 1/2 pounds chicken breast, boned and skinned
2 fresh or preserved lemons, cut into wedges (about six or eight wedges each)
4 tablespoons flour mixed into four tablespoons cold water (or 4 tablespoons roux blanc)
salt to taste
1 cup freshly chopped flat leaf parsley
1/2 cup freshly chopped cilantro leaves
chile threads for garnish
Method:
Heat olive oil in a deep, heavy bottomed pot–an enameled cast iron Dutch oven would be great. When it is hot, add the onions, and sprinkle the salt over them. Cook, stirring until they begin to turn slightly golden. Add garlic, spices and olives, and keep cooking. Cook for another few minutes. Add artichoke hearts and cook until they are lightly browned.
Add turmeric, lemon juice and zest, broth and sugar, and bring it to a boil, turn heat down until the liquid just simmers. Add chicken, and simmer until chicken is cooked. Remove chicken, and allow to cool until you can handle it. Shred into bite sized bits, and return to the stew, then add lemons. Simmer to allow lemon flavor to permeate the chicken–about five minutes.
Thicken broth slightly with either a slurry of flour and water or roux, then salt to taste.
Add parsley leaves and cilantro leaves, and serve over couscous.
Garnish with chile threads if you can get them–if not use some more Aleppo pepper flakes.
5 Comments
RSS feed for comments on this post.
Sorry, the comment form is closed at this time.
Powered by WordPress. Graphics by Zak Kramer.
Design update by Daniel Trout.
Entries and comments feeds.