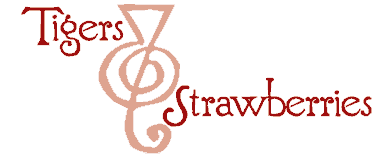 Cook Local, Eat Global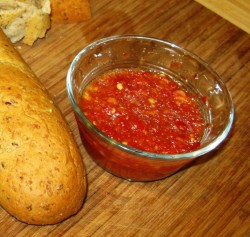 Some like it hot–and some not.
I like stuff hot, and as longtime readers of this blog should have figured by now, I will put chilies into anything, including chocolate truffles and brownies.
So, of course, since I am learning about and cooking Moroccan foods these days, it only stands to reason that I would feel the need to make my own jar of harissa to put up in the fridge. I mean, if I am going to be making my own preserved lemons because they taste fresher than the ones you buy in the store (and they very much do taste fresher), then it only stands to reason that I should give harissa a shot, too.
I am glad that I did.
I have eaten harissa from the store before, and while it is kind of hot and tasty, it is mostly hot and salty, though it tends to have a weird bitter edge. I suspect that this is from some of the preservatives and the vinegar they put in it in preference to the lemon juice that the cookbooks say to use in it. To be honest, most of the commercial harissa I have tasted has left me rather cold, and gave me a less than stellar impression of the beautiful, flavorful and fragrant foods of Morocco.
Homemade harissa, on the other hand, is a scarlet sauce that is filled with the heat of chilies, the sweetness of roasted bell peppers, the bite of garlic the smooth fruitiness of good olive oil, the tang of fresh lemon juice and the musky aroma of cumin. Oh, yeah, and there is salt in there, too–but it isn't as overpowering a flavor as it is in the commercial kind.
I am a convert.
The other cool thing about making your own harissa is that you can make it as hot or mild as you like by either adding more roasted red bell pepper or by using milder or hotter red chilies. For mine, I used my last harvest of Kung Pao chilies from the garden on my deck–they are about the same in heat level as a cayenne, and I used a fairly small roasted red bell pepper.
It turned out wonderfully tangy-hot, with a lovely scarlet macaw color that looks quite vibrant in the jar or on a plate.
Once you have made harissa, what do you do with it?
Well, anything you would do with any other hot sauce. Put it in soups, stews or sauces to perk them up. Add it to any sort of egg dish, but especially scrambled eggs. Use it in a marinade for meats, use it in cooking or as a table sauce. (If you make that white bean and greens soup from Tangier I wrote about yesterday, you can put some harissa in it for a little extra kick. It's really good that way.)
If you keep it tightly covered and keep the top covered with a layer of olive oil, your homemade harissa will stay fresh for six months in the fridge.
You can't beat that, really.
Besides, with the holidays coming, homemade harissa would make a great gift for any hot-sauce heads among your family and friends.
Harissa
Ingredients:
20 fresh red cayenne chilies
1 roasted red bell pepper, skinned and seeded
10 cloves garlic, peeled
2 tablespoons freshly squeezed lemon juice
1/4 cup extra virgin olive oil, plus about a tablespoon to go on top of the sauce for storage
1 teaspoon or more of salt
freshly ground roasted cumin seeds, to taste (I used about 2 1/2 teaspoons)
pinch ground cinnamon
Cut the stem ends off the chilies, and cut them roughly into smallish pieces. Cut up the bell pepper into chunks, and the garlic cloves into several pieces.
Put these all in the bowl of a food processor, food grinder or chopper, and puree or mince very finely. Add the lemon juice, olive oil, salt, cumin and cinnamon and process until a sauce that is fairly liquid, but still with good body, is formed.
Put into a clean jar just large enough to fit the sauce without leaving a lot of air space. Cover the top of the sauce with a thin layer of olive oil, close tightly and store in the refrigerator, where it will keep safely for six months.
15 Comments
RSS feed for comments on this post.
Sorry, the comment form is closed at this time.
Powered by WordPress. Graphics by Zak Kramer.
Design update by Daniel Trout.
Entries and comments feeds.