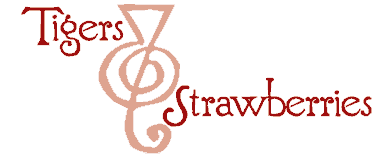 Cook Local, Eat Global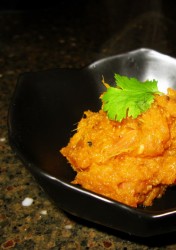 I mentioned a few days ago that I could have called 2007 "The Year of Panch Phoron." Well, the truth is, I didn't really start cooking with it until March of 2007, so until March 2008, at my house, it is still "The Year of Panch Phoron."
Which means I'll still be experimenting with my belief that any vegetable cooked with this Bengali spice mixture is improved.
So far, I have not been wrong.
I cook broccoli in it, and folks who only eat broccoli out of a sense of duty to their health taste it and ask, "How did you get it to taste so good?"
Potatoes cooked with it become aromatically festive, lentils tempered with it become nutty and full-bodied, and green beans cooked with it sing.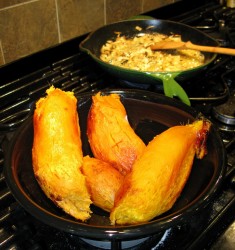 While cooking a small Indian supper for New Year's Eve, I had an inspiration. '
What if I roasted sweet potatoes in the oven, then skinned and mashed them, then made a tarka with onions, garlic and panch phoron browned in ghee, then stirred the tarka into the mashed tubers along with a good sprinkling of salt?
It didn't sound bad at all.
In fact, it sounded quite good.
And even better–it was completely simple.
Sweet potatoes roast all by themselves in the oven and need absolutely no attention; and the tarka cooks in about ten minutes. Skinning and mashing the potatoes and stirring in the scented, spiced oil and aromatics takes only a minute or two.
It turned out to be a nearly effortless vegetable dish, redolent with the scents and flavors of panch phoron, creamy without being fattening, and delicious enough to convince even sweet potato haters to love it.
(For a vegan version–use canola or another vegetable oil in place of the ghee. Walnut oil would give a great flavor.)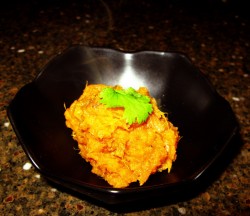 Mashed Sweet Potatoes With Panch Phoron
Ingredients:
2 pounds sweet potatoes, scrubbed clean
2 teaspoons canola oil
2 1/2-3 tablespoons ghee
1 small onion, diced finely
2 large cloves garlic, peeled and minced
2 tablespoons panch phoron
salt to taste
pinch ground cayenne (optional)
lemon juice to taste (optional)
Method:
Heat oven to 375 degrees F. Pierce the potatoes in a few places each with a fork and rub with the two teaspoons oil.
Bake for about forty-five minutes to an hour, or until tender.
When done, skin the potatoes and mash the flesh. Keep flesh warm.
When the potatoes are nearly done roasting, melt ghee in a small skillet, and cook onions in it until they are dark golden. Add garlic and panch phoron and cook until the onions are reddish brown, the seeds are toasted and the garlic is golden.
Stir into the potato mash, adding salt (and if you are using it, cayenne and lemon juice) to taste.
9 Comments
RSS feed for comments on this post.
Sorry, the comment form is closed at this time.
Powered by WordPress. Graphics by Zak Kramer.
Design update by Daniel Trout.
Entries and comments feeds.