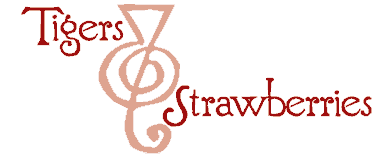 Cook Local, Eat Global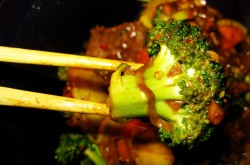 There are some dishes that you can walk into any Chinese restaurant in America and expect to see on the menu.
Beef with Broccoli is one of them.
An innocuous, if uninspired dish, beef with broccoli isn't necessarily bad, but neither is it necessarily good. In its better formulations, it is a rather harmless stir fry of tender beef slices and lightly browned broccoli florets seasoned with onions, garlic and ginger and enhanced by a savory brown sauce.
In its less entrancing incarnations, it is a flavorless dish of greasy beef and overcooked broccoli doused in a gloppy umber goo that has no recognizable flavor other than being vaguely sweet and somewhat brown.
The truth is, I don't really like Beef with Broccoli, even when it is not bad; I prefer the Cantonese dish it was based on, Beef With Gai Lan. And the reason I don't really like Beef with Broccoli isn't even that I am being snobby and preferring an actual Cantonese recipe to the adapted Chinese-American version; it is more that once I have eaten Ocean Broccoli Beef, I don't ever want plain old Beef With Broccoli ever again.
Ocean Broccoli Beef? What is that, I am certain you are asking.
Ocean Broccoli Beef is the first and best version I have ever had of Beef with Broccoli and is the standard to which I hold ever other version of the dish. And I always find other versions seriously lacking, because Ocean Broccoli Beef was outstanding.
It was sweet. It was sour. It was tingly-spicy. It was garlicky, gingery and oh-so-good.
It was addictive.
It was a signature dish of the China Garden Restaurant in Huntington, West Virginia, back in the day, and it was so good that when it was on the lunch special menu, for a week, office workers would line up OUT THE DOOR to wait for a table so they could eat their plate of it with rice, an egg roll and some soup. I am serious. Out the door, waiting for a table. Sometimes out the door and around the freaking corner.
In the rain.
I mean it. (I told you that stuff was addictive!)
Ocean Broccoli Beef was a powerfully amazingly delicious dish, and I have finally, after years of playing around with it, figured out how Chef Huy made it.
His Beef with Broccoli was different because the sauce was different. Vastly different, in fact, from the typical Chinese-American brown sauce. This was no thickened soy sauce with chicken broth sort of sauce–it was sour, it was sweet, it was spicy, it was tingly, and it had a touch of—something that gave it the undefinable scent of the sea to it.
Hence the name, "Ocean Broccoli Beef."
It isn't just oyster sauce–oyster sauce being the traditional main flavoring for Beef with Gai Lan. No. It isn't just that. There is sugar involved, and chile garlic paste and vinegar, and, well, other stuff.
A few years back, I was thinking about it, remembering all those times I had carried plate after plate after plate of Ocean Broccoli Beef (Number 4 on the rotating lunch special menu), and all of the customers who offered to pay me untold sums of money to find out how to make the sauce. I always turned them down–even if I could have figured out how to make it, I would never have sold the secret to Huy's special dish.
Now that Huy has retired, however, and the restaurant is long closed (its been gone for over ten years now), I don't feel guilty about sharing my version of his truly amazing dish.
I figured out a while ago that what made it so special was that it was a variation of the classic Sichuan "Fish-Fragrant Sauce," which on American Chinese restaurant menus is called "Garlic Sauce" because no one wants to think that they are eating sauce that smells like fish.
The variation is simple–there is a bit more sugar in it, and a little bit of high quality oyster sauce. I prefer the Amoy brand that has some dried scallops in it; this sauce is redolent with the aroma of the ocean which is essential to this dish.
Anyway, here is the dish that launched a thousand lunch specials back in the day in Huntington, and energized office workers to stand in the rain for half their lunch hour, just so they could get a taste of Huy's amazing, sweet, sour, hot, salty and oceanic sauce.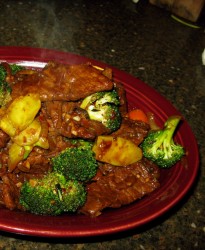 Ocean Broccoli Beef
Ingredients:
1 pound top round beef, thinly sliced on the bias into pieces 1″ wide by 2 1/2″ long
1 tablespoon Shao Hsing wine or dry sherry
1 teaspoon oyster sauce
1 tablespoon cornstarch
1 tbsp. freshly ground black pepper
4 tbsp. black rice vinegar
2 tbsp. dark soy sauce
1 tbsp. Shao Hsing wine
2 1/2 tbsp. sugar
3 tsp. chili garlic paste
1 tablespoon oyster sauce
1/4 tsp. sesame oil
2 teaspoons cornstarch
3 tablespoons peanut oil
1 medium onion, thinly sliced (about one cup)
3 tablespoons minced fresh ginger
1 head garlic, peeled and minced
1 tablespoon dark soy sauce
1 pound broccoli florets
1/2 cup baby carrots, thinly sliced on the bias
1 tablespoon Shao Hsing wine or dry sherry
Method:
Toss the beef with the wine, oyster sauce and cornstarch and allow to marinate for at least twenty minutes, but no more than an hour.
Mix together the next nine ingredients–from the black pepper to the cornstarch–in a cup, stirring to remove all the lumps from the cornstarch. Set aside.
Preheat wok over high heat until a thin ribbon of smoke spirals up from the metal. Add peanut oil and allow to heat for thirty seconds. Add onion, and cook, stirring, until it turns light golden brown. Add ginger, and keep cooking for another minute. Add meat, and spread out in a single layer in the wok. Allow to cook undisturbed for a minute or two, or until the beef browns on the bottom, and then stir and fry until most of the pink is gone from the beef.
Sprinkle the garlic and soy sauce over the beef and keep stir frying for another thirty seconds. Add broccoli florets and baby carrots and sprinkle the wine over, and stir fry until the meat shows no red, the broccoli is deep green and tender-crisp and the carrots are tender-crisp–about a minute and a half to two minutes.
Add the sauce ingredients to the wok, and cook, stirring, until it turns into a dark brown, fragrant glaze.
Remove wok from heat and scrape contents into a heated serving bowl or platter. Serve with steamed rice.
20 Comments
RSS feed for comments on this post.
Sorry, the comment form is closed at this time.
Powered by WordPress. Graphics by Zak Kramer.
Design update by Daniel Trout.
Entries and comments feeds.