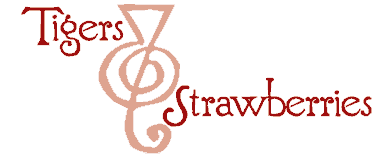 Cook Local, Eat Global
A couple of days ago, Aileen from Canada wrote to ask me what my favorite brands of some staple Chinese pantry items were.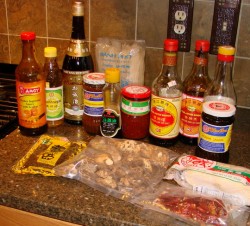 I thought that was a fair question, and is one I have been asked often, so I figured it was high time I got around to actually writing a post listing what I thought the most necessary basic Chinese pantry items were, what to look for in them, and where to buy them. So, I dug around in my over-stuffed pantry closet and narrowed all the goodies down to fourteen simple basics, many, if not all of which are available at most large American supermarkets. With the items in this list, augmented by general pantry staples such as sugar, salt, cornstarch, peanuts, chicken broth, long grain rice, peanut or canola oil, and black pepper, one can take most fresh ingredients such as tofu, meats and vegetables, and create a plethora of dishes from every province of China. (Look for another post sometime soon on a few optional items which will extend the range of dishes that can be created if they are added to this basic Chinese pantry.)
As I said, many of the items on this list can be found increasingly in American grocery stores. You may not be able to find the specific brands that I prefer, but if you lack access to a local Asian market or prefer not to shop in one, and do not wish to order these items online, then go with the brands you can get. For those items on the basics list which cannot be found in a typical American grocery store, I will list good substitutions. Please also refer to the photographs for product identification; some of these ingredients, such as the wine and the fermented black beans, have primarily Chinese characters on the labels, so the photographs will help you figure out if it is the brand I am talking about or not.
(Important: For those of you who are wheat and gluten sensitive–many of these items contain wheat. This includes soy sauce, so please, read labels! For wheat free soy sauce–use tamari soy sauce. My favorite tamari is San J brand which can be found in health food stores, regular supermarkets and some Asian grocery stores.)
Most of these items have a long shelf life; I will give storage tips and shelf-life information where it is applicable.
Finally, what should you do if you prefer a brand of an item which your Asian market does not carry? How do you get them to order and stock what you want without struggling too much with the language barrier?
There are two simple answers to this question. The first and easiest method is to save the package, bottle, jar or can of the product you prefer, cleaning it up so it doesn't get sticky and smelly. Then you take the cleaned up container to your friendly neighborhood Asian market where you shop and hand it to the owner while asking, "Can you order this?"
The other method involves finding a picture of the product online. Print out the photo and bring it with you to the shop, show them the picture and ask if they can order it.
If neither of those gambits work, at the end of this post I will give several tried and true online grocers you can order from.
The Basics
Light Soy Sauce: This is not "lite" soy sauce as in low-sodium soy sauce; this is your standard, basic soy sauce, which is sometimes also called on the bottles and in cookbooks, "thin" soy sauce. (For an extended discussion of the different types of soy sauce and their uses, see my post A Soy Sauce Primer.) The brands of light soy sauce I prefer are Kimlan Premium Aged and Pearl River Bridge, in that order. The thing to look for in any soy sauce you buy is that it is naturally brewed, and while I would prefer that everyone use Chinese soy sauces in Chinese cooking, if all you can get is Kikkoman's naturally brewed at your grocery store, by all means, use that. Soy sauce keeps nearly forever and does not need to be refrigerated, though I know of quite a few people who don't use it often who do refrigerate it.
Dark Soy Sauce: This soy sauce is basically thin soy sauce to which caramel or molasses has been added, giving it a slightly sweeter flavor, a thicker texture and a darker, more reddish color. This is the soy sauce that is used to give red-cooked (braised) dishes their lovely color, and it is widely used in beef stir fries. In cooking beef, the sweeter flavor gives a good fragrance and flavor balance to the strong taste of beef, and it gives a very good dark color to the cooked meat. Again, my favored brands are Kimlan and Pearl River Bridge. Again, look for naturally brewed dark soy sauce, and if you cannot get it at your local grocery store, I suppose one could use thin soy sauce with a small amount of Kitchen Bouquet to simulate dark soy sauce, but as I have never tried that trick, I don't know whether the flavor would suffer as a result.

Rice Wine: I prefer Shao Hsing wine, which is not a brand, but a type of Chinese rice wine. It is amber-colored and very nutty with a slightly sweet aftertaste. The brand I prefer is unsalted–it is drinking quality, not "cooking wine"–and it comes with either a red or gold label with Chinese characters on it. The fine print in English identifies it as being made by the Zhejiang Cereals, Oils and Foodstuffs Company, Shaoxing Wine division. It is not very easy to find, so if you cannot get it, the best substitute that most Chinese cookbooks stipulate is a good quality dry sherry. I concur–in cooking both Chinese and European foods, I have used the two wines interchangeably with no noticeable difference. However, I have to admit that if I am sipping, I prefer Shao Hsing–the nutty flavor is just lovely and it has a distinct warming quality that for me sherry lacks. Shao Hsing does not require refrigeration and lasts forever.
Rice Vinegar: Rice vinegar has a softer flavor than either cider vinegar or distilled white vinegar. It is used both in Chinese cooking and in making uncooked sauces, dressings and dips. Be careful if you use a Japanese rice vinegar that it is unseasoned–many Japanese brands in American grocery stores are pre-seasoned for use in sushi, so they have added sugar, which would mess up the flavor balance of your dish if the vinegar is only meant to be sour, not sour and sweet. If you cannot find any rice vinegar, Australian-based Chinese chef, Kylie Kwong uses malt vinegar as a substitute. I haven't tried it myself, but I suspect it would be very good. The brand of rice vinegar I use is Kong Yen Genuine Brewed brand with the yellow and green label. Vinegar does not require refrigeration and lasts forever.
Oyster Sauce: Oyster sauce is made from oyster extract, sugar, starch, salt and water. What you want to look for is a brand where oyster extract or oysters are the first ingredient listed. If sugar, MSG or salt is the first ingredient, put the bottle down and step slowly away. It will taste harsh and icky and will make your food taste harsh and icky. My favorite brand used to be Lee Kum Kee Premium Oyster Sauce until I found Amoy Oyster Sauce with Dried Scallop. Wow! That stuff is rich, delicious and fragrant and has kicked my Cantonese recipes up several notches. If you can find it, grab it up and try it out. I always keep oyster sauce refrigerated, and I suggest you do the same. Since the sauce is so thick, it helps to take it out a couple of hours before cooking to warm it up so you can get it out of the bottle. Alternately, you can screw the cap on tightly and store it upside down in the fridge so you can always get the sauce to come out even if it is cold.
Hoisin Sauce: Hoisin sauce is a dark, thick jam-like condiment that is made from fermented soy beans, wheat, sugar, garlic and vinegar. This salty-sweet-tangy sauce is used both at the table and in cookery. Although I have seen it kept on the table unrefrigerated in some Chinese and Vietnamese restaurants, I always refrigerate mine. The brand I use comes from Koon Chun Sauce Company–it has a yellow, blue, white and red label that is fairly low key.One side of the label is written in English, and the other in Chinese, so if you can only find sauces with Chinese writing, turn them around, and you can read the other side. All of their sauces are good, though. Many American grocery stores also carry Lee Kum Kee brand, which has a more colorful label, and which is quite tasty, too.
Ground Bean Sauce or Bean Sauce: This is probably one of the most versatile ingredients in the basic Chinese pantry. (For an in depth discussion of Asian fermented soy pastes, see Soybean Pastes: A Primer.)The two medium brown fragrant products are the same, except ground bean sauce has been ground into a thick puree. Which one you choose to have around depends on whether you want your Chinese dishes to have chunky or smooth sauces. (I tend to keep the ground bean sauce around myself. And yes, I also prefer smooth peanut butter. Sans salmonella, thank you.) Made of soy beans, salt, wheat, and sugar, and unnamed spices, this sauce gives a burst of umami "oomph" to any dish with just the addition of a teaspoon or two. It is great with meat or tofu dishes. The brand I prefer is Koon Chun, but again, Lee Kum Kee's is also good.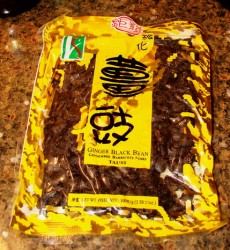 Fermented Black Beans: These little black, wrinkled salty wonders have become one of my favorite pantry items of all time, and I use a lot of them in my cooking. These are black soybeans which have been cooked, salted and fermented, often with slivers of ginger, and this treatment turns them into flavor powerhouses. They smell somewhat like a good aged cheese, and surprise! They are absolutely filled with natural glutamates. They make whatever they are stir fried, stewed, steamed or simmered with taste amazing. I cannot praise them highly enough. They are quite inexpensive and are easily found in Asian markets, packed either in cardboard cartons, jars or cellophane packets. I use one of the brands that comes packed in small cellophane packets–the front of which are labelled mostly in Chinese in gold, yellow and black. The packets are clear so you can see the beans, and in fine print on the back, you can read in English, "Kui Fat Food Company, Hong Kong." The only substitute for these beauties that I can think of would be black bean and garlic sauce, which made by Lee Kum Kee, can be found in many American grocery stores. While they probably don't need it, I store them in the refrigerator, and like most fermented products, they last for years.
Sesame Oil: When I say "sesame oil," I am talking about the dark amber-colored, toasted sesame oil that is used in small amounts for seasoning, not the pale colored cold-pressed stuff that is used for cooking and salad dressings. Widely available both in the Asian sections of American grocery stores and Asian markets, toasted sesame oil is a necessity in the Chinese kitchen. Used at the end of stir frying or to dress steamed or braised dishes, a tiny amount of this very strong-flavored nutty oil will impart exceptional fragrance to any dish. It is also widely used in dipping sauces, cold noodle dishes and salad dressings, and is ubiquitous in many Asian cuisines. My favorite brand is Kadoya, which is Japanese, and is easily recognized because the bottle has a pinched-in "waist." My advice is to buy the smallest bottle and keep it at room temperature in a dark, cool place. It will last for a good long time, but if it starts to smell rancid, obviously get rid of it. If you live in a very hot climate without air conditioning, go ahead and store it in the fridge, and just take it out a few hours before using it to warm it up to room temperature.
Chile Garlic Sauce: This tasty condiment is usually made of chilies, garlic, and salt, all ground together into a thick liquid. Some brands add a bit of vinegar or sugar to tweak the taste of this gloriously scarlet sauce, but most of them taste much the same. It is used to add tangy heat to cooked dishes, dipping sauces and dressings. The two brands I favor are Lee Kum Kee which is often found in American supermarkets, and Oriental Mascot, which is a bit less sweet and a bit hotter. I do store this one in the fridge, even though it likely isn't necessary.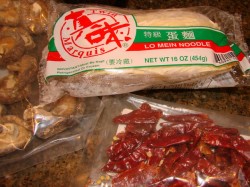 Dried Chilies: While my favorite dried Chinese chile peppers come from Penzey's (Tien Tsin–these lovely little fellows are hot to trot), any dried 1-2 inch long deep red chilies you can get from the Asian market or the Asian section of your grocery store will do to make great Sichuan and Hunan favorites like Kung Pao Chicken. You can substitute red chile flakes from your grocery store, but only if they are very fresh. (They are not as versatile, in that you cannot keep the seeds out of them, as you can with whole chilies, but they also are not as hot as the Chinese or Thai chilies you get from the Asian market. I store my whole dried chilies and chile flakes in the freezer because I buy them in bulk. If you get them in smaller amounts, just keep them in an airtight container in a dark, cool cabinet. These will eventually lose potency after a year or six months, however, no matter how carefully you store them, so buy only as much as you think you will use quickly.
Dried Black Mushrooms: Also known as Chinese black mushrooms, these are nothing more than dried shiitake mushrooms. Commonly found in all Asian markets, and available in some American supermarkets, these dark brown mushrooms may not look like much, but they pack a powerhouse of flavor and texture in a small, often wizened, package. I don't use any particular brand of them; I just look for the nicest variety I can afford. In general, what you want are plump, dark brown caps with lots of paler crackles on them such that they resemble flowers. Thinner, darker caps often have little flavor and seldom rehydrate well. One could substitute fresh shiitake mushrooms, but at a significant flavor and texture loss. When you soak the dried mushrooms in warm water, chicken broth or wine, you end up releasing the natural glutamates present in the mushroom. Then, after that soaking liquid is filtered, it can be used to add flavor to whatever you are steaming, stir-frying, simmering or braising. Also, dried mushrooms have more flavor and a chewier texture because when they are rehydrated, you never get all of the original volume of water back into the tissues, so the flavor is concentrated when compared to a fresh mushroom. I have successfully dried fresh shiitake mushrooms just by leaving them out in a dry dark place in the winter in my house, if you want to give that a try. Storage for these is simple–keep them in an airtight container somewhere cool and dark, and they last for a very long time.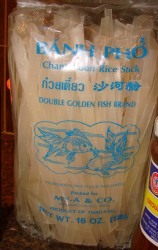 Dried Rice Noodles: I am seeing these dried "rice sticks" as they are sometimes called, appearing in more and more mainstream American supermarkets, and that is all to the good. They are good in soups, or soaked and then stir fried for chow fun, though, in truth, fresh rice noodles are better for the latter dish. (Better, but much harder to find, alas.) These are inexpensive, they keep forever and a day, and they come in all sorts of sizes. I find the quarter to half inch width the most useful, but I keep a variety on hand for whenever I feel like making a cheap, tasty meal. You soak these in warm water then drain before stir frying them, or simply boil them before adding them to your soup. I have found no particular brand to be better than any other, either, so buy what you can find.
Dried or Fresh Wheat Noodles: This is a very broad category, for the Chinese love their noodles. Wheat noodles can come with or without egg, and they can come par cooked and dried, deep fried and dried, fresh and refrigerated and fresh, then frozen. I tend to keep non-egg dried wheat noodles in my pantry, as well as some fresh, frozen egg-containing lo mein noodles as well. For many applications, such as noodles in soup, or cold noodle dishes, one can substitute ramen (but leave off with the seasoning packets, and be aware that these noodles are deep fried and are thus not good for the waistline), or even Italian spaghetti. For stir fried noodles, I prefer fresh Chinese egg noodles. Some American grocery stores carry the fresh noodles in their refrigerated sections next to wonton wrappers, while other grocery stores carry dried Chinese wheat noodles in the Asian section. Look around and see what you can find. For dried noodles, I have no particular favorite, but I do like Twin Marquis brand fresh frozen lo mein noodles.
Finally, here are a couple of places online where you can order Chinese ingredients if you have no Asian market nearby and your grocery store has an inadequate Asian foods section.

The Oriental Pantry
28 Comments
RSS feed for comments on this post.
Sorry, the comment form is closed at this time.
Powered by WordPress. Graphics by Zak Kramer.
Design update by Daniel Trout.
Entries and comments feeds.