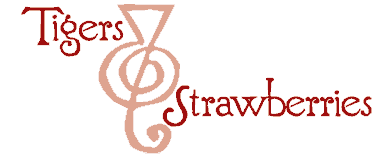 Cook Local, Eat Global
In the name of giving a recipe that features some of the spices mentioned in my post about eating curry for your health, I now present a low fat, high protein, vegan recipe which has been well received both by my family and the guests at Restaurant Salaam. This dal features healthy and delicious turmeric and ginger, and if you want, you could add chilies as well.
Ever since I found out that mushrooms grew in the mountains of Kashmir, India, and were cooked and eaten when they were in season, I have felt the need to experiment with mushrooms in Indian dishes. The Dhingri Chole recipe I posted a week or so ago emboldened me to try making a dal with mushrooms and winter greens, just to see how it would taste. (Besides, I have been making different dals each week for Salaam, because it turns out that they are very popular lunch specials. Just today, we sold out of a very simple masoor dal with tomatoes and spinach.)
I used my all-purpose dal, red lentils, also known as masoor dal, mixed with split, but unskinned moong dal. I like to mix moong, whether whole, split or skinned, with masoor dal, because the masoor breaks down natural into a puree, while moong softens, but retains its shape. Moong are what we call mung beans, and whether you cook them whole, with their green skins intact, or split with the green hull, or split and skinned, they have a very earthy flavor and if they have their skins, a strong, distinctly herbal fragrance.
Combined with masoor dal, moong dal is delicious, and quite nutritious.
For this dish, I used the split, but unskinned moong, which gives the finished dish a little bit of color contrast between the yellow masoor and the greenish-brown flecks of the moong skin.
I cooked the two dals together, with just water, a pinch of asafoetida and grated fresh ginger.
To give the dal flavor, I made a tarka, which is a mixture of aromatics and spices cooked in oil or ghee until they are toasty brown, that is then added to the cooked dal. To impregnate the flavors of the spices and aromatics into the mushrooms, I cooked them, along with the greens, in the tarka, near the end of the cooking process.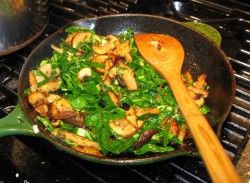 The results were delicious, and cooking the greens lightly kept them bright in color and flavor. Allowing the mushrooms to soak up the savor of the spices by sauteeing them in the tarka oil deepened their earthy scent. I used half fresh shiitakes and half dried, and I poured the soaking water I used to rehydrate the dried ones into the dal, where the mushroom flavor married perfectly with the dark fragrance of the moong dal.
This vegan dish went perfectly with very hot lime pickles, chapatti, and potato-carrot raita for a flavorful, vegetarian meal. (To keep the whole meal vegan, you'd have to leave out the yogurt-based raita and replace it with a salad, chutney or relish. The spicing in the dal are gentle, but you could add chilies to the tarka if you wanted more heat.
Masoor-Moong Dal With Mushrooms and Greens
Ingredients:
2 cups masoor dal, picked over for stones, rinsed and drained
3/4 cup-1 cup split moong dal, picked over for stones, rinsed and drained
pinch asafoetida
1″ cube fresh ginger, peeled and grated finely
4 dried shiitake mushrooms, soaked in 1 cup boiling water
4 tablespoons canola or peanut oil
2 cups onions, sliced thinly
1 teaspoon salt
7 cloves garlic, peeled and very thinly sliced
2 tablespoons mustard seeds
1 1/2 tablespoons cumin seeds
1 teaspoon ground turmeric
curry powder to taste–or use your own blend of ground black pepper, coriander, fenugreek, dried ginger and cloves
4 fresh shiitake mushrooms, stems removed and sliced thinly
1-2 cups thinly sliced fresh greens, like mustard greens, kale, or collards
salt to taste
roughly chopped cilantro for garnish
Put the two dals into a medium large pot, with just enough cold water to cover them by one inch. Add the asafoetida and ginger, and bring to a boil on medium heat, then turn the heat down to low, and cook, stirring now and then, and adding water as necessary, until the lentils and beans are tender. The masoor dal will break down into a pale yellow puree, and the moong will retain its shape, but will be completely tender.
While the dal is cooking, soak the dried shiitake until they are softened and the water is cool enough to handle. Remove them from the soaking liquid–which you will now add to the dal, Squeeze the excess water from the mushrooms, cut off the stems, and slice the caps thinly.
When the dal is finished, heat the oil up in a heavy-bottomed pan, and add the onions. Sprinkle with salt, and cook, stirring, until they are a deep golden color. Add the garlic, mustard seeds and cumin seeds, and cook, stirring, until the onions are medium brown, and the mustard seeds begin to pop. Add the rest of the spices, along with the mushrooms, both fresh and rehydrated, and cook, stirring, until the mushrooms brown slightly andn the onions are completely browned to a deep reddish brown color. Add the greens, and cook for a minute, or until they brighten in color and wilt.
Stir the contents of the pan into the dal and add salt to taste, then serve immediately, garnished with cilantro leaves.
14 Comments
RSS feed for comments on this post.
Sorry, the comment form is closed at this time.
Powered by WordPress. Graphics by Zak Kramer.
Design update by Daniel Trout.
Entries and comments feeds.