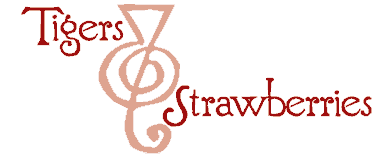 Cook Local, Eat Global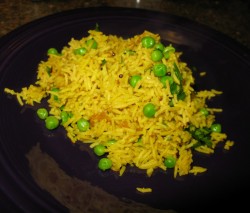 So now that you know how to brown onions, what do you do with them?
Are they only good for making curries?
Well, of course not!
They are good for making any number of Indian dishes, and, as an extra added bonus, they make nearly any other dish from any other cuisine taste even better than they started out.
But I wanted to present a couple of Indian dishes other than curries that I made with some of the deeply caramelized onions I made for the previous post, just to show how versatile this technique can be.
The pillau I made last night with these onions is gorgeous in color, and ravishing in scent, and it just says "springtime" to me. Which is good–I needed to be reminded it really is spring, at least according to the calendar, because snow was pouring from the sky while I was cooking dinner. (It didn't stick, though, thankfully.) So while it was blustery and cold outside, in the kitchen, with some simple ingredients: rice, frozen peas, caramelized onions, garlic, ginger and a few selected spices, I was creating a palette of the colors and flavors of spring.
This is an easy dish, but I made it in the rice cooker, so that is how I am giving instructions. If you don't have a rice cooker–well, you are on your own. I have used a rice cooker for so long (seven years now) that I have literally forgotten how to cook rice on the stovetop. It is sad but true, however, I am in good company. Lots of my Chinese, Korean, Indian and Pakistani friends are in the same boat–they have no clue how to make rice without a rice cooker. (And to think I used to tease them for their lack of stovetop rice cooking knowledge! I guess that kitchen karma has come around and kicked me in the seat of my pants!)
This is an easy, delicious vegan pilau, which can be the basis of a great meal. Serve it with a vegetarian curry like mattar paneer or baigan bartha for a delicious vegetarian meal. Or, you can serve it with a grilled chicken dish, (like Sindhi Elaichi Murgh) or seafood curry for a meal for omnivores.
When the asparagus comes in season, I want to make this with pencil-thin asparagus tips along with the peas. I think that would be absolutely perfect.

Springtime Rice Pilau
Ingredients:
1/2 tablespoon canola oil
1 cup of yellow onions caramelized according to the instructions here
2 teaspoons cumin seeds
1 1/2 teaspoons mustard seeds
1 1/2 teaspoons turmeric
1 teaspoon salt
1/2 teaspoon garam masala–homemade or store bought (for store bought garam masala, I like Penzey's blend.)
chili pepper flakes to taste–optional
1 tablespoon garlic, ground into a paste
1 tablespoon fresh ginger, ground into a paste
2 cups basmati rice
3 cups water
1-1 1/2 cups frozen peas, thawed
1 cup cilantro leaves, roughly chopped
Method:
In the same pan in which you made the onions, and after you have removed them from the pan, add the oil. Allow it to heat up on medium heat. Add cumin seeds and mustard seeds, and cook, stirring constantly, until the mustard seeds pop and the cumin seeds become darker brown and fragrant. Add turmeric, garam masala, chili flakes, if using, garlic and ginger, and cook, stirring, for one minute more.
Scrape contents of the pan into the bottom of the cooking bowl of a rice cooker. Add the onions, and stir to combine. Put the pan back on the heat, and add the rice, and cook, stirring, until it is coated with the oil that is left in the pan. Scrape the rice into the cooking bowl of the rice cooker, and add water. Stir well to combine the spices with the rice, and to get the turmeric to dissolve.
Close lid and turn cooker on proper cook setting. When rice is five minutes from being done, stir in the thawed peas, close the cooker back up and let it finish its cooking cycle.
When the rice is finished, stir in the cilantro, and serve immediately.
3 Comments
RSS feed for comments on this post.
Personally, I throw the frozen peas in at the same time as the water instead of thawing them and then adding them at the end of the cooking. Easier, and works great with either the rice cooker or stovetop methods.

Comment by C.H. — March 25, 2008 #

I made this last night, and it was the perfect accompaniment to my cauliflower curry and red lentil dal! The onion-browning technique really adds a lot. BTW, I cooked my rice on the stovetop – I used 1 cup brown basmati rice and 2 cups water (halved the recipe) and it took about an hour.

Comment by Raedia — March 26, 2008 #
Sorry, the comment form is closed at this time.
Powered by WordPress. Graphics by Zak Kramer.
Design update by Daniel Trout.
Entries and comments feeds.