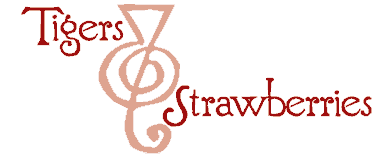 Cook Local, Eat Global
Ajwain is an Indian spice that is not terribly well known in the West, but it is very interesting, and should be used more often. Although it is a spice, being the fruit of Trachyspermum ammi, which is related to parsley, ajwain has a very strong herbal aroma and flavor similar to thyme or oregano.
Although it is an ancient spice, and it most likely originated around Egypt, it is neither grown nor used there in modern times. Now, it is primarily grown in Persia and India, and it is used mostly in Northern Indian cuisine, particularly in the states of Punjab and Gujarat.
I have seldom found recipes using it, but when I have added it to a marinade, curry or dal, I have liked the flavor a great deal, probably because I love thyme so much. (It is my favorite European herb.)
The most recent recipe I have made using ajwain is a very simply put together grilled chicken I found in Madhur Jaffrey's excellent cookbook, Quick and Easy Indian Cooking. All it entails is grinding spices and making a paste of them with yogurt and lemon juice, and then rubbing it over boneless skinless chicken breasts or thighs. After allowing the meat to marinate for ten to fifteen minutes, it is grilled to perfection, or put under the broiler, and cooked until done. I only turn the pieces once, to make certain to brown the spice paste well, thus bringing out as much flavor as possible in it.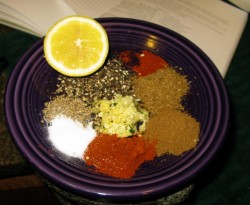 The other spices used in this dish are easily found in most grocery stores: black peppercorns, paprika, cayenne chili, cumin and turmeric, Garam masala can be found in most Indian markets or can be ordered from Penzey's or, can be made fresh with your own preferred mixture of sweet and hot spices, and ajwain, while I have always been able to find it in any Indian market, and as noted by several readers, can also be found at Penzey's, can also be substituted by using dried thyme or oregano. I wouldn't just leave it out–its strong, herbal and medicinal flavor really adds a distinctive, delicious fragrance and flavor to the chicken. It blends perfectly with the sharp flavor of black pepper and the musky sweetness of cumin and adds a note of freshness to the spice mixture.
Once the spices are ground the the garlic either pounded into a paste or minced finely, there is nothing to this recipe. It is simple, very fast and most importantly, amazingly well-flavored. It is perfect for a quick dinner after work, especially if you have a rice cooker that you can use to make plain basmati rice or a yellow rice pillau. Then all you to make is a quick sauteed vegetable, and dinner is served!
(If you can get chicken that is organic and locally raised, the flavor with this spice rub is out of this world, and not to be missed. The texture of the chicken is also superior, very firm without being tough, tender without being mushy.)


Spicy Grilled Chicken with Ajwain
Ingredients:
1 tablespoon coarsely crushed black peppercorns
1 tablespoon bright red sweet paprika
1 teaspoon ground turmeric
1/2 teaspoon ground cayenne, or to taste
1/2 tablespoon garam masala
2 teaspoons cumin seeds, ground
1 teaspoon ajwain seeds or dried thyme
1 1/4 teaspoons salt
2 cloves garlic, peeled and either finely minced or mashed into a paste
1 tablespoon canola or peanut oil
2 tablespoons fresh lemon juice
3 tablespoons plain yogurt
2 1/2 pounds boneless skinless chicken breasts and thighs
roughly chopped fresh cilantro or mint
Method:
Mix together the spices and salt, then add the garlic, oil, lemon juice, and yogurt and then rub the resulting paste all over the chicken. Allow the chicken to sit for ten to fifteen minutes, then grill or broil on high heat for about ten or fifteen minutes, or until the chicken flesh is firm and the juice that comes out from it runs clear instead of pink.
Garnish with cilantro or mint and serve immediately.
5 Comments
RSS feed for comments on this post.
Sorry, the comment form is closed at this time.
Powered by WordPress. Graphics by Zak Kramer.
Design update by Daniel Trout.
Entries and comments feeds.