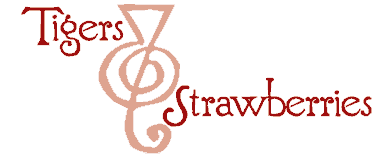 Cook Local, Eat Global
Here are some photographs of more of my sewing projects. The first two are half of the set of four place mats I made for my parents for Christmas. They are both made of 1930's reproduction fabrics, and the two quilt blocks in each mat were popular during that period. They are called "pinwheel" and […]
Now you know. A self-portrait, not taken in the kitchen…but in the office instead.
Indian food doesn't have to be complicated or difficult, nor does it require a lot of ingredients. Sure, there are lots of curry recipes out there with mile-long ingredient lists; I should know, because I have presented plenty of them. But, the truth is this: once you learn the methods, techniques and the ways in […]
Pasta is one of the best ways to introduce omnivores to vegetarian dishes that, in the immortal words of my friend Kendra, "don't suck." The truth is, there is no reason in the world that vegetarian cuisine should suck any more than non-vegetarian cuisines. Delicious is delicious, and as far as I am concerned, plant-based […]
I have posted a couple of different vindaloo recipes here in the past, like my chicken version with mango chunks, and one made with pork, coconut milk and mangoes. As much as I love this fiery curry, I haven't posted a more classic version, flavored strongly with vinegar and made hearty with potatoes, mostly because […]
Powered by WordPress. Graphics by Zak Kramer.
Design update by Daniel Trout.
Entries and comments feeds.