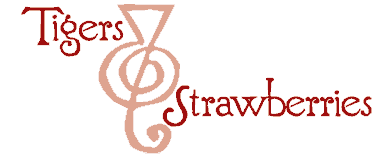 Cook Local, Eat Global
When you want to eat delicious vegetarian food, my advice is always to look into recipes from cultures where vegetarianism is not considered to be particularly special. Places like India, Thailand or China, where lots of people choose to be vegetarians for many reasons–economic, spiritual and health included–have developed vegetarian cuisines that feature dishes which are sensual, delicious, satisfying and absolutely beautiful.
I must admit to being particularly fond of the vegetarian dishes of India, and that is why I chose to feature a new recipe for a curry I invented and cooked at least once a week, sometimes twice, last summer when I was the chef at Restaurant Salaam. I created it to feature the creamy-textured Asian eggplants and courgettes grown by Star Hamilton of Shade River Farm here in Athens, and it was once again her produce that I used to recreate it in my own home kitchen.
I did do a few things differently–for one thing, I wasn't cooking with five to ten pounds of produce at a time, and for another thing, I didn't use canned tomatoes–I used fresh ones mixed with a can of crushed tomatoes. Fresh tomatoes make it all so much tastier.
I also added an optional South Indian touch which I never did in the restaurant: I thickened the curry and added a further level of flavor by adding pappula podi to it at the very end of cooking.
Pappula Podi–which I call Indira's Magic Powder, because it was Mahanandi's Indira who introduced me to this amazing food/seasoning/magical condiment–is something that I have in my kitchen all the time these days. I make it by the batch, following Indira's recipe and I keep it in a tightly covered jar next to my stove. I not only use it in cooking, but I sprinkle it over steamed basmati rice along with a drizzle of ghee. Stirred together, this makes a delightful light breakfast or lunch in the summer, and I have eaten it as a snack in the night if I have been up with Kat or one of my quilts and need something to quell the hunger just before bed so that I can sleep.
I have to admit to loving the way it makes vegetarian curries taste, especially ones that have eggplant and tomatoes in them. The toasty chickpeas add a richness to the curry sauces that goes perfectly with velvety tomatoes and silky eggplants. Pappula podi really just is magical. I highly suggest that you get the ingredients and make yourself some and try it out in your kitchen. It is wonderful stuff. (Also, sprinkling some of those ground up chickpeas in your food adds a bit of protein–something that is always good in your vegetarian dishes.)
Now, if you look at the photograph above, you will see three dishes along with the steamed basmati rice. The redder one is the eggplant and courgette curry. The one with peas is Mattar Paneer–which I have grown to absolutely adore, even though I grew up hating peas intensely. The third one, the purple colored one, is roasted purple cauliflower with ghee, mustard seeds and cumin. I got the idea for that dish a few nights ago when I was thinking of how to cook purple cauliflower so that the color would stay intact–cooking it with water makes the color fade because anthocyanins–the chemicals that color it–are heat sensitive and water soluble. I determined that roasting it would work well to preserve the color–and as you can see, I was quite right.
If you decide that you just have to recreate this week's Meatless Monday meal in your own kitchen–follow the link above for my mattar paneer recipe, and check at the end of this post for the recipe for the aubergine and courgettes curry. For the cauliflower recipe you will just have to be patient and wait until later this week, when I have a chance to write it up and post it! (It is well worth waiting for, though–Dan and I liked it immensely, though Zak admittedly was less positive. Of course, he doesn't really like cauliflower!)
Until then–happy Meatless Monday!
Aubergine and Courgette Curry
Ingredients:
3 tablespoons ghee, butter or canola oil
2 cups thinly sliced yellow or red onions
1 teaspoon salt
1 fresh red or green chili pepper—or to taste—I use cayenne—very thinly sliced
2" cube fresh ginger, peeled and minced
3 tablespoons fresh garlic, minced
1 tablespoon whole cumin seeds
1 tablespoon whole black mustard seeds
1 teaspoon turmeric
½ teaspoon ground fennel seed
2 long Asian eggplants, cut in half longways and then cut into ½" slices on the bias
2 young zucchini, cut in half longways and then into ½" chunks
2 young yellow crookneck squashes or yellow-skinned zucchini or small pattypan squashes cut similarly to the zuchinni
1 cup canned crushed tomatoes
2 pounds fresh tomatoes, cored, peeled and cut into wedges
Salt and either Aleppo pepper flakes or freshly ground black pepper to taste
1 tablespoon pappula podi (optional)
1 tablespoon fresh lemon juice
1 cup fresh cilantro leaves, roughly chopped as garnish
¼ cup thin diagonal slices of scallion for garnish
Lemon wedges as garnish
Method:
Heat ghee, butter, or oil in a heavy-bottomed, deep skillet over medium heat. Add onions and stir into a single layer in the pan, sprinkle with salt and cook, stirring until they turn golden colored. Add the chili pepper, ginger, garlic, and whole cumin and mustard seeds and continue cooking until the onions turn medium golden brown and everything is fragrant. Add the turmeric, fennel seed and the sliced eggplants and squashes.
Continue cooking until the squashes become lightly browned on the edges. Add crushed and fresh tomatoes and cook until they wilt lightly and release their juice, but do not allow them to completely break down.
Season to taste with salt, Aleppo pepper flakes or freshly ground black pepper. Stir in pappula podi, if you are using it, and cook until the juice thickens slightly–about two minutes.
Add lemon juice and stir in the cilantro leaves then remove from heat and immediately serve over basmati rice. Sprinkle with the scallion slices and serve with a wedge or two of lemon.
5 Comments
RSS feed for comments on this post.
Sorry, the comment form is closed at this time.
Powered by WordPress. Graphics by Zak Kramer.
Design update by Daniel Trout.
Entries and comments feeds.