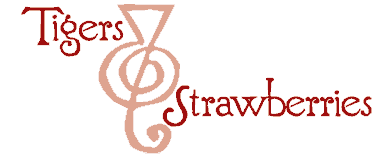 Cook Local, Eat Global
I always knew it was early summer when creamed peas and new potatoes appeared on Grandma's dining room table. Peas and new potatoes are ready at the same exact time, so there's the seasonal reason the two are classically paired; it just also happens that the two taste perfect and heavenly together, much better than one would think when it comes to such simple ingredients.
Real new potatoes, with tissue-paper thin skins and a moist, waxy texture have a tiny bit of sweetness to them. They do have the beguiling earthiness of a mature potato, but they also have a hint of sugar to balance that earthiness and their texture, instead of being starchy, is creamy and nearly buttery, even without the added attraction of any dairy products.
And shelled garden peas, especially when harvested young, are astoundingly sugary, with the green herbal qualities that are like a deep breath of fresh spring air.
The two combined, and held together with a simple cream sauce (though Grandma had taken to using evaporated milk during WWII and continued thereafter) redolent with rich dairy aroma and velvety mouth feel, become poetic, a dish that is certainly more than the sum of its parts. For those of us who grew up eating country food, creamed peas and new potatoes is a key that unlocks golden memories of comfort and warmth around a family table, love made manifest in simple, good food that nourished both body and soul.
But you know me. I just can't leave well enough alone. I'm always experimenting with this or that, and tweaking this ingredient or substituting that one. It's just who I am. Always seeking the next great flavor.
And speaking of flavor, in my head resides what is essentially a library of flavor memories. This internal database contains the building blocks of every one of the recipes I've written and presented on this blog, and the process by which I create a new dish often consists of me thinking of an existing dish, remembering its flavor, and then mentally leafing through the flavor memory banks and "pulling out" a couple of new flavors that I suspect or know will combine with the current dish in novel or exciting ways. I cook the dish in my head, long before my hand touches a knife, and examine the process as I go. Sometimes, with new flavors will come new techniques which further changes the original recipe, modifying it sometimes beyond recognition.
Finally, I go to the kitchen and cook and see if the finished dish resembles the one in my head at all. Does it taste how I imagined it? How does it look? What does it smell like? How does it feel in the hand and on the tongue? What sounds does it make while its being cooked and then while being eaten? Does everyone like it? Why or why not?
I go through this process every time I do something new, and sometimes the process is quick and direct and other times, a recipe idea takes a very long, winding and somewhat twisted path from idea to finished dish. More often than not, my recipes turn out dishes that are like my culinary imaginings. Sometimes, they don't–and sometimes, they turn out differently than I'd thought they would, but I end up liking the finished dish all the better for it.
I want to be clear–this version of creamed peas and new potatoes isn't a real curry like aloo mattar. Nor is it a straight up interpretation of a classic dish. This is a dish born of imagining, of asking, "What if my Grandma's next door neighbor had been from India?"
(Which is not so odd a thought. She had a Hungarian neighbor in New York, before they moved to West Virginia who taught her how to make goulash, a dish that appeared on our table for Thanksgiving every year along with the turkey and everything else.)
This version of creamed peas and new potatoes is a fusion of Indian spices and Appalachian ingredients, with a dash of imagination thrown in. The spices are gentle and subtle, leaving the creamy potatoes and sweet peas as the stars of the show.
It tasted so good that when I made it on Monday night, Jackie, Morganna, Brittney, Zak, Kat, Nora and I ate every last bit of it. There was nary a pea or scrap of potato skin left in the bowl.
It was worth every moment of thought that went into the dish.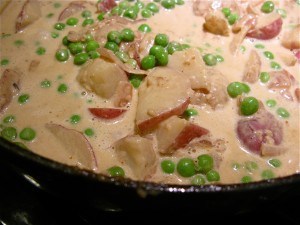 Spiced Creamed Peas and New Potatoes
Ingredients:
1 1/2 tablespoons ghee
1 large red onion, peeled and thinly sliced
1 teaspoon salt
1 small young elephant garlic clove or 3 cloves regular garlic, peeled
1″ long piece young ginger, peeled
1 teaspoon fennel seeds
1 1/2 teaspoons coriander seeds
1/2 teaspoon cumin seeds
1/2″ piece cinnamon bark
1 whole clove
5 whole green cardamom pods
1/4 teaspoon ground turmeric
1 1/2 cups light or heavy cream
2 pounds new potatoes, well scrubbed and cut in half, then boiled until tender and drained
2 cups fresh garden peas, shelled, rinsed, and parboiled until they are halfway cooked
1/2 cup Greek whole milk or 2% yogurt
salt to taste
1/3 cup roughly chopped cilantro leaves
1/4 cup roughly chopped mint (spearmint tastes best)
Aleppo pepper flakes for garnish (optional)
Method:
Heat ghee in a heavy bottomed deep skillet until it melts and lightly bubbles. Add the onions, sprinkle with salt, and then cook, stirring, until the onions lightly brown, turning golden. While the onion cooks, grind the garlic, ginger, the whole spices and turmeric powder together into a paste. The easiest way to do this is to grind up the spices first and then grind them again together with the garlic and ginger.
When the onions turn a darker shade of golden, add the garlic-ginger-spice paste and keep cooking, stirring constantly this time, until the onions are reddish brown and everything is fragrant. There will be spices clinging to the bottom of the pan.
Deglaze the pan with the cream, stirring and scraping up all the goodness from the bottom of the pan. Turn up the heat and reduce the cream by 1/3.
Put the potatoes and peas into the pan, and stir to incorporate. Whisk in the yogurt. Turn down heat and allow to simmer until the peas are fully tender and the sauce reduces and clings to the potatoes and peas. If the sauce thickens too much thin it with a bit of milk. Taste for salt and add as needed.
Stir in the herbs and Aleppo pepper flakes as garnish and serve immediately.
5 Comments
RSS feed for comments on this post.
Sorry, the comment form is closed at this time.
Powered by WordPress. Graphics by Zak Kramer.
Design update by Daniel Trout.
Entries and comments feeds.