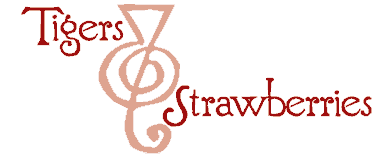 Cook Local, Eat Global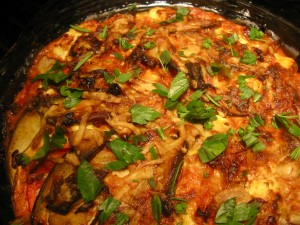 Happy Independence Day! How about celebrating this year as "Independence from Meat Day?" Or, maybe, "Independence from Corporate Food Day?" Or, even better, "Independent Local Food Producer Day?"
Nah, I'm just having fun with the idea of a meatless Fourth of July, which is generally celebrated with grilled burgers, hot dogs, bratwursts, ribs, and steaks. Not that there's anything wrong with any of the aforementioned grilled meat delights–I am an omnivore, after all, but I do think folks should eat more vegetables, which is why I devote at least one post per week to a meatless recipe that has creative ideas for eating more plant-based foods.
So, here we are, with another gratin. Why a gratin? Well, they are easy to make, endlessly variable, meaning you can play with the ingredients, and you can make them ahead, pop them in the fridge and then when it's close to meal time, slide them into the oven and bake them straight from the fridge. That is, if you have a baking dish that puts up with that sort of behavior from a cook. Pyrex and Corning glass products work well for this purpose.
Oh, and gratins also usually include cheese, and as we all know, the only person who likes cheese better than me is the villain Dr. Two-Brains" from the PBS Kid's show, "Word Girl." (Okay, yeah, I like the show. It's Kat's favorite, and unlike many kid's shows, the writing is witty enough for adults–especially adults who grew up reading super hero comics like I did.) Dr. Two-Brains was a mad scientist who had an accident in his lab wherein his brain was fused with a mouse's brain. This unfortunate incident caused the formerly nice mad scientist to become an evil genius who is obsessed with cheese in all its forms and goes to great lengths to steal it.
Now, while I won't steal cheese, (and I'm only sometimes an evil genius) I do love it and will put it into nearly any dish I can manage. Which is why I like gratins.
That said, let's talk about goat tomme. First off, in America,"tomme" rhymes with "Rome." In France and Switzerland, where it originated, it rhymes with "rum." (Thanks, Meg!) It doesn't sound like "to-may," or "Tom," or "Tom-may." Got it? Good.
It's a cheese of alpine origin which is often made with skim milk. Cow or goat milk can be used, and the milk is heated to a fairly low temperature before the rennet is added. It also is aged for at least five months and has a rustic edible rind of mold that looks sort of mossy or dirty–some varieties look like they were rolled about in a bed of garden soil.
The kind I used here was made from goat milk by my favorite local cheesemaker, Integration Acres. The flavor is nutty, rich and complex with a dry somewhat flaking texture. It makes a good substitute for aged Parmesan cheese, though it isn't quite as salty. (Which is a plus in my book.)
You could replace the tomme in this recipe with any good dry grating cheese if you can't get tomme. Asiago would be good.
As for the vegetables I used–you could change them up a bit. The eggplant could be paired with thinly sliced potatoes instead of the squash, the tomato could be left out and the squash could be paired with a kohlrabi slices instead of the eggplant, or whole fresh shiitake caps could be used in place of the eggplant. So many possibilities. Just try and keep a variety of flavors and textures in mind when you make up your own combinations.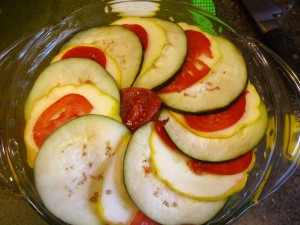 And the filling–I used leftover rice combined with a bit of the sauce and topped with sauteed shiitake mushroom slices and onions as the base over which I layered the alternating vegetables. You could use any grain you liked for this purpose, or you could instead go with just the caramelized onions and mushrooms. In either case, the filling makes the dish more, well–filling–than the vegetable slices alone would.
Finally, the sauce. I used vegetable purees whisked with a little bit of cream and Greek yogurt. (And minced fresh herbs and garlic, of course.) The vegetables I chose were roasted red peppers and tomatoes, but you could go with just the peppers, just the tomatoes or a totally different idea like roasted carrot puree. To be honest, I used roasted peppers from a jar and canned tomatoes in my puree, because that's what was in the fridge, and the sauce turned out tasting just fine. You can start from scratch if you want–or just use up left over roasted vegetables from your fridge.
That's the other truly cool thing about gratins–they can be used to clean the fridge of leftover bits and pieces by turning them into something amazingly good with very little effort. Like most casseroles, gratins are extremely frugal dishes, and knowing how to whip one up easily is a great weapon in a waste-conscious cook's arsenal.
I know that the recipe list is long on this dish and it sounds complicated, but it isn't. It took me about forty minutes to assemble the gratin and then about the same amount of time to bake it. Yeah, I know, I'm a professional chef and so I can cut and chop really fast and I'm good at streamlining steps by pureeing while sauteeing, but even if you're a bit slower in the kitchen than I am, this dish takes very little time overall to prepare. AND, as I noted before, you can prep it as early as the night before you bake it and then pop it in the oven about an hour or so before dinner's to be on the table, and voila! An easy vegetarian main dish without any headaches or fuss.
Eggplant, Squash and Tomato Gratin with Goat Tomme
Ingredients:
1 medium eggplant, thinly sliced
1 teaspoon salt
2 tablespoons olive oil
1 large onion, thinly sliced
1/2 teaspoon salt
5 large shiitake mushroom caps, thinly sliced
2 cloves garlic, minced
1 roasted red pepper
1/2 cup canned or roasted tomatoes
2 cloves garlic, minced
2 tablespoons minced fresh mixed herbs (whatever you like–I used basil, Italian parsley and mint)
3 tablespoons heavy cream
1/3 cup Greek yogurt
1 medium pattypan squash, thinly sliced
2 medium sized fresh tomatoes, thinly sliced
1/3 cup shredded goat tomme
3 tablespoon roughly chopped fresh herbs for garnish
Method:
Preheat oven to 375 degrees F.
Lay eggplant slices on layered paper or clean woven cotton towels and sprinkle well on both sides with salt. Allow to sit until the moisture drains from the eggplant, then carefully pat dry with clean towels.
Meanwhile, heat olive oil in a saute pan and add onions. Sprinkle with salt and cook, stirring as needed until the onions are golden. Add the mushrooms and garlic, and cook, stirring, as needed, until the mushrooms are golden brown and the onions are browned. Remove from heat and set aside.
While the onions are first sauteeing, put the roasted red pepper and tomatoes into a food processor or blender and puree. Add the garlic, herbs, cream and yogurt and run the machine until well combined. Or, you could whisk those ingredients in by hand, but I figure that you've already dirtied up your food processor, so why not use it?
Now, lightly oil a baking dish. I used a deep-dish glass pie pan to bake this–it turned out looking really sweet, so maybe you should try it. Anyway, oil your dish lightly with olive oil. Put your leftover rice in a bowl, and pour over it about 1/3 of your sauce and half of the onions and mushrooms and stir to combine. Pat this rice mixture into the bottom of your baking dish.
Top with alternating thin slices of your vegetables as shown above. Make it flat and pretty, pressing down when the layer is complete to make the layer solid and compact on top of the rice. Sprinkle with the remaining onions and mushrooms and carefully pour the remaining sauce over everything, being sure that a thin layer of sauce covers the vegetables. Sprinkle with cheese and bake for 40-60 minutes or until the cheese is browned and bubbly and the vegetables are tender.
Remove from oven and cool slightly before garnishing with sprinkled fresh herbs. Serve hot.
2 Comments
RSS feed for comments on this post.
Sounds lovely, Barbara – I would never have thought of using rice as a base. But I will be trying it now! One other point: I don't know what the pronunciation of tomme is in the US, but in France and Switzerland it actually rhymes with "rum"!
Sorry, the comment form is closed at this time.
Powered by WordPress. Graphics by Zak Kramer.
Design update by Daniel Trout.
Entries and comments feeds.