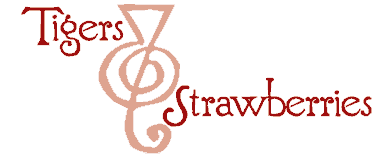 Cook Local, Eat Global
This dish is so good, yet so bad for you.
There really ought to be a law against this kind of cooking.
In fact, I reckon that there used to be a law against such things, back in the day when churchmen were so worried about the status of everyone's mortal souls that laws were made against sins such as gluttony. And if there is ever a recipe to incite gluttony, it is this one.
And here I am writing about it during Lent. I'm a very bad woman, a temptress, a sinner in the hands of a wicked kitchen muse. This is what comes of being a godless heathen, I guess. I have fallen, and I doubt I will ever, ever get up, because I don't feel the least bit guilty about making up this recipe.
Because, shoot, sometimes, you just have to eat something that is completely indulgent and delicious, even if it isn't very good for you. For most folks, that means dessert: chocolate truffles, cheesecake, pie or chocolate cream-cheese brownies.
As you can tell, I can throw down and make all of those aforementioned decadent desserts, but I prefer to make savory dishes that engage the senses and beguile the palate. It's just how I am–in culinary school, I was one of those trainees who preferred cooking to baking, though I could do either very well. As wonderful as baking can be, it requires a different skill set and a different creativity than cooking does–and I am one of those folks who think that truly wonderful pastry chefs and bakers are a breed apart from the rest of us.
I also tend to prefer eating savory dishes to sweet ones, though I am not certain why that is. That is not to say I don't like all the cookies, cheesecakes, brownies, truffles and other wickedly tasty desserts I make, but I don't really crave them very often. Certainly not anymore–as I have gotten older and I have started to lose weight, I have found that the foods I crave and eat as indulgences has changed. I am more enamored of cheeses, especially the blue mold cheeses that I was denied most of my life, than I am of ice cream.
And bacon. I can always eat bacon. And as a hillbilly born and raised, I think that nearly anything can be improved if you add bacon to it. I mean, fried rice is better with bacon.
And chicken and bok choy are elevated into the realm of amazing when bacon comes into the picture. And hey, the Chinese agree with me–tofu with bacon bloody well rules.
So, why not bacon baked into waffles? I mean, you eat bacon -with- waffles, right? So, why not put it inside the waffles, and then top the whole thing with apples cooked in bacon fat, brown sugar, cinnamon and chilies.
That way, it is sweet, salty, bready, spicy and just plain old all-around good. It is hillbilly food raised up into art.
And how can that be bad?
(Which of course makes me wonder that if I open a restaurant whether I should open a pan-Asian fine dining establishment or a haute-hillbilly food emporium. I am sort of stuck in the middle of the question with no answer.)
Of course, saturated fat is saturated fat, whether it comes from cocoa butter or bacon, and neither is particularly great for one's health,but at least I am avoiding the sugar. Sort of, mostly. Except for the sugar cooked into the apples, and the sugar in the waffles and the maple syrup drizzled on top.
Ah, hell, I guess that these waffles are probably just as unholy as a chunk of my cheesecake would be.
I guess you could say that it has no redeeming feature except that it tastes great and would make a knock-your-socks off brunch for omnivores who didn't mind the fat from the bacon that inhabits both the waffles and the apples. I don't intend this to be eaten every day, or even every week, or even once a month. How about once every six months?
And in between–eat lots of salads and stir-fried greens to make up for the indulgence of this one brunch dish.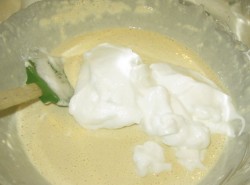 Now, let's talk about the specifics of the waffle recipe. I originally got it from Fine Cooking, and have modified it a little bit. I switched butter for the oil, but the truth is, in this version, I switched back to canola oil. You can use melted butter if you want, but the flavor of it is overpowered by the bacon added to the batter as it is being cooked. So, just go with the canola or other mild vegetable oil.
The egg whites–you beat them until they come to soft peaks, then add sugar and beat to stiffer peaks and then fold it into the batter just before you scoop it into the waffle iron and bake. Don't skip this step. The waffles have a much better texture when made this way.
Don't use powdered buttermilk for these waffles–I did once. It was not a good substitute. Just get some buttermilk and use it. If you have leftover buttermilk, make biscuits. Or scones. Or dumplings. Or ranch dressing. Just don't do the powdered crap–it really doesn't taste good in the waffles.
Also–if you don't want to put the waffles into an oven to crisp up, or if you oven isn't convection and thus doesn't seem to be crisping them up–you can use your toaster to crisp them up before serving. It is a sneaky little trick, but it works. Just cut your finished waffle into the four sections delineated by the iron, then put each little waffle into a slot in the toaster and toast on the lowest setting. In one or two passes with the toaster, they crisp right up. Then, you can put them on the oven rack to hold them for service.
One more thing–this recipe is for a regular waffle iron that makes ten or twelve inch square waffles that are then cut into four small waffles, not for a Belgian waffle maker. I have no idea if it will work with a Belgian waffle iron, nor do I know how many waffles it would make in a Belgian waffle iron. So, if you have a different kind of waffle maker, you will have to experiment a bit to see how it all works together.
As for the apples–you can fry them in butter, but since you already have hot bacon grease sitting right there, why not use that? It isn't like butter is better for you, and the smokey pork flavor goes beautifully with the apples. Besides, West Virginia grandmas have been frying the apples like that for years, and so there is the weight of tradition behind it–traditional and frugality.
And–you can leave out the chilies, but I beg you not to. They are part of what elevates this dish from pretty darned good into sublime. So, I beg you to get some Aleppo pepper flakes–you can get them at Penzey's or at various Middle Eastern grocery stores–and use them. Once you have them, you will use their sweet-hot tingly savor to make lots of your foods sparkle. Trust me–I love the stuff, and I know that you will find uses for it beyond fried apples.
So here we come to the recipe–the one that inspired Brittney to say to me, "You would make such a great evil genius, especially in the kitchen."
Bacon-Filled Waffles With Chili-Spiced Fried Apples
Ingredients for the Waffles:
1 1/2 cups all purpose flour
1/2 cup cornstarch
1 teaspoon salt
1 teaspoon baking powder
1/2 teaspoon baking soda
1 teaspoon cinnamon
1 1/2 cups buttermilk
1/2 cup milk
1 teaspoon vanilla extract or vanilla bean paste
12 tablespoons canola oil
2 large eggs separated
2 tablespoons sugar
1/3 cup crumbled cooked bacon (cook until chewy, and then chop finely–if it is too crisp, it will dry out in the waffle iron and not taste as good.)
Canola oil spray
Method:
Heat your oven to 200 degrees F. and plug in your waffle iron and start it heating.
Whisk the dry ingredients together thoroughly except for the sugar and bacon in a large mixing bowl. Set aside.
Whisk together the milks, vanilla, canola oil and egg yolks in a large measuring cup or batter bowl until well combined.
In another bowl, whisk the egg whites until they form soft peaks. Sprinkle the sugar over them and continue whisking until they form fairly stiff peaks.
Blend together the liquid into the dry ingredients until they are just combined. Do not overmix.
Fold in the egg whites.
Spray your waffle iron well with canola oil spray. Fill the iron with scoops of batter without overfilling the iron. Sprinkle with an even layer of bacon bits. Close waffle iron and cook as directed.
When baked, remove from iron, cut into fourths along guidelines and lay in oven on racks in a single layer to crisp up. (You can also crisp them in the toaster as I directed in the post and then hold them in a single layer in the oven. This works a bit better in my opinion.)
Serve topped with fried apples and a bit of maple syrup.
Ingredients for Chili-Fried Apples:
3 1/2 tablespoons bacon drippings or grease, depending on what you want to call them
4 crisp tart apples, peeled, cored and cut into thick slices (see photo for reference)
1/4 cup raw, brown or maple sugar
1 teaspoon cinnamon
1/2 teaspoon Aleppo pepper flakes
Aleppo pepper flakes and maple syrup for serving/garnish
Method:
Heat your bacon drippings or grease over a medium flame in a skillet or frying pan. Add apples in a single layer and cook, stirring, until they soften to where they can be pierced by a fork, but they still are a bit hard in the center and they are golden colored. Sprinkle with sugar, cinnamon and chili flakes, and keep cooking, stirring constantly, until they are fragrant, glazed with a thick syrup and are soft through without being mushy.
Serve spooned over the bacon waffles with a drizzle of maple syrup and if you like another sprinkle of Aleppo pepper flakes.
(These would be good over home-made sour cream vanilla ice cream, especially if you added black walnuts to the mixture.)
20 Comments
RSS feed for comments on this post.
Sorry, the comment form is closed at this time.
Powered by WordPress. Graphics by Zak Kramer.
Design update by Daniel Trout.
Entries and comments feeds.