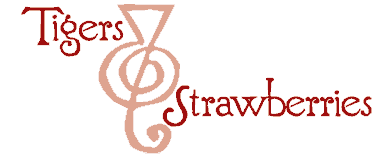 Cook Local, Eat Global
Are you ready to eat local?
Or, if not, are you ready to hear about my family and I eating local?
Because, in two days, it will be May, and we will be taking part of in the Locavore's May Eat Local Challenge, and so all month, you will be treated to recipes using local ingredients, reviews of books related to eating local foods, sustainable agriculture, and similar topics, profiles of local Ohio farmers, food producers and area restaurants that utilize local food, and stories of my continuing quest to find local foods to fill out our diets. Look for provocative essays, and a few laughs here and there, too. Once I get going, it is hard to shut me up.
There are more exciting things to come, including an Eat Local blog and an Eat Local book group–so stay tuned here for more announcements, and as I get the information, I will post it right here, same bat time, same bat channel.
As you can see from the above photograph, I have been busy shopping locally. Last year, during August's Eat Local Challenge, you might remember me bemoaning the lack of local dairy products. Well! In the past eight months, quite a few things have changed in out corner of Ohio, and now even the local Kroger's store carries milk from an organic Ohio family farm. Milk, cream and cottage cheese, all produced in Ohio, fresh and good tasting, is now to be found here in Athens.
In addition, I can buy butter in two-pound rolls produced at another Ohio family farm in Wooster Ohio.
And, of course, last year I found locally produced tofu–technicially it is made in West Virginia, but less than 100 miles away -and- it is made from organic soybeans grown just a few miles away from us in Ohio. On top of it all–it is some of the best damned tofu I have ever eaten anywhere!
If you look carefully, you will notice some cornmeal in the back–it is ground from corn grown here in Ohio on a steam-powered gristmill based here in Ohio. That was a gift to us from our friend Bry who had it as a trade from the mill-owner. I suspect Bry did a spot of blacksmithing, and got way more cornmeal than he needed in trade, so he shared with us. That cornmeal is delicious–wholegrain, stoneground cornmeal has the full flavor of corn and is filled with minerals and fiber. Great stuff.
I am still going to try to get ahold of some of the locally grown and ground wheat flour–I know where the farmer is–New Albany, Ohio, but he won't ship. I guess I may just have to take a trip sometime soon and see if I can bring some back with us. We'll see what happens this month on the flour front.
As for all the vegetables you see in that picture–stay tuned and hear about how I cook them up into locally centered dinners in the next week. Then, next Saturday, we will go to the Farmer's Market and see what's new and different and the whole cycle will start again.
I do try to eat locally anyway, but I love the chance that the Locavore's Challenge brings to me as a blogger, because it gives me a chance to show how much local food I can find even in a small town like Athens–and I hope that encourages everyone to look around where they live and see what they, too, can find. It isn't just the Bay Area locavores who get to eat delicious, nutritious meals when they vow to eat locally!
My own rules for the challenge will be the same as last year; I am claiming the same exemptions as before. There is no sense in depriving myself of spices, (except for black pepper, sniff), coffee, tea and soy sauce, just because they are not made in Ohio. The goal of the challenge is not negative–it is not about deprivation. It is positive–it is about what you -can- eat, and being creative with what you find. It is about trying to look at food in a new light.
So, come along with Zak, Morganna, the cats and I as we have yet another local food adventure–because really–no matter what we do in this household–it always ends up to be an adventure.
15 Comments
RSS feed for comments on this post.
Sorry, the comment form is closed at this time.
Powered by WordPress. Graphics by Zak Kramer.
Design update by Daniel Trout.
Entries and comments feeds.