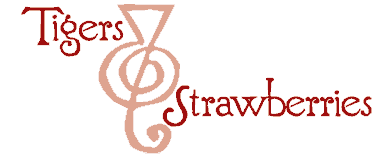 Cook Local, Eat Global
Some of my favorite dishes are not very appealing to look at. Some of them are downright ugly.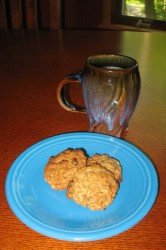 Shepherd's pie is that way. So is split pea soup. Many dishes with beans and southern cooked greens are less than attractive–one glance at the beans, ribs and greens in my Hillbilly Deluxe Dinner (you pronounce that "deelux," by the way) shows how powerfully ugly really flavorful food can be.
And really, I feel odd putting oatmeal cookies in the same category as some of these dishes. It isn't like they are that hideous to look at. It is just that they look rather plain and unassuming.
Simple, you might say.
Humble.
Compared to prettified cookies like "Aphrodite Cakes" and "Frostflowers," though, my oatmeal cookies do look kind of pock-marked and homely.
But that is okay with me. What they do not show outwardly, they reveal upon taking a first taste.
Unlike the rather hard, unyielding nuggets that they appear to be, they turn out to be chewy, and the brownish color reveals the sun-warmed flavors of honey, golden raisins and almonds, with a hint of tartness provided by the garnet-colored dried cranberries. Spices add further warmth while lemon oil gives a kiss of citrus tang that accentuates the fruits and boosts the ginger and cardamom flavors.
I am pretty proud of these; they turned out really well. The base recipe is adapted from Judy Rosenburg's oatmeal cookies in her Rosie's Bakery Chocolate-Packed, Jam Filled Butter-Rich No Holds Barred Cookie Book, but I changed it so much I am not sure she would recognize it herself. For one thing, I did away with her awkward measurments; in converting large scale bakery recipes to be made in home kitchens, she puts some weird measurments in her recipes, like "8 1/2 tablespoons of butter," and "2 cups plus two tablespoons of rolled oats." This comes from converting from weights to standard measurements, I have no doubt, but please–I am not going to put those extra half tablespoons or two tablespoons of anything in a cookie recipe. It is silly. So, I did away with all of that, to no ill effect, and I safely ignored her injunctions to sift flour and play with fiddly extra steps. (I also discovered that using old-fashioned roll butter, which comes in a big two-pound cylinder, is challenging when it comes to measuring; however, I managed.)
And there was a certain flavor I was looking for in these cookies. A distinct fruitiness; I have been craving dried fruits and oats quite strongly, though I have not been wanting to eat oatmeal. Zak had bought me some Pepperidge Farm cranberry oatmeal cookies, and they were quite good, though I refused to buy more of them after I saw that both partially-hydrogenated vegetable oil and high-fructose corn syrup were in the ingredients list. I decided that I would do better eating cookies made from organically grown oats, whole wheat flour, local honey, local butter, local eggs and raw cane sugar.
So, that is what I made last night–and I was right. They were better! I wish my ratio of local ingredients was higher, though. Baking is a challenge–I've still yet to get that elusive Ohio wheat flour. But, still, they were delightful, and for a cookie, reasonably healthy–it was all of the good parts of warm oatmeal in the morning, without the stickiness!
Oatmeal Fruit and Nut Cookies
Ingredients:
3/4 cup whole wheat flour
3/4 teaspoon baking soda
1/2 teaspoon salt
1/2 cup butter
2/3 cups raw sugar
4 tablespoons granulated sugar
3/4 teaspoon cinnamon
1/8 teaspoon ground ginger
1/4 teaspoon cardamom
1 tablespoon plus 1 teaspoon honey–dark or light
1/2 teaspoon vanilla extract
1/2 teaspoon lemon oil
1 large egg
2 cups rolled oats
1/2 cup golden raisins
1/2 cup dried cranberries
1/2 cup sliced almonds
Method:
Preheat oven to 375 degrees.
Line cookie sheets with silpats or parchment paper. Mix together flour, salt and baking soda.
With an electric mixer, cream butter with raw and granulated sugars and spices until light and fluffy. Add honey, vanilla and lemon oil, and beat until creamy. Add egg and beat until well combined.
Gradually add flour mixture to butter mixture, scraping down sides of bowl as necessary.
Add oats, raisins, cranberries and almonds, scraping down bowl as necessary.
Drop rounded tablespoonsful on cookie sheets about two inches apart and bake in a convection oven about 9 minutes or until lightly browned. (In a regular oven bake around 12 minutes.)
Let cool on sheet for a minute before transferring to a wire rack to complete cooling.
Serve with a tall glass of ice cold milk.
7 Comments
RSS feed for comments on this post.
Sorry, the comment form is closed at this time.
Powered by WordPress. Graphics by Zak Kramer.
Design update by Daniel Trout.
Entries and comments feeds.