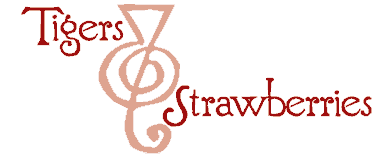 Cook Local, Eat Global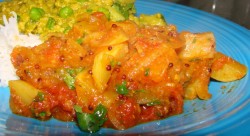 Turnips are not one of the first vegetables most Americans would think of when they think about Indian food. Turnips are a cold weather root vegetable which I always think of as a staple of the winter kitchen.
Winter is not a season that I generally associate with India.
Of course that is silly and wrong-headed of me. The Himalaya Mountains stand in the northern part of the country, and there is plenty of snow and cold weather in and around them. Turnips grow in the northern regions of India, particularly Kashmir, and are used commonly in stir-fried dishes and relishes, but also in curries.
When I saw this recipe in Monisha Bharadwaj's book India's Vegetarian Cooking I knew I had to make it, because I adore, absolutely love and am thoroughly enthralled by turnips. They are wonderfully juicy and crunchy when raw, sweet and with a spicy bite. Cooked, they are as smooth as butter, with a honey-kissed flavor. As a kid, I only ate them raw, but as now that I have officially grown up, I like them any way they are put before me, so long as they are not just boiled plain until they fall apart into a mushy, watery ooze.
Just as I found the broccoli recipe I tried from the book to be simple and delicious, so was this curried turnip dish. I did modify it in two ways, however. First of all, it called for two fresh ripe tomatoes. Being as it is winter here, and there are no fresh tomatoes worth eating to speak of, I simply substituted the fresh ones for a fourteen ounce can of Muir Glen Diced Fire Roasted Tomatoes. And second, I added a few whole mustard seeds to the spices, with the rationale that since mustard and turnips are related, the flavors would go well together. Happily, my assumption turned out to be correct.
The first night we had them, the turnips were paired with a variation of my keema sookh recipe that I made with peas and potatoes added to the keema. The leftover turnips we ended up eating as part of a vegetarian meal that included masoor dal palak and mattar masala (recipe forthcoming) with steamed basmati rice. It was a lovely combination of contrasting colors, flavors and textures on the plate. The sour tang from the tomatoes and the smoky flavor of the cumin perfectly complemented the delicate sweetness of the creamy-textured turnips.
I think that this is another ideal beginner's Indian recipe, because the list of ingredients is relatively short and the techniques used are quite easy.
The more I cook from this book the more I like it, though I think that her explanations on cooking techniques could do with a bit more detail and precision of language, especially for the sake of beginning cooks. When I present the recipes here, I have added a great deal more clarity to the methods so as to make them perfectly understandable by cooks unfamiliar with Indian foods and cookery.
Ingredients:
2 tablespoons canola oil
1 large onion, thinly sliced
1/2 teaspoon fresh ginger, finely chopped, then ground to a paste
1/2 teaspoon fresh garlic, finely chopped, then ground to a paste
2 fresh green chilies, thinly sliced
1 teaspoon whole mustard seeds
1 teaspoon ground cumin
1 teaspoon ground coriander
1 14 ounce can Muir Glen Fire Roasted Diced Tomatoes
1/2 teaspoon turmeric
2/3 cup water
10 ounces fresh turnips, peeled and diced (2 cups or so)
1/2 teaspoon brown or raw sugar
salt to taste
1/2 cup firmly packed fresh cilantro leaves, roughly chopped
Method:
Heat the oil in a heavy-bottomed pot and fry the onions until they are golden. Add the ginger and garlic paste, the chilies and the fresh mustard seeds and keep cooking and stirring, until the mustard seeds pop and the onions are dark reddish brown.
Sprinkle the ground cumin and coriander over the onions, and stir and fry for another thirty seconds, or until the fragrance of these spices is released. Pour in the tomatoes, the turmeric and water, and stir to thoroughly combine.
Add the turnips, and cover. Bring to a boil, then turn down to a simmer, and cook until the turnips are softened, but are not falling apart. (You may need to add water if it all simmers away before your turnips are done–it depends on the age of your turnips. Older, woodier roots take longer to cook than the younger, fresh crisp ones.)
Sprinkle with the sugar and add salt to taste.
Stir in the cilantro and serve immediately.

7 Comments
RSS feed for comments on this post.
Sorry, the comment form is closed at this time.
Powered by WordPress. Graphics by Zak Kramer.
Design update by Daniel Trout.
Entries and comments feeds.